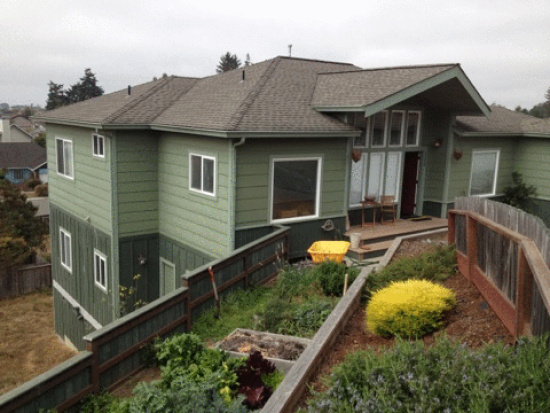 Humboldt County Sheriff's Office press release:
On 09-05-2014, at approximately 9:45 a.m. the Humboldt County Sheriff's Office was requested by Arcata Fire Department to assist them with a forced entry into a residence at 2270 Sunset Ridge Lane, McKinleyville. Arcata Fire had received a fire alarm at the residence indicating there may be a fire in the home. When Arcata Fire knocked on the door, no one answered and they needed to enter the residence to check for a possible fire.

When deputies arrived they entered the residence with Arcata Fire Department. Once inside the residence they located an large indoor marijuana grow. The approximate 3000 square foot residence had four bedrooms, and three had been converted for either growing or trimming marijuana. The garage was also an indoor marijuana grow.

A Humboldt County Superior Court search warrant was obtained for the residence. When deputies searched the home they located 607 growing marijuana plants approximately 6" to 2' tall. They located approximately six pounds of processed marijuana bud, approximately one pound of hash, scales, and packaging material.

Deputies and Fire personnel also saw the electrical wiring appeared to be hazardous and illegal. Pacific Gas and Electric was notified and is responding to the home.

No one was in the home when the deputies and Arcata Fire Personnel were on scene, however suspects have been identified. It is unknown what triggered the fire alarm, there was no sign of smoke or fire. The investigation is ongoing.

Anyone with information for the Sheriff's Office regarding this case or related criminal activity is encouraged to call the Sheriff's Office at 707-445-7251 or the Sheriff's Office Crime Tip line at 707-268-2539.