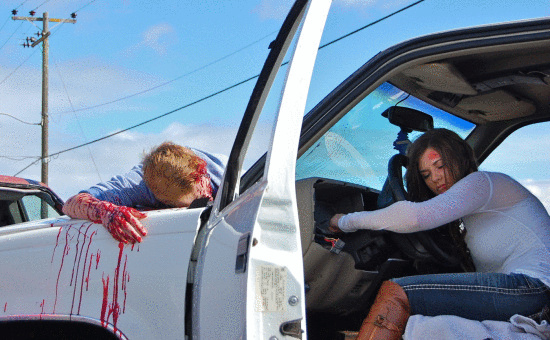 A couple of readers have written us to ask what is up with the chaos happening near Mack High at the moment.
Not to worry. It is another 'Every 15 Minutes' simulation, in which law enforcement and emergency services team up with schools to shock the kids into thinking twice about driving while under the influence. If you're interested in learning more about this, they ran the simulation at Eureka High a few weeks ago and the Outpost covered it blow-by-blow.
Today's simulation sounds like quite a production. Says Friend o' the LoCO Benner Skip: "holy cow they put alot of money into this fire an flight of life helicopters an everything."
Here's the embargoed press release that the California Highway Patrol sent out a few days ago:
The California Highway Patrol (CHP), in conjunction with the Office of Traffic Safety, is taking a proactive step in educating local high school students about making mature decisions when alcoholic beverages are involved. On April 23 and 24, McKinleyville High School, in cooperation with county and state agencies, will host a program called Every 15 Minutes at McKinleyville High School.

Every 15 Minutes is a two-day program involving high school students which encourage them to think about personal safety when alcohol is involved. The program challenges the involved participants to make appropriate decisions and recognize that their actions affect others.

Day 1 of this two-day event will include a collision simulation in which first responders and student actors will stage a DUI collision that will be observed by the McKinleyville High School student body. Day 2 will include a school-wide assembly. Local media are cordially invited to witness both days of this spectacular event.