An anonymous videographer operator wasn't the only one wandering around the Arcata Bottom this week – Humboldt Baykeeper Director Jen Kalt also happened upon the now infamous pile of cattle carcasses during a tour of potential stream sampling sites.
That unpleasant encounter aside, the fact that Regional Water Quality Control Board staff had come to Humboldt to develop a sampling plan was "a dream come true," Kalt said. "This is the culmination of 10 years of water monitoring work by dozens of volunteers." Humboldt Baykeeper hopes to identify the sources of polluted runoff, she continued, "So we can do what it takes to restore clean water for the health of swimmers, surfers, boaters, and shellfish harvesters – including commercial oyster farmers, who grow 70 percent of California's oysters right here in Humboldt Bay."
To that end, the Regional Water Quality Control Board is developing a sampling plan to look at fecal bacteria pollution in Humboldt Bay tributaries, as well as Little River, Widow White Creek, and Trinidad area streams. This study follows the Regional Board's recognition of high levels of bacterial pollution in local waters in March 2014.
Humboldt Baykeeper is also developing its own pilot study to identify sources of bacteria pollution in Little River and Janes Creek, thanks to support from Coast Seafoods, Humboldt Area Foundation, Environment Now, the Rose Foundation, Moonstone Beach Surf Camp, and many individual donors.
Killer whale fin replica success
Following up on last week's washing up of a dead killer whale and subsequent "parting out" of the carcass, marine mammal biologist and orca expert Jeff Jacobsen sent LoCO an update on the experimental undertaking of using sprayed foam insulation to make a mold of the whale's dorsal fin.
Dave Grow and his son JD Grow (of Grow Insulation) were excited about the project from the start, creative in using their talents and experience to solve all the problems that led to a fun collaboration. We now have several molds, very light weight yet amazingly strong, that we can use to make replicas of this massive (we estimate it weighs around 250-300 lbs) and tall (5'6") dorsal fin. The method was amazingly quick and simple – this technique could make a big contribution to preserving the shape of most anything.

These replicas will be used for a variety of scientific and educational purposes, especially at the Noyo Center for Marine Science in Fort Bragg that currently is in the fundraising stage, where the skeleton of this 25-foot male killer whale will "swim' alongside the skeleton of the 75-foot blue whale we preserved several years ago.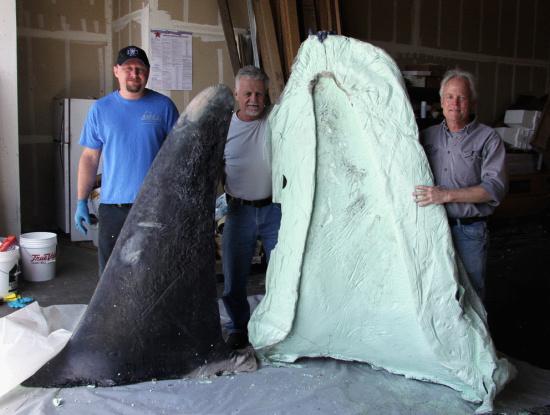 From left: JD Grow, dorsal fin, Dave Grow, foam mold, Jeff Jacobsen. Courtesy Jeff Jacobsen.
Additionally, Chris Callahan, formerly of Humboldt State, and now full-time biology instructor at College of the Redwood's Del Norte campus, received results from the DNA he extracted from a bit of the killer whale's skin. The mitochondiral DNA sequence is most similar to Bigg's (transient) killer whales from the Gulf of Alaska.
These mammal eating killer whale travel great distances, and this is not the first time researchers have had a match (via photographic identification) to an individual from that area, so researchers from Alaska and British Columbia currently are looking through their ID catalogs and to find a match so more of this particular orca's history can be known.
Tangled up in blue
LoCO commenters and other community members have expressed much concern about the possibility the killer whale died from being tangled in crab pot ropes. This is not an undue fear – hundreds of thousands of whale, dolphins and other marine mammals die yearly from entanglement in derelict fishing gear. (KIEM News Channel 3 covered the original story here and will have a follow up on entanglement tonight.)
The question of whether or not whale entanglements are becoming frequent on the North Coast has come up repeatedly. Professor Dawn Goley, Director of HSU's Marine Mammal Education and Research Program and Coordinator of the HSU Marine Mammal Stranding Program said there's no evidence that the number of entangled whales is increasing, "but there is more of a concerted effort to disentangle whales through the NMFS WET team (Whale Disentanglement Team) efforts."
She also passed along the hotline for reporting entangled whales, 1-(877) SOS-WHALe, as well as the stranded whale hotline number, (707) 826-3650 and the North Coast Marine Mammal center number for sick or injured marine mammals, (707) 465-6265.
No new offshore oil development
State Senator Mike McGuire – our North Coast rep – has introduced legislation to forever protect our coast from new offshore oil development in state waters – a move that he says will protect our pristine beaches and benefit our coastal and state economy from what would be devastating impacts of an offshore oil spill.
This legislation, SB 788 – "The Coastal Protection Act" – will close a loophole in the Coastal Sanctuary Act that currently allows the State Lands Commission to grant new leases for offshore oil and gas development.
You can support The Coastal Protection Act by signing a petition here.
Earth Day weekend
You've got your cleanups –
NEC and Pacout Green Team - Oyster Beach: 9 to 10 AM
Humboldt Baykeeper - Indian Island: 10 AM to 2PM
Friends of the Dunes - Humboldt Coastal Nature Center: 9:30 AM to 12:30 PM
Mad River Alliance - Mad River / Blue Lake: 9 AM to Noon
Friends of the Eel Rivver - Crab Park: 9:30 AM to 12:30 PM
– and your Hoedown!
The North Coast's wild beauty
In a nice change of pace, Friend of LoCO Jim Vandegriff sent in some gorgeous photos last week of an alive animal – an exceptionally alive animal, in fact – a stunning osprey scoring lunch at Big Lagoon. Enjoy!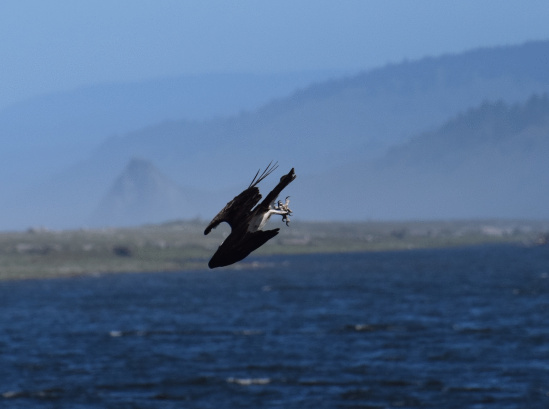 By Jim Vandegriff.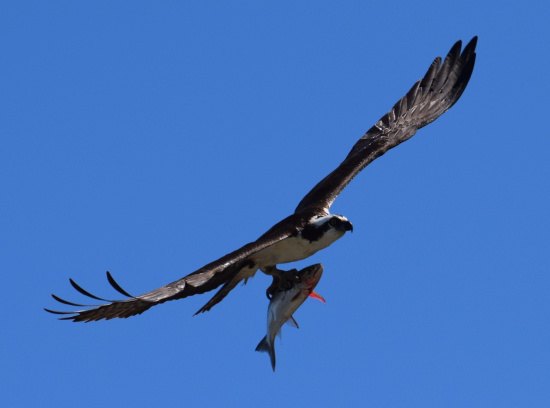 By Jim Vandegriff.
Jennifer Savage is the Northcoast Environmental Center's Coastal Programs Director and Humboldt Surfrider Chairperson.