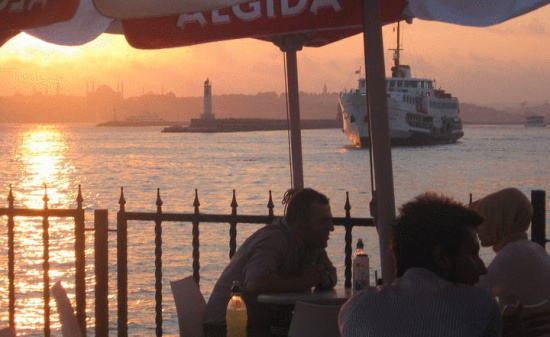 "Then as it was, then again it will be. An' though the course may change sometimes, Rivers always reach the Sea." – Led Zeppelin
It was five years ago this week that I returned to Istanbul.
The story behind that return is worth a look back. Initially, I had arrived the previous autumn, having been recruited by the director at the school's Levent Branch, on the European side of the city. But one Friday afternoon, not long after my arrival, we were summoned for a staff meeting. The school was feeling the effects of the global economic crisis, and also there had been some changes in Turkish law affecting English language requirements for university students. The bottom-line was we had too many teachers. Some "adjustments" would have to be made. At the school, we later called it Black Friday.
Since I was one of the new arrivals, the director summoned me to his office. He was sympathetic to the fact that he personally had recruited me from Prague, and felt somewhat responsible. The good news, he said, was that there was a full-time position in the city of Bursa, about two hours south of Istanbul. The rationale was, I could go there, teach for six months or so, and then when the "situation in Istanbul improved," I could come back.
It was hardly ideal: I felt like I had been promised New York, and was being sent to Cleveland instead. Actually, Bursa is no Cleveland. It was the first capital of the Ottoman Empire, with centuries' worth of history, not to mention it is justly famous for kebab and Turkish baths.
What other choice did I have? You remember those years of the crisis: back home in America, a lot of educated, responsible people, friends, were unemployed, showing up for job interviews where some 50 or 100 people, equally desperate, were waiting in line. Plus, coming from Prague, I had used what little savings I had on the move, so I didn't have much flexibility in that area.
I accepted the offer.
A day or two later, I was on a bus bound for the city of Bursa, where I spent the next month or so as the sole teacher at a new branch my school in Istanbul was trying to set up there. Being the only teacher, with an all Turkish staff, I felt a bit like the country doctor. Every student that came along was my responsibility, for assessments, for course planning, monitoring, etc. It was very lonely, not having the comradeship of colleagues.
Also, despite Bursa's charms (yes, the kebab in the restaurants there is worth trying, and the views from snow-capped Mount Uludağ, high over the city, are stunning), I longed to be back in Istanbul. Once you have been to a city like Istanbul, most other places feel small, off the map. You feel you are away from the center of things.
But I had a job, and a certain measure of stability. Plus, I was still getting my bearings in Turkey, adjusting to the new culture, learning my way around.
That stability was soon to be shaken up. Around Christmas time, we went to the local emniyet to procure my residency permit. Naively, I had assumed that all of this had been taken care of, passed along, by the staff in Istanbul. They had done so, but it was my responsibility to follow up, which I had neglected to do, having been caught up in all the transitions.
So at the emniyet, we got more bad news. I had overstayed the 90-day tourist visa issued upon my arrival. As a result, a residency permit could not be issued. I would have to first leave Turkey for 90 days, plus pay a fine for every day I had overstayed, which was about two weeks at that point.
In vain, my employers at the Bursa school worked all their local contacts, in hopes that some loophole could be discovered, that I would be able to avoid having to leave the country. It was in their interests as well, since they didn't want to have to go through the trouble of finding a replacement on such short notice.
But it was a no-go. There were no loop-holes, apparently. With regret, my employers said I would have to leave. They found a young Turkish woman who could fill the gap temporarily; I did the course handovers, briefed her on the students. My employers paid my salary, and wished me Godspeed, that the 90 days would pass quickly. "We are waiting for you," they said.
The problem now was: where could I go? I sent an urgent email to my parents back in America, giving them a condensed version of my crisis. Would it be possible for them to help me get a ticket to fly home? But a plane ticket on such short notice, we found, was formidably expensive. "Things here are really tight right now," they said. "If you really need to get home, of course we can try to work it out. But are you sure there isn't some other way?"
It was unfair to put them in such a position. After all, what had happened was my fault, at least partly. The clock was ticking: every day that passed was adding an extra 10 euro or so to my fine for having already overstayed my visa in Turkey.
Then, in a desperate moment of inspiration, I suddenly thought: What about Prague? I had lived there for five years, and had friends there. On Facebook, I chatted with one of my colleagues from my old school. "You're coming back?" she wrote. "Great!" Yes, she said, it was possible that they could get me a bit of work.
With that encouragement in hand, I went to the local bus station, bought a ticket to Istanbul. A day or so later, I was bound for the city. In Istanbul, there were no direct buses to Prague. I would have to get a ticket from Istanbul to Sofia, Bulgaria, and then proceed to Prague.
The bus ride from Istanbul to Sofia was long, interrupted by border checks in which we all had to get off the bus, while customs searched the baggage, checked passports, etc. I was directed to the police station, where rather friendly officials (they offered me a plate of fresh apples while I waited) totted up the amount owed, had me sign a document, and instructed me not to come back for at least 90 days.
These formalities concluded, I rushed out to get my bus. That evening we arrived in Sofia. By chance, a girl on the bus worked for a local tourism office, and made a phone call at a hostel she knew that was cheap, and told the proprietor there to expect me. She even wrote down directions to the hostel in Bulgarian, which I gave to the taxi driver upon my arrival.
The proprietor at the hostel was a young man, who was very easy going. I was the only person staying there that night. The rooms were quiet and clean, and Internet was free. I checked the bus times to Prague, but there wasn't any bus the next day. I would have to spend a day in Sofia, then get a bus the following day. So, oddly enough, I would have a one-day holiday.
"Would you like breakfast in the morning?" the young proprietor asked.
"Sure," I said. "What time do you serve?"
He shrugged. "Oh, Whenever … Whenever you wake up."
So I ended up spending a day in Sofia. It's a fairly small, eastern European city, with the beautiful St. Sophia cathedral in the center, and lots of cheap eateries. There were also mosques, a reminder that Bulgaria is home also to a significant Muslim population.
But I was already running low on money, and anxious to be on my way.
The next morning, I got on a bus for Prague. It was another long bus ride, taking us through tiresome border checks at the Bulgaria-Serbia border, and again that night at the border of Hungary, where we entered the Schengen Area (after that there would be no more border checks, thankfully). We passed through Budapest sometime in the night, and I have a memory of Bratislava as well. It was a deep, hard winter everywhere. The bus driver drove us all through the night, and we finally arrived in Prague around six a.m., my old city Prague, buried under a foot of snow.
###
Luck was in my corner. An Australian friend, who owned a club in the neighborhood of Vrsovice, was not unsympathetic to my situation. He agreed to put me up in a flat he rented above the club, rent-free, provided I helped out a bit at the club. Also, some students at my former school, happy to see me again, agreed to restart our lessons.
But in many ways, I was restless in Prague. Somehow, it didn't feel the same. It is one of the traits of my character, I suppose, that once an experience in my life concludes, I tend to put it away. Prague was the past. Istanbul was supposed to be my present, my future. Also, it was embarrassing, or distressing, to be suddenly robbed of my prospects. For the first time I could remember, I was for the most part unemployed (the lessons with the former students were only once a week), and forced to rely on the kindness of friends and fate.
Working at the night club helped pass the time. At concerts and parties, I worked the coat room, and helped with various duties, such as lugging in the beer kegs, and cleaning up in the mornings after the gigs. The Czechs, always quick to spot irony, were rather amused.
"What is an American doing working in the coatroom?" they would ask, when I took their jackets. "Have you ever considered teaching English? You'd make better money."
"I'm working on it," I'd say.
Meanwhile, I had kept in touch with the director in Istanbul, the one who had originally recruited me. He shared my disappointment, and said he would keep me posted. The position in Bursa had already been re-filled, and my employers there were not replying to emails. Then, by a stroke of luck, my recruiter informed me that one of the teachers at their Suadiye branch on the Asia side had given notice, and was set to leave in April. That was when I would be cleared to return to Istanbul. The director agreed to put in word for me.
A day or two later, I received an email from the director at the Suadiye branch offering me the position. The word from her colleague in Levent had apparently been enough. A wave of relief passed over me: I was no longer suspended in air. I was on my way back to Istanbul, and I had a place to land!
###
With April came the arrival of spring. I bought a bus ticket, and took the same two-day long trip back across the Continent to Istanbul. This time around, I had the luck of sitting next to a Czech guy on the bus. His name was Lukas, and he was going to visit his girlfriend, who was attending university in Istanbul on an exchange program. We spent the two-day trip chatting, and he shared a bunch of sandwiches he'd brought along for the journey.
Having Lukas along felt like a good omen, closing the book on my Czech experience, and giving a blessing to begin a new one. We crossed the border, and the great red Turkish flag, with the star and crescent waved in the sun. It was spring in Turkey too, and it felt different this time. I had left in the winter, despondent, feeling the double weight of urgency and disappointment. Now, I was returning and I felt excitement and hope.
Lukas shared these feelings, too. He had never been to Istanbul before, and had missed his girlfriend terribly. As the great city appeared on the horizon, we anticipated our arrival.
"How big is Istanbul?" he asked.
"About 13, maybe 15 million people," I said. "Nobody is really sure exactly."
"Wow! 13 million!" Lukas exclaimed. "That is more people than in the entire Czech Republic! All living in one city!"
"It is amazing," I agreed.
And it was true. Ahead, the great city of Istanbul beckoned. I was back, and it felt like a true returning. No longer consigned to the outskirts, I had returned to Constantinople, the city of the world's desire.
At the bus station, we wished each other luck. He went to meet his girlfriend, and I to meet my future.