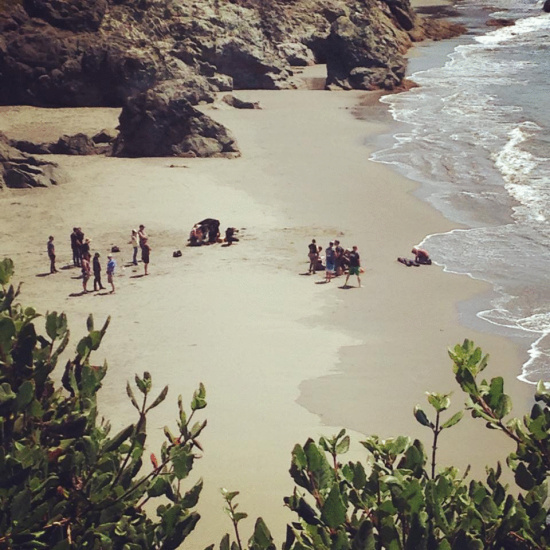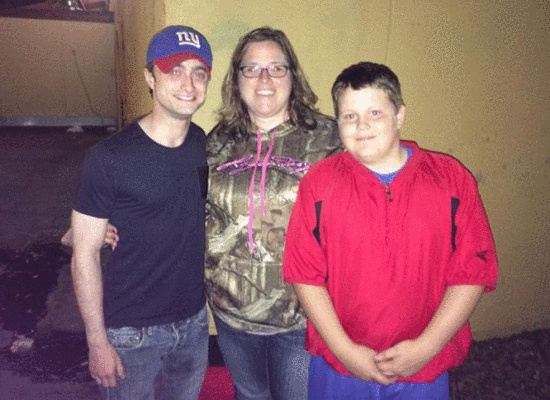 Jennifer Wilson Lanham and her young associate with Radcliffe outside Denny's. Photo submitted by Michelle Lee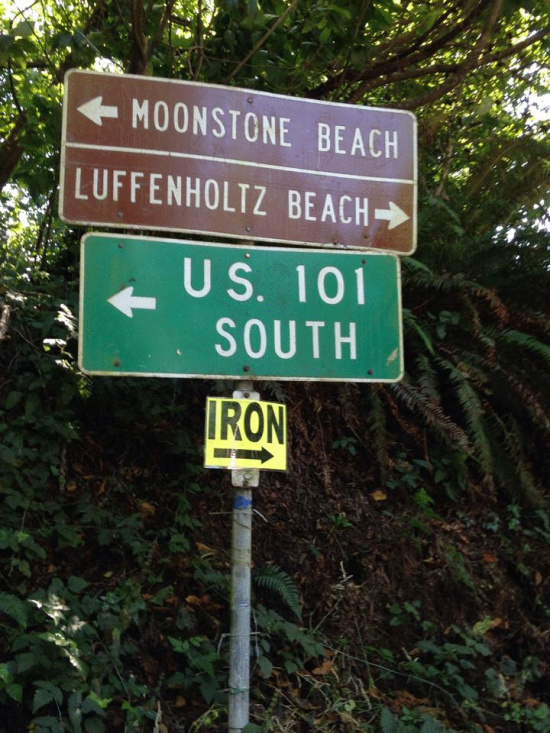 "IRON" signs posted around town were used to direct production crews to their next location.
Humboldt County's Potterwatch has come to an end. Daniel Radcliffe and co-star Paul Dano left town this weekend after wrapping the independent film Swiss Army Man.
The six-day shoot spanned several locations, including Humboldt Redwoods State Park, Luffenholtz Beach and Patrick's Point State Park.
Detailed film permits obtained by the Outpost reveal the scenes involved classic Hollywood elements like actors, walking and dialogue.
Radcliffe was most notably spotted eating at the Eureka Denny's Friday night, where he took photos with several fans. The stars also visited the E & O Bowling Alley in McKinleyville on Saturday.
Some of you may have stumbled across the shoot last week without realizing it, as the ever-sneaky film commission deterred many onlookers by telling them it was a Hyundai commercial.
Laura Montagna, a local casting director, said the movie was kept tightly under wraps because this film had an especially high risk of being disrupted by fans.
"This was a very taxing shoot," Montagna said. "Any delays would have made it so much harder."
According to the Humboldt-Del Norte Film Commission, this summer has been unusually busy with film shoots. Since June, there have been nine shoots between Humboldt and Del Norte counties, which usually receive about 20 shoots a year, on average. The projects have varied from commercials to music videos and feature films.
"Our awesome film commissioner has been working hard," Montagna said. "She's gone to L.A. multiple times to meet with people and explain what we have to offer."
The commission estimates that Swiss Army Man brought more than $83,000 into the community through production costs like food, rental cars, hotels, catering, supplies, props and local workers.
Montagna said roughly 12 local workers were hired for the shoot and made up about half of the production team. Local caterers, medics, production assistants and a location manager were utilized for the film. Montagna said the producer was so impressed with the professional quality of the local production assistants that all six of them received a dollar an hour bonus.
And for those of you desperately wondering what your childhood hero was like in person, Montagna has good news.
"Radcliffe and Dano are very wonderful guys to work with," she said. "The two of them are very hard workers and nice people."