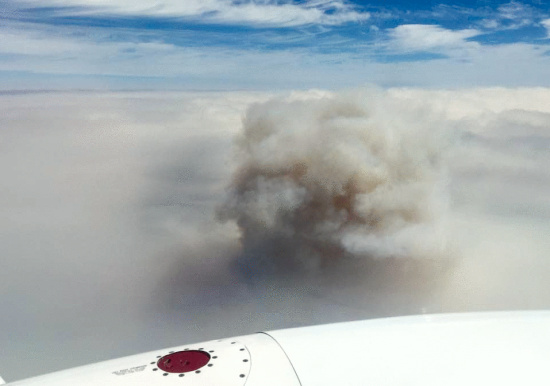 Air quality in numerous communities in Humboldt and Trinity counties continues to be dangerous due to smoke from nearby wildfires. The following alerts were issued Wednesday by the North Coast Unified Air Quality Management District:
HAZARDOUS CONDITIONS: Willow Creek, Denny, Hayfork, Hyampom, Burnt Ranch
UNHEALTHY CONDITIONS: Orleans, Hoopa, Weitchpec, Weaverville, Big Bar, Junction City, Lewiston, Trinity Pines, Wildwood, Mad River, Dinsmore
In the event that you find yourself dwelling in one of those hellish places, there are a few things you can do to be kind to your lungs. The Humboldt County Department of Health and Human Services passed LoCO along some info on how you can create a clean room in your home and reduce your exposure to smoke:
People who live in areas that are regularly affected by smoke from wildfires are advised to create a "clean room" in their home, if possible. A good choice is an interior room, with as few windows and doors as possible.

Some suggestions for maintaining a clean room:

Keep windows and doors closed.
Set up a properly sized air cleaner which will help remove particles from the air while emitting no or minimal levels of ozone. For more information about residential air cleaners: (Link 1, Link 2, Link 3).
Run an air conditioner or central air conditioning system if you have one. If the air conditioner provides a fresh air option, keep the fresh-air intake closed to prevent smoke from getting inside. Make sure that the filter is clean enough to allow good air flow indoors.
Do not vacuum, because vacuuming stirs up particles.
Do not fry or broil foods, smoke or burn anything such as candles or incense anywhere in the house.
Keep the room clean.
If it is too warm to stay inside with the windows closed, or if you are very sensitive to smoke, seek shelter elsewhere. Keep in mind that may particles will enter your home even if you take all these steps.

Specific strategies to reduce smoke exposure

Stay indoors
Reduce physical activity
Reduce other sources of indoor air pollution
Humidifiers are not air cleaners, and will not significantly reduce the amount of particles in the air during a smoke event. However, humidifiers may slightly reduce pollutants through condensation, absorption and other mechanisms.
Vehicles — keep the window and vents closed, and if available, operate the air conditioning in "recirculate" mode.

Source: Wildfire Smoke – A Guide for Public Health Officials (2012)

For 24-hour Air Quality Advisory Information, call the North Coast Unified Air Quality Management District hotline toll-free at 1-866-BURN DAY (1-866-287-6329), or visit their website at www.ncuaqmd.org
# # #
Now, here are the latest updates, stats and perimeters for the various local fires. (Note: The shaded areas include areas burned, both active and inactive. Click here to get a better visual idea of where the current hot spots are.)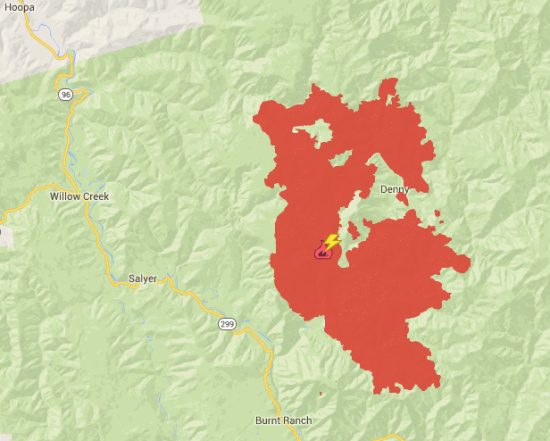 RIVER COMPLEX (near Denny)
Acres: 45,447; Containment: 20%; Personnel: 750
Last night crews continued to patrol the Denny area and western flank of the fire. Resources also worked to keep the fire north of Ironside Mountain Road. The fire burned more actively in terrain above 3,500′ due to much lower relative humidity.
This weather trend will continue producing a strong inversion over most of the fire area resulting in thick smoke and light terrain-driven winds. The inversion has resulted in the grounding of all aerial assets for the fire with the exception of an air-attack plane equipped with an infrared camera that is able to see through the smoke and provide information on hot spots that are currently not visible to observers on the ground.
Today, the main firefighting efforts will be on the south flank, as crews work to keep the fire north of Ironside Mountain Road with direct fireline. Crews will also be building indirect dozer line to the southeast to protect the Highway 299 corridor and surrounding properties. As the fire continues to back down towards Denny, engines and crews are in place ready to take the next step in protecting homes and properties.
Control objectives are to protect the communities of Denny, Bell Ranch, Hoboken, Trinity Village, Hawkins Bar and Dailey, and the Highway 299 corridor from the impacts of unwanted wildfire. These objectives also include protecting life, property, and cultural values on and near the Hoopa Valley Indian Reservation.
Closures and Evacuations: The Trinity County Sheriff's Department mandatory evacuation is still in effect for the Denny, Quinby, Dailey, Hoboken and Bell Flat areas, due to fire activity. A hard road closure is in effect on Denny Road at the junction of FS Road 7N26 at Onion Saddle.
Forest area trail and road closures are in effect on the Six Rivers and Shasta-Trinity National Forests.
# # #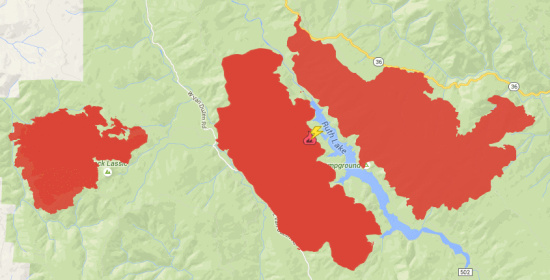 MAD RIVER COMPLEX (Ruth Lake)
Acres: 22,462; Containment: 65%; Personnel: 1,051
The three fires on the Mad River Complex (Pickett, Gobbler and Lassic) have burned 24,462 acres, with 65 percent containment and 1,051 personnel.
The Pickett Fire (10,939 acres, 78 percent contained) has backed down to Highway 36, and debris continues to create a hazard on the highway. Steep embankments along Highway 36 pose a risk for debris to roll out and get below the road resulting in possible spot fires. Structure protection crews remain in the Forest Glen area.
The Lassic Fire (7,241 acres, 24 percent contained) continues to spread to the east, west and south. The fire continues to back down the west flank and may make significant runs.
Although residents may see smoke coming from the interior of the Gobbler Fire (8,282 acres, 100 percent contained), the containment line is secure and crews will remain in the area performing mop up.
Today's temperatures will be in the high 80s and humidity levels will remain low, which will continue to affect fire behavior.
Evacuations and Closures: Mandatory evacuations are in effect east of the Lassic Fire for the residents on FS Road 1S14 just west of Van Duzen Road; residents in the Forest Glen area; and for the end of Kerlin Creek Road. Residents in the Swayback Ridge area remain under an evacuation advisory. Voluntary evacuations include the St Johns Road, Wintoon Flat, Waldorf Flat, Grel Ranch and Oak Flat.
Highway 36 remains under a hard closure (no one allowed to travel, including residents) from South Fork Mountain Summit (mile marker 9.29) east to Lower Rattlesnake Road (mile marker 22).
# # #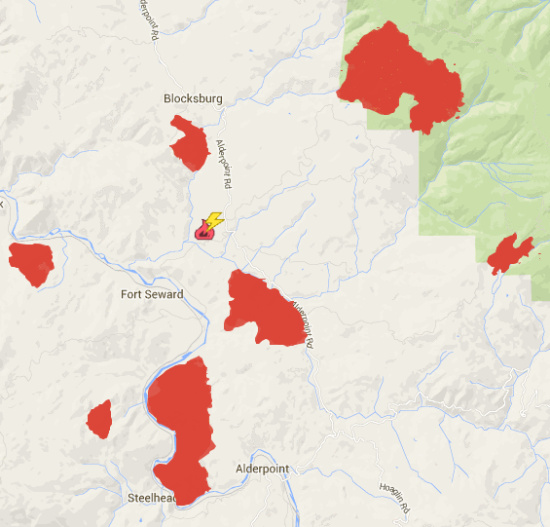 HUMBOLDT LIGHTNING FIRES (near Blocksburg/Alderpoint)
Acres: 4,883; Containment: 97%; Personnel: n/a
# # #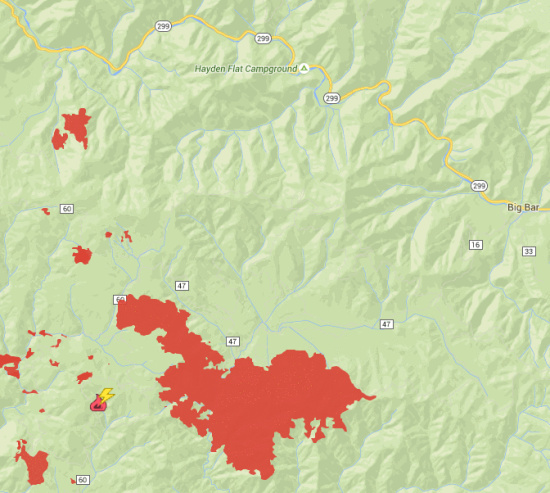 SOUTH COMPLEX (near Burnt Ranch)
Acres: 22,367; Containment: 40%; Personnel: 1,130
A heavy inversion stayed over the fire again today, moderating fire behavior and diminishing visibility.
Crews continued today to hold and mop up the line along Forest Road 5N60 on the west side of the Castle Fire. The west edge of the Castle Fire downriver from Salmon Rock continued to back slowly toward the river. Some good consumption has been observed in the vegetation on the steep slopes, but potential for rollout and re-ignition is high, and crews will continue to be stationed up and down the Lower South Fork Road to watch for spot fires across the river and provide point protection structures should it become necessary. The northwestern and northern lines of the Castle Fire continued to hold well, and crews were in the area today cold trailing the perimeter (feeling the edge of a burning area with the hand and digging out or trenching round burning spots) to make sure that the fire is completely out.
# # #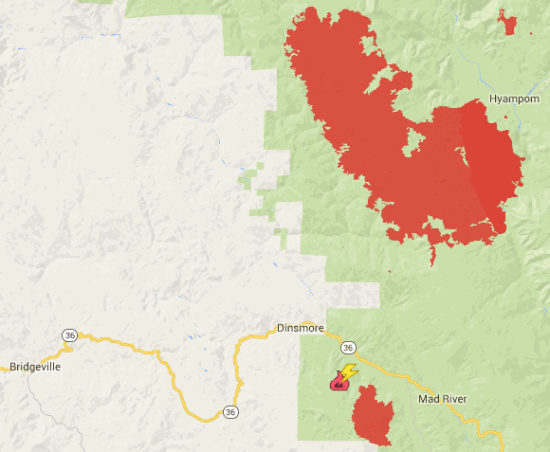 ROUTE COMPLEX (near Hyampom/Mad River)
Acres: 32,959; Containment: 37%; Personnel: 893
The two fires of the Route Complex (Buck and Johnson) have burned 32,959 acres, with 37 percent containment and 893 personnel. The Buck Fire has burned 1,669 acres and is 100 percent contained.
Crews conducted successful burnout operations on the north end of the Johnson Fire (31,290 acres, 29 percent contained), moving those portions of the fire toward holding status. The majority of the east side of the fire near Hyampom is in holding status. Crews have made significant progress securing and preparing line on the western side of the fire for a planned burnout. Continued burnout operations are planned for the south end of the fire.
# # #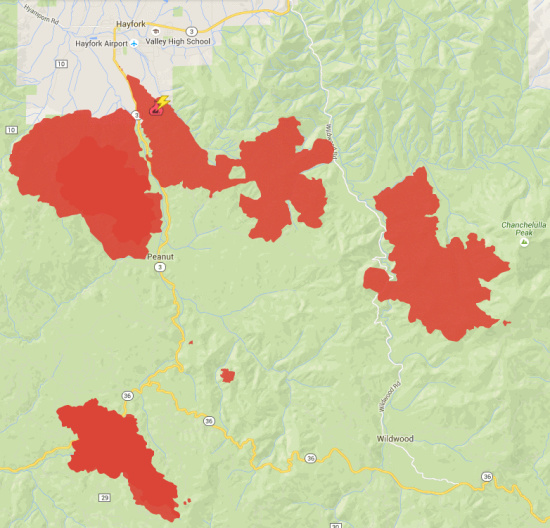 FORK COMPLEX (near Hayfork)
Acres: 35,165; Containment: 52%; Personnel: 1,728
The Fork Complex consisted of over 40 fires, all of which were ignited by lightning July 30, 2015. Currently 5 are still uncontained and are composing the Fork Complex (Barker, Peak, Rail, Shiell, Big Foot, and Blue Fire).
# # #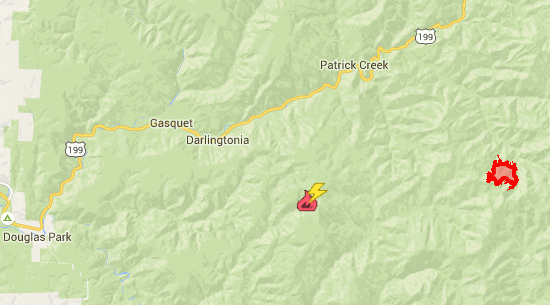 GASQUET COMPLEX (near Gasquet)
Acres: 6,426; Containment: 20%; Personnel: 715
There are six fires on the Gasquet Complex—Bear (1,194 acres), Coon (3,279 acres), Peak (1,156 acres), Summit (639 acres), Williams (870 acres) and Feeder (715 acres)—totaling 7,853 acres, with 20 percent containment and 715 personnel.On the Coon Fire, firefighters continue to secure the FS Road 16N19 and shore-up existing lines. Steep terrain and heavy fuels continue to make fireline construction very slow. Fire weakened trees, spotting and drought-stressed fuels continue to challenge containment efforts.
Today and tomorrow, a better onshore flow will moderate temperatures and increase humidity. However, the inversion will remain in place through Thursday and smoke will remain a problem.
# # #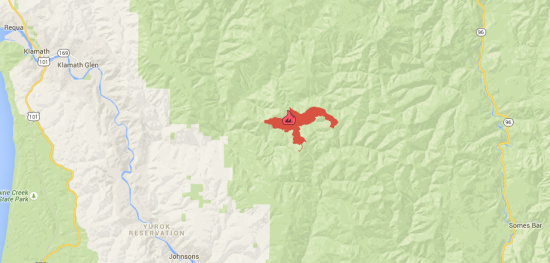 NICKOWITZ FIRE (near Somes Bar)
Acres: 3,331; Containment: 53%; Personnel: 377
The fire is 3,331 acres, with 53 percent containment and 377 personnel. Yesterday, the fire grew by 400 acres. The fire continues to be under the influence of a thermal inversion that reduced fire activity, but also resulted in dense smoke. The fire's northern containment line remained quiet.
The highest priority for today is to hold and secure the southeast flank (FS Road 13N01K). A shallow marine layer will moderate humidity and temperatures in drainages, but hot and dry conditions will continue on ridges.
A public meeting for the Nickowitz Fire will be held at 6 p.m., tonight, at the Karuk DNR Building, 39051 Highway 96, Orleans.
# # #
HORSE FIRE (King Range)
Acres: 50; Containment: 5%; Personnel: n/a
Little official info has been released about the Horse Fire which has been burning six miles northeast of Shelter Cove since yesterday.
# # #
(Updates from Six Rivers National Forest, Calfire and InciWeb/Maps courtesy Calfire)