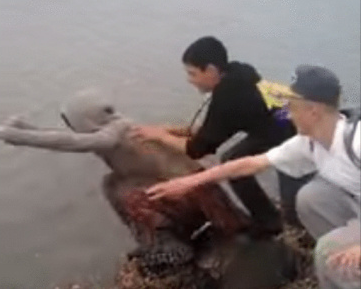 Far and away the most read, commented on post in Outpost land this week concerned the video uploaded to Facebook by a local male juvenile showing two local teens pushing an assumed to be homeless woman into Humboldt Bay. The Internet found the clip compelling enough to grant it an audience beyond the Redwood Curtain.
Community outrage was palpable. In addition to the urgings we received from readers to look into the video, the Eureka Police Department told us numerous concerned community members had forwarded the clip their way. At the time, EPD told us the identity of the woman was unknown but that if she came forward and wanted to press charges, they would look into the incident further.
Today, we received an update from EPD.
"Eureka Police Investigators have identified the female in the video from earlier this week. All involved parties have been interviewed and an investigation is in progress," Brittany Powell, public information officer with EPD wrote in an email to the Outpost.
Powell went on to say that the case has been referred to Juvenile Probation for assault charges on the male juveniles.
PREVIOUSLY: