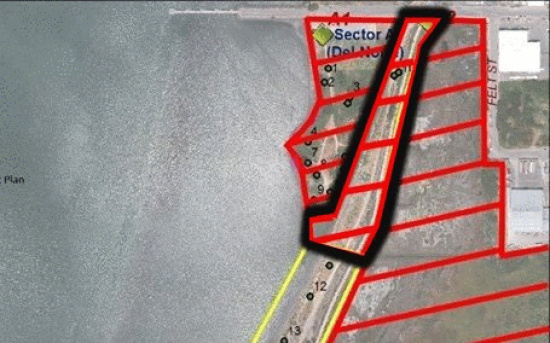 The Eureka Police Department will soon be shrinking the area of the Palco Marsh/Devil's Playground where homeless encampments are tolerated, removing campers from a sliver of land adjacent to foot of Del Norte Street.
Captain Steve Watson told the Outpost this afternoon that officers have notified campers in the area of the coming closure several times over the last few weeks – yesterday, most recently. He said that the action was of a piece with the city's longstanding goal of consolidating and reducing the footprint of homeless encampments in the bayfront greenbelt from the foot of Del Norte to the Bayshore Mall, and that the area in question contained the camps least in compliance with the open space management plan the Eureka City Council passed in October.
Watson said that there are currently no plans to conduct a large-scale enforcement action to remove people currently living in the newly forbidden slice of the Marsh. However, eventually people who continue to make camp there will may* be arrested and their property confiscated.
"We're choosing a more moderate, reasonable and patient approach, given the storms and the holidays and our resources," Watson said. "But there are limits to patience."
The same applies, Watson said, to campers who have not been in compliance with the camping guidelines set up in the open space management plan. Police have been handing this flyer out to people living in the marsh, detailing the types of property and structures that will prompt police to arrest campers, regardless of whether they are inside area where camping is tolerated or not.
"We're not giving anyone permission to camp," Watson said. "We're not going to do that." But people who follow the city's open-space rules, commit no other crimes and pitch tent in the city-designated low-level enforcement areas will not be arrested, he said.
A Facebook group called "Friends of the Humboldt Homeless" has announced a "direct action" protest against the city's closure of the south-of-Del Norte strip tomorrow morning at 9 a.m. The group is calling on people to meet in the Bayshore Mall's north parking lot, there to decide "what action needs to be taken" in the event that this is a full-scale crackdown tomorrow morning, contrary to what the police department is promising.
###
* = Watson, in a follow-up email, wished for this point to be clarified.
###
PREVIOUSLY: