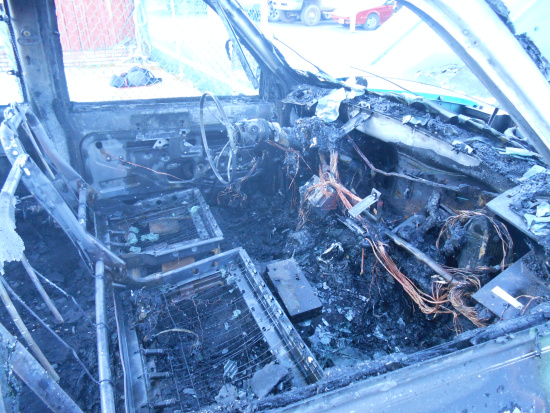 Interior of vehicle.
Humboldt County Sheriff's Office press release:
On 02-23-2015, at approximately 8:03 a.m., the Humboldt County Sheriff's Office received a 911 call regarding a vehicle fire at the Lone Pine Motel, 912 Redwood Drive. Personnel from Cal Fire and Garberville Volunteer Fire Department were also dispatched. Upon their arrival they were able to successfully extinguish the fire and their efforts likely prevented additional property damage.

A Sheriff's Deputy was dispatched and met with the owner of the vehicle who reported that unknown suspect(s) intentionally set the vehicle on fire. Evidence at the scene confirmed that it does appear the vehicle was intentionally set on fire. During the investigation, the deputy was told there are multiple witnesses who have information about the suspect(s) identity, however they have not yet come forward.

This investigation is ongoing and anyone with information for the Sheriffs Office regarding this case or related criminal activity is encouraged to call the Sheriffs Office at 707-445-7251 or the Sheriffs Office Crime Tip line at 707-268-2539.