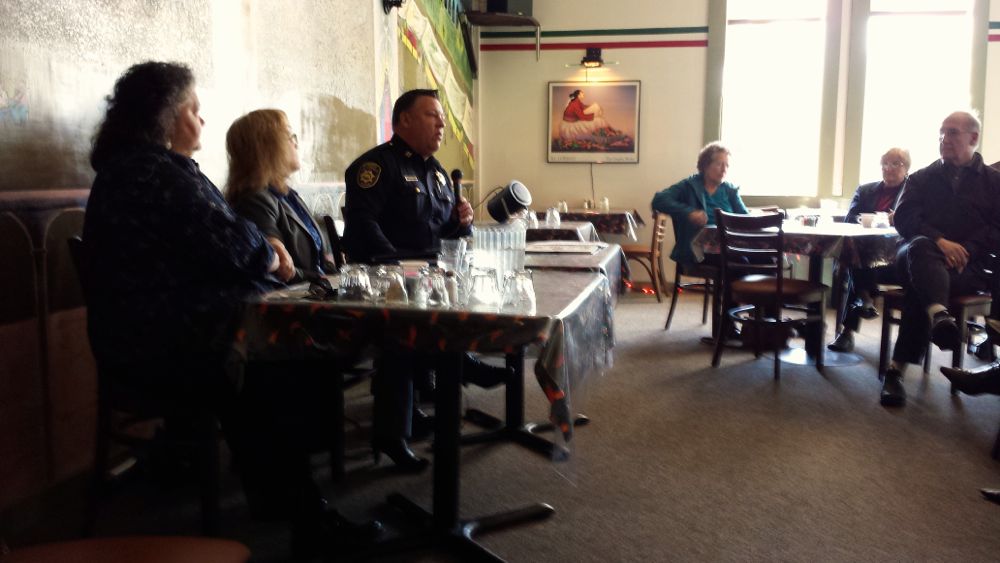 Seated at table, from left: RCAA Executive Director Val Martinez, Humboldt County Department of Health and Human Services Assistant Director of Programs Barbara LaHaie and Eureka Police Captain Steve Watson.
A couple dozen local community members showed up this morning at Chapala Cafe in Old Town Eureka to discuss the upcoming changes at the Multiple Assistance Center, better known as the MAC, a homeless services facility operated by the nonprofit Redwood Community Action Agency (RCAA) in collaboration with the City of Eureka and Humboldt County's Department of Health and Human Services (DHHS).
The 100-bed complex located near Target at the north end of Eureka is scheduled to be repurposed this summer. No longer will it function as a transitional housing facility serving homeless families; instead it will serve as an intake facility for chronically homeless individuals, many of whom have mental health and substance abuse issues.
These scheduled changed have sparked concern in the community — some on behalf of the families who will no longer be housed at the MAC and some over crime and safety issues with the new population.
Making some introductory comments, Charlotte McDonald, executive director of the business alliance Eureka Main Street, said the meeting was intended to explain the reasoning and methodology behind the transition — "so don't grab your torches and pitchforks," she quipped.
[Note: McDonald later contacted the Outpost to clarify: "I was explaining the importance of educating the community on the facts, and I was encouraged so many people were there because I don't like the 'grab your pitch forks mentality.' … I wasn't telling the members at the meeting not to…."]
The people tasked with making those explanations were RCAA Executive Director Val Martinez, DHHS Assistant Director of Programs Barbara LaHaie and Eureka Police Captain Steve Watson, who was on hand to discuss crime and safety concerns.
LaHaie started by saying that the latest research shows that Housing First models have proven to be more effective at solving homelessness while also being less expensive. (Salt Lake City, Utah, has been as especially successful proving ground for such research, as explained in this month's cover story in Mother Jones.)
The MAC, LaHaie explained, will be used as an assessment center (Martinez dubbed it "triage") for singles — a place to analyze their needs and set them up with permanent housing, with the vast majority of residents staying for no longer than 30 days.
Another motivation for the repurposing, according to Martinez, was a change in priorities from the U.S. Department of Housing and Urban Development (HUD), which is also moving toward Housing First models (though not to the exclusion of transitional housing, as the Outpost addressed earlier this month.)
"I realize this is probably very alarming to some people," Martinez said. But she insisted that her own commitment to families and children, as well as the commitment of RCAA and its board, remains steadfast. RCAA is collaborating with the county to develop a "mini-MAC," Martinez said — a smaller location offering some of the services currently offered at the MAC, though she said the details (including a possible location) have yet to be determined.
Fourth District Humboldt County Supervisor Virginia Bass was in attendance, and she asked whether RCAA had reached out to local landlords. The county, she said, recently had vouchers for veterans to get housing but not enough landlords participated to meet the need. Bass also said she's been contacted by local landlords asking how they can help with the MAC repurposing.
"Have them call us," LaHaie said. And she added that the county has been knocking on doors and working with apartment managers to find more affordable housing.
Captain Watson chimed in with some big-picture validation. "The old models aren't working; everyone knows that," he said. "Running around clearing out the camps displacing people into different places and towns, only to have them come back … doesn't solve anything long term."
But many in attendance remained skeptical. When the panel started taking questions from the audience, a woman said, "I don't understand why it has to be either/or." Why, she wanted to know, does the MAC have to displace families in order to serve individuals? When the facility first opened it served both.
LaHaie said it's rare for facilities to serve both those populations, since there are logistical and safety concerns mixing the two. Besides, she added, the people working on this transition believe it will wind up better serving both individuals and families.
A man with a white beard stood up at the back of the room and said he has a business next to the MAC and has concerns about the prospect of the MAC's new clients. Things are already bad, he said. "Just the other day we had two people shooting up in the back alley," he said. "I confronted them; I had a knife pulled on me." The knife-wielder then stole things from his store, he said.
This man suggested that more funding should be spent on educating the homeless, and he reiterated his displeasure over repurposing the MAC. "Sounds to me like a bunch of malarky," he said. "You're kicking families out to bring singles in?"
LaHaie and Martinez tried to ease his concerns, telling him that there will still be strict supervision of MAC residents, just as there is now. Martinez added that there are homeless camps behind the MAC, and those folks often get mistaken for MAC residents.
Recently elected City Councilwoman Kim Bergel said that she, for one, is optimistic. She believes the new system will better serve those with mental illnesses, many of whom aren't doing better because they simply can't. "I am so looking forward to being a part of this and watching it grow in our city," Bergel said. "I really believe it will be a great solution."
Several women in attendance expressed more concerns for the families who will no longer be housed at the MAC. How exactly will services such as child care, parenting classes and domestic violence programs follow them to their new housing situations? they asked.
Some of those programs will be offered to families in their homes, LaHaie explained, while others will be provided out in the community.
Audience members kept peppering her and Martinez with questions. Child care is very hard to find for some people, they said. Section 8 housing has a huge waiting list. One particularly exasperated woman interrupted LaHaie mid-sentence. "We know what the problems are," she said. "We're concerned about honest solutions that are workable. … I'm just tired of hearing the same thing over and over and over."
Remaining composed, LaHaie and Martinez said there are still issues that have yet to be fully figured out — sufficient child care, for example — "but any and all possible resources that can be brought to bear will be," Martinez said.
"I think this is a great opportunity for all of us, and I think it's been long in coming," LaHaie added. "We've looked at effective models; we know that people do better when they're housed." People living in permanent housing tend to be healthier and more hopeful, she said, adding, "I believe that we're going to have fantastic outcomes for both [singles and families]. … I anticipate we will have less homeless families."
The meeting ended on an upbeat note, but as attendees filed out to the sidewalks of Old Town they could be heard murmuring in concerned tones.