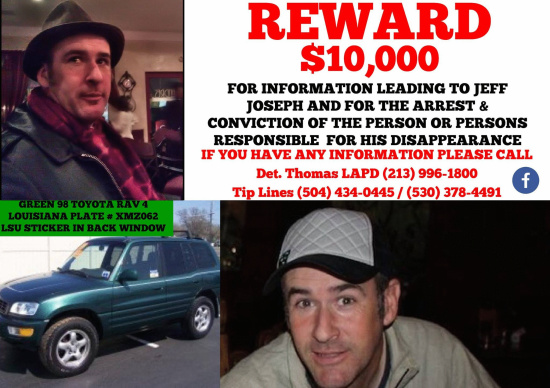 An enlarged version of the reward poster can be found here. At that site, clicking on each photo within the poster will enlarge the section further.
Family members have offered a $10,000 reward for information leading to Jeff Joseph, a former marijuana collective owner who went missing in the Weitchpec area last June. Friends and family have had no word from him nor has his green 1998 Toyota Rav4 been found. Several of his siblings believe that he may have met with foul play. The reward, as seen on the poster above, is contingent on the arrest and conviction of the people responsible for his disappearance.
Joseph's family believe he came to Humboldt County in order to do a marijuana deal and to check on a property he was leasing in the area. According to investigator Jeff Kaplan of K&K Confidential, there has been no new hard evidence of why Joseph disappeared, but there have been a number of leads from some people in the Weitchpec area.
However, neither the investigator nor law enforcement have discovered any hard evidence of Joseph's actual whereabouts. Detective Todd Fulton of the Humboldt County Sheriff's said that the property Joseph leased was searched last year but there was no evidence of him having been there, nor had the neighbors seen him in the area at the time of his disappearance. In addition, after the first of this year when the majority of leaves had dropped from the trees, the California Highway Patrol, at Fulton's request, did a flyover of the area in their helicopter and looked around for Joseph's car along the Klamath River between Cappell and Weitchpec. It was not located. Fulton said that the area is very rough and it is possible that the vehicle was there but not observed.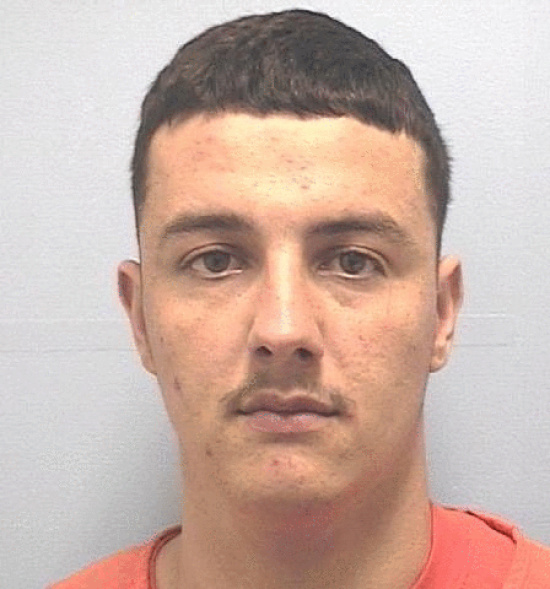 Kaplan, who was hired by the family to help track down leads, says that cell phone information indicates that Joseph, or at least his phone, was in the area on June 21. Several people who might have seen or spoken to him while he was here have failed to respond to numerous attempts to communicate with them, Kaplan said
In an effort to get those people to contact the investigator or police, Joseph's family have turned to the media for help. One individual is Robert Chris Hunter. Kaplan believes Hunter may have met with Joseph. He is currently wanted by the Trinity County Sheriff's Department — see photo from his wanted poster on the right — and efforts to contact him have been fruitless.
Two other people who lived/worked this past year on the property that Jeff Joseph leased near Weitchpec are also important to speak to, said the investigator. One is Eliot Storms. Joseph's family describes him as having been a friend and business partner of the missing man for over seven years. The other, Ben Rogers, was someone Joseph knew in Louisiana as well as here in Humboldt. A family member says neither have responded at all to multiple attempts to communicate with them.
Detective Fulton said that he had not been in contact with Storms or Rogers yet, though he did hope to speak with them. Hunter, he said, was one of Joseph's numerous contacts across the country, and contacting all of them without a specific reason to believe they know something is time-consuming.
Anyone with information may contact Detective Todd Fulton of the Humboldt County Sheriff's Office at (707) 268-3646 or Private Investigator Jeff Kaplan at (925) 890-0695. Detective Fulton said that even anonymous information may be helpful.
Previously: