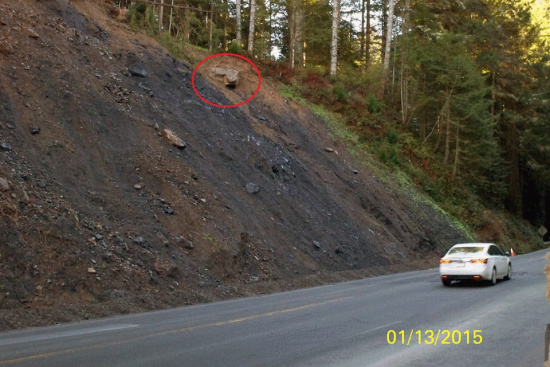 If you plan on traveling up the 101 tomorrow toward Crescent City, make sure to account for the controlled detonation mentioned in the Caltrans District 1 Facebook Page post included below:
Caltrans Maintenance has identified this boulder (circled in red in the first photo) as likely to slide onto the roadway during a winter weather event. It's located approximately 4 miles south of Crescent City on U.S. Highway 101 in Del Norte County.

"We're not sure how much rain it would take to bring it down, but we know it's going to come down eventually," the Caltrans North Area Maintenance Superintendent reported. "We're starting this safety project before more wet weather comes in so that we don't have to go out in the middle of the night after it's already fallen onto the road to deal with it."

Caltrans will be using a controlled detonation to bring the boulder down the hillside in a safe manner in the morning of Wednesday, January 14. One-way traffic control will be in effect from approximately 9 a.m. to noon, and motorists should expect delays of up to 30 minutes.