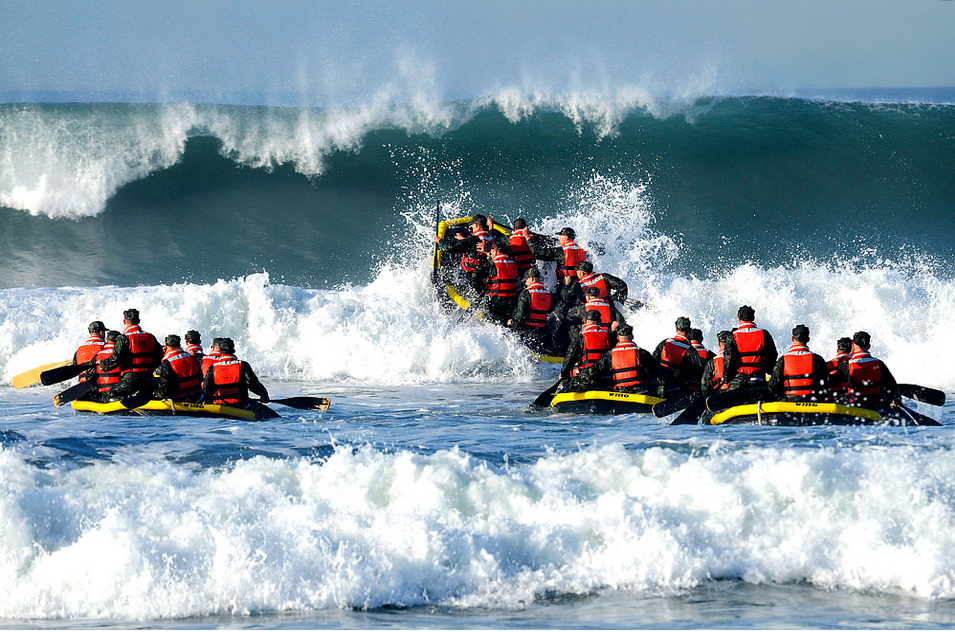 Wing Inflatables crafts in use during Navy SEALs training. Image courtesy Wing Inflatables.
In the past year and a half, Wing Inflatables has lived up to its name, ballooning in size from 50 employees to more than 130 — and there's more growth planned. The company, whose manufacturing warehouse lies inconspicuously beyond the train tracks west of Fifth Street's terminus in Arcata, has managed to land a series of major contracts supplying its signature boats and sponsons to the United States military.
Wing's flagship line is its Combat Rubber Raiding Crafts (CRRC), a series of stealthy, black, inflatable rafts popular with the U.S. Department of Defense. These boats are used for everything from covert Navy SEAL operations to swift-water Air Force rescues to clandestine Army beach landings. They're even used by the National Oceanic and Atmospheric Association to rescue whales and NASA to retrieve space capsules.
Government contracts have long been the company's bread and butter, with more than $15 million in awards over the years, but sales have skyrocketed since July 2013, when a group of Bay Area investors, aligned under the name Armada Acquisition Group, purchased the company for an undisclosed sum.
Armada took over from a group of local owners that included company founder Bill Wing, an outdoor enthusiast who launched a recreational river rafting company with his dad and brother before starting Wing Inflatables in the early 1990s.
Wing suffered a brain injury in a boating accident on the Trinity River a decade ago. According to his wife, Elizabeth Wing, multiple procedures — including open-brain surgery — were unsuccessful in treating his trigeminal neuralgia, a condition that can cause excruciating facial pain. This contributed to the Wings' decision to sell majority ownership in the company, Elizabeth Wing said, adding, "We are proud of the company we built and the accomplishments we made."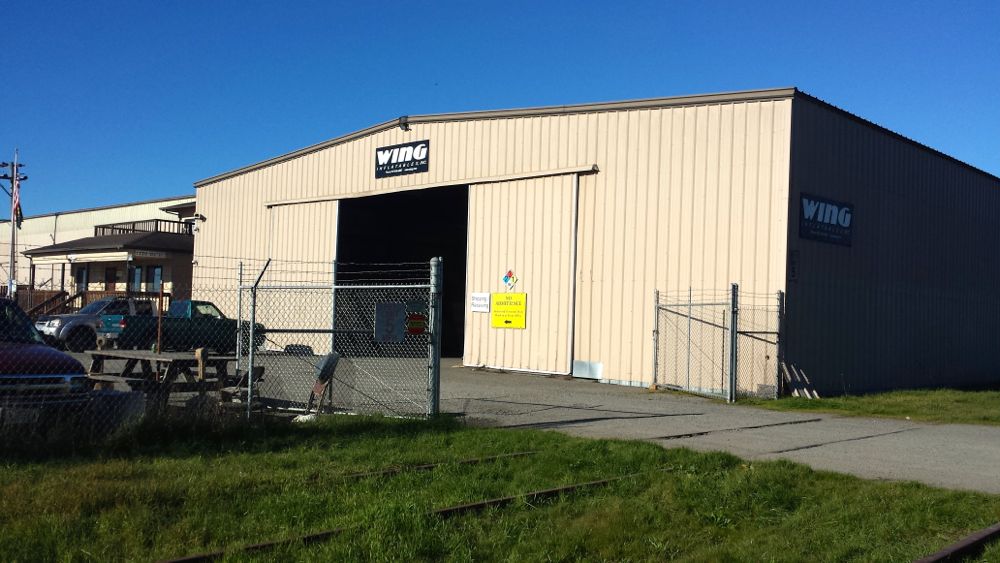 Wing Inflatable's Arcata warehouse.
Unlike the Wings, the new majority owners who comprise Armada Acquisition Group are not locals; they're savvy and experienced venture capitalists who saw in Wing "a very promising growth opportunity." For many Arcatans this may bring to mind a familiar storyline. Call it "the Yakima exodus": a homegrown company finds success and decides it no longer wants to deal with the competitive disadvantages of this place — the difficulties finding a skilled workforce, the transportation and shipping headaches, etc.
And indeed Wing's success has apparently come to the attention of other cities in California, cities large enough to offer tax incentives unavailable in rural areas in hopes of luring them away. But according to Andrew Branagh, the new president/CEO of Wing and a principle in Armada Acquisition Group, the company plans to continue growing in Arcata. When the Wings and their fellow investors sold the company in 2013 they relayed the importance of staying here.
"Everybody was really concerned that an outside group maintain the local connection," Branagh said in a recent phone interview. While Wing now has its corporate headquarters in Lafayette, Calif., and a sales office in Stevensville, Md., all but eight or nine employees remain in Arcata. "We intend to keep growing in Arcata," Branagh said.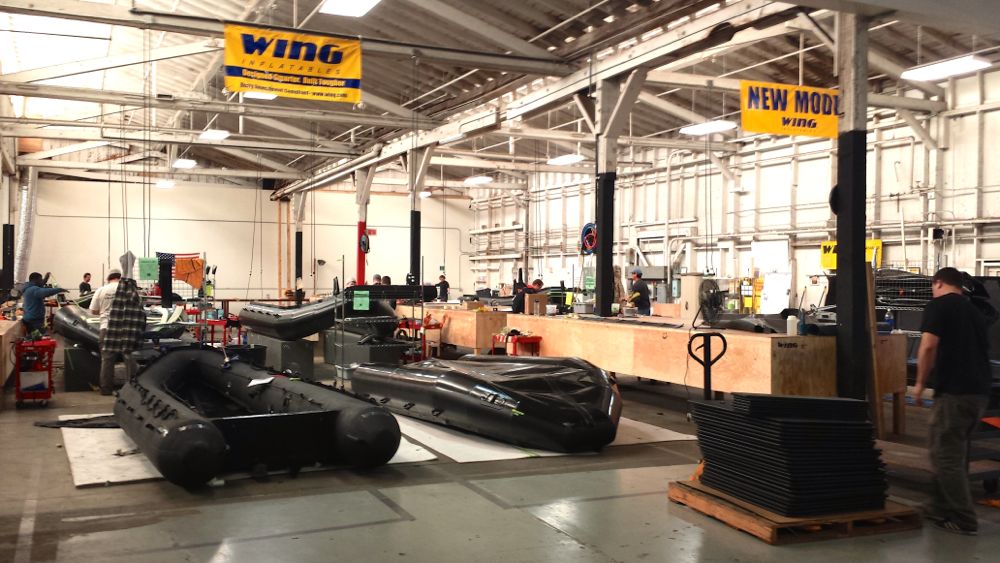 Inside Wing Inflatable's Arcata warehouse.
The effort to make that possible includes government assistance, from city and county economic development efforts all the way up to Congressman Jared Huffman.
"I'm very clear on the importance of Wing to the North Coast and to my district," Huffman told the Outpost last week in a phone call from D.C. "And I want to leave no stone unturned if we can find a way to keep them in Arcata and grow their business there as opposed to Richmond or some other place that I'm sure would be happy to steal them away from us."
Huffman said he's working with the company to try to leverage federal dollars through a handful of programs, including job-training programs and the Obama administration's new American Apprenticeship Grants, which create partnerships between employers, worker, training providers and local governments.
"I consider this a very urgent priority," Huffman said.
The Congressional helping hand was first extended to Wing by Huffman's predecessor, Congressman Mike Thompson, who helped the company take advantage of a key advantage over its competitors — or, more specifically, its chief competitor in supplying inflatable boats to the U.S. military: Zodiac. Thanks to a rule oultined in the so-called Berry Amendment, the Department of Defense must give preference to products manufactured domestically. Zodiac, which had been the Defense Department's primary supplier of small, inflatable boats, is based in France. Thompson helped show that Zodiac's boats were not constructed entirely of U.S. materials, giving Wing a leg up.
When Armada Acquisition Group took over in 2013, the new owners focused on expanding the market, both domestically, through the U.S. military, and internationally by multiplying the company's sales force from one employee to five.
"We've come in and really put hands on into evolving the company to another level," Branagh said. Shortly after the change in ownership Wing won "a fairly large government contract," beating out the incumbent provider, Zodiac, Branagh said. Since then the company has expanded its market to Australia and Europe. Wing Inflatables "has always had a good product," Branagh said. "They just didn't necessarily market around the world."
But landing the contracts is only one of many challenges. Wing needed to expand both its warehouse space and its workforce to meet the increased demand.
Wing Inflatables Chief Operating Officer Mike Dunaway stands in front of one of the company's inflatable sponsons inside the Arcata warehouse where they're constructed.
Last week the company's chief operating officer, Mike Dunaway, took the Outpost on a tour of the company's Arcata warehouse, whose corrugated metal walls are filled with humming machinery and a chemical smell reminiscent of model glue.
Dunaway explained the competitive solicitation process the company must go through in order to land Department of Defense contracts, as well as the lengthy first article testing and approval required to show that the product meets all of the government's painstaking specifications.
The company landed one government contract nearly three months ago, for example, "and they're still testing," Dunaway said. "They go out [with the boats] in all different types of sea states."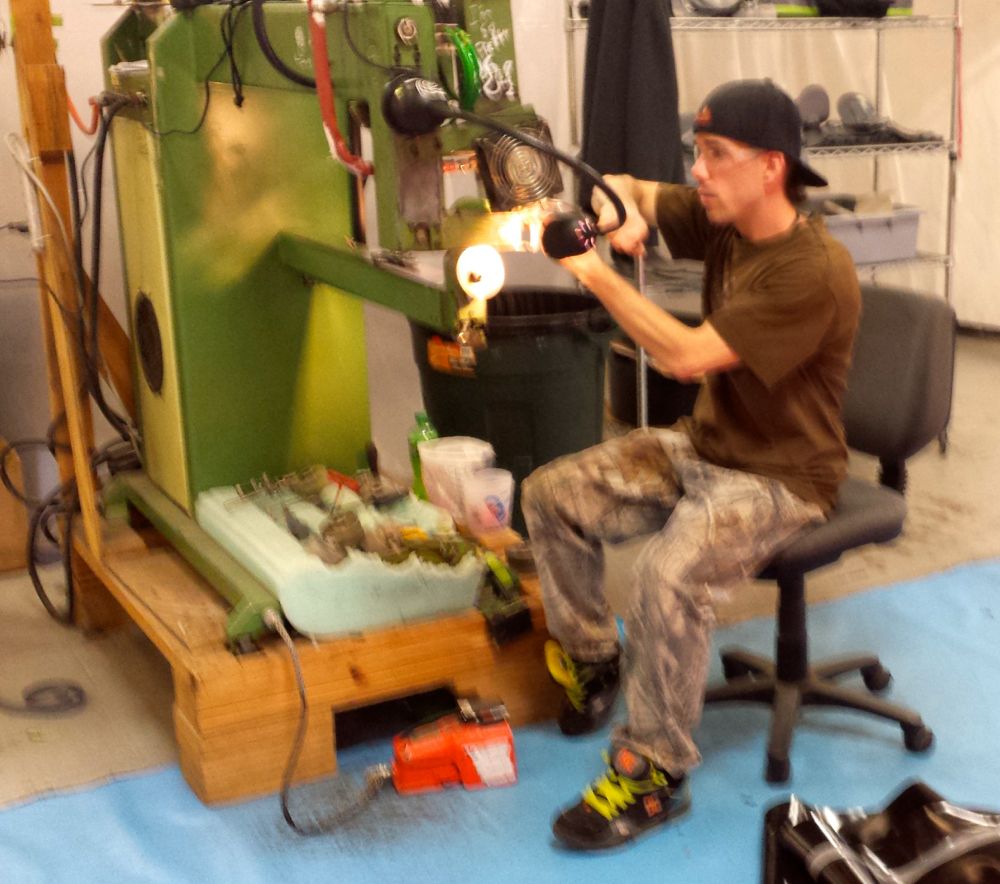 As we walked around the factory floor, Dunaway explained the various jobs each person was doing. A guy named Scott Hardison (pictured at right) sat at a large green machine, thermal welding pre-cut pieces of polyurethane together. Nearby two more workers pumped air into the newly created tubes. The demand right now is steady, with more orders on the horizon.
"There's one contract very, very close getting a delivery schedule going," Dunaway said. "And then there's one right behind that."
Though the company has expanded both its workforce and its workspace, challenges go beyond the simple numbers of employees and square feet. For one thing, existing employees needed training to function as middle management and supervisory staff. There, too, government has stepped in.
"We're helping them where they need it," said Jacqueline Debets, Humboldt County's economic development coordinator and executive director of the local Workforce Investment Board. In November and December Wing Inflatables did a whopping 4,800 hours of employee training underwritten with funds from California's Employment Training Panel, a program funded by employees statewide through a special payroll tax. "They're getting reimbursed $14.63 per hour for up to 200 hours of training per employee," Debets said.
The employees who received training can expect their incomes to increase, Debets said, with post-training hourly wages ranging from $15 to more than $40.
Meanwhile, the City of Arcata is working to refinance the company's loans through its Community Development Block Grant program, Debets said.
"Wing is one of the city's — and region's — great success stories," said David Loya, Arcata's deputy director of community development. "The City is obviously very interested in keeping Wing a thriving member of our business community, so we're happy to help in any way we can."
Loya, too, said the company's new management has voiced a desire to remain in Arcata, despite a nationwide corporate climate that's rife with incentives to relocate.
"It's a great company," Loya said. "Their job growth over last couple of years is really impressive."
With new contracts on the horizon, Wing Inflatables will soon be looking to hire another 65 employees in Arcata, according to Debets, with recruitment and screening handled through The Job Market. Candidates for those jobs will likely include many of the Green Diamond mill workers set to be laid off when the Korbel mill shuts down early next month.
On the phone last week company CEO Andrew Branagh said he wants to be careful that the company doesn't grow too fast and lose sight of the things that have led to its success thus far. But for now, the growth keeps coming.
"We just got notice today of another 200 boat orders," Branagh said.