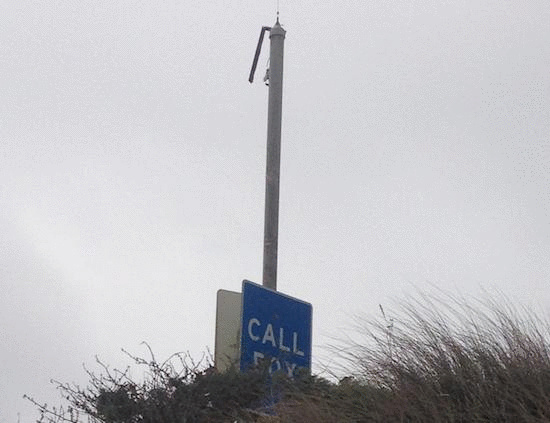 Remember way back before 1991? When the pulp mills spewed toxins into the air and polluted the ocean so badly that a particular surf break was known as "Carcinogens?" Maybe you do, maybe you don't, but in any case, those who reside and recreate around Humboldt Bay have been reaping the benefits of a 1989 EPA-Surfrider Foundation lawsuit for decades.
Cleaner air and cleaner water are the obvious advantages. And it's been a long while since the state has issued warnings to abstain from eating our Dungeness crab. But what many people don't know is that Surfrider's litigation efforts resulted in a few other specific improvements, notably the "Humboldt Area Recreation Enhancement and Water Quality Fund," an ongoing grant program administered through Humboldt Area Foundation to improve recreational and environmental resources around the bay, plus a shower and – take note – an emergency telephone installed at the North Jetty.
At the time, the phone was critical in reaching emergency personnel. But times have changed, and the call box has fallen on hard ones – the solar panel that powered it has fallen off. A couple of your local Humboldt Surfrider volunteers sought to reattach it, but turns out the bolts have been sheared off.
Our tenacious local folks reached out to Surfrider HQ, down in San Clemente, to report the issue and found out a few key things: 1) the solar panel will be repaired by the maintenance contractor; and, 2) only about $800 remains in the account dedicated to preserving the call box. Which raises the question: How necessary is it?
The most recent emergency use that we can currently testify to happened in October, 2013, when a shark raked its teeth across Jay Scrivener's thigh. This occurred during the federal government shutdown, which, as a local surfer there noted at the time, "kept vehicles and cell phones out, but not sharks."
In prior years, the phone has been used to report people swept off the jetty and more – please share stories if you have them.
Because what we, the crew at Humboldt Surfrider, are wondering is this: Does anyone care if the call box continues to exist? If enough people do, then the next step will be to continue conversations with the county. If not, then best hope whoever's witnessing your emergency has a cell phone handy.