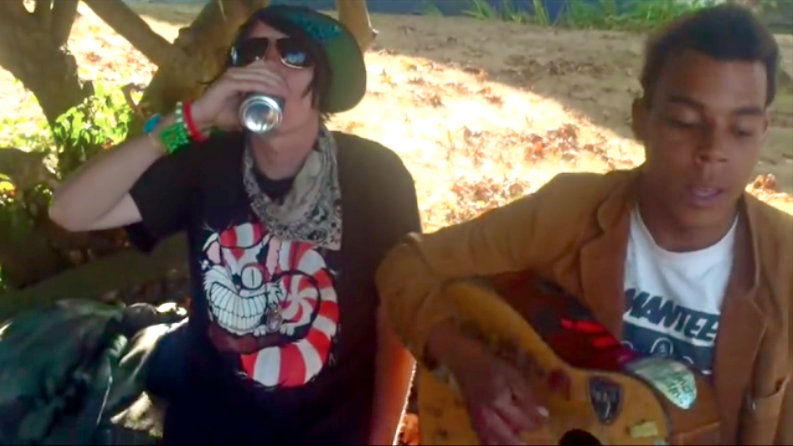 LoCO regs will recall last week we directed eyeballs to an unpolished YouTube "street documentary" titled "Arcrazy," which prominently featured a young Arcata Plaza frequenter we'd come to know as Jojo Bean. The film — Jojo adventures in particular — became the source of much comment section commotion. A sampling:
This actually is a well-done little film. Mostly though, it just makes me sad for Arcata.

# # #

I grew up in Arcata. I used to walk around town as a kid. From 5 years up i could walk safely to the movies, store, arcade, etc. Would anyone think to have their kids do that now. These pieces of garbage have ruined a nice town.

# # #

What a meaningless existence…
LoCO was not alone in wanting to know more about Jojo. KHUM DJ Mike Dronkers, audio recorder in hand, went up to the Arcata Plaza this week hoping to locate and learn about the Arcrazy star. His efforts were ultimately unsuccessful, but he did have a conversation with one of the people who helped produce the film (the individual declined to give his name, but you can see him pictured playing guitar next to Jojo above).
Dronkers wanted to know if the Jojo featured in the clip was the real deal. The nameless interviewee assured him the performance was exaggerated.
"It's definitely an embellishment, you know. It's a parody," he said, going on to say that the goal was to illustrate what life on the streets of Arcata was like while having a little fun too (he also teased future Arcrazy episodes). As far as the Internet response, he said he understands if people were offended, but recommended maybe loosening up a bit. Listen to Dronkers' story below.
He also was aware of what the comment sections were saying.
"It's not a bad thing, I understand if you're offended… It's not to offend you, nor to glorify us. It's just to show what's going on around here and have a little bit of comedy to it. Have a little fun."
But where's Jojo?
"I haven't seen him in two and a half months," he said.
Dronkers would eventually catch up with Jojo online. He confirmed the information provided by his friend while saying he's currently in San Francisco for the moment. He agreed that when he got a phone, he'd be interested in answering some questions. Stay tuned.
PREVIOUSLY: 'Arcrazy: A Street Documentary' Chronicles a Day in the Life of a 25-Year-Old Arcata Plaza Dweller