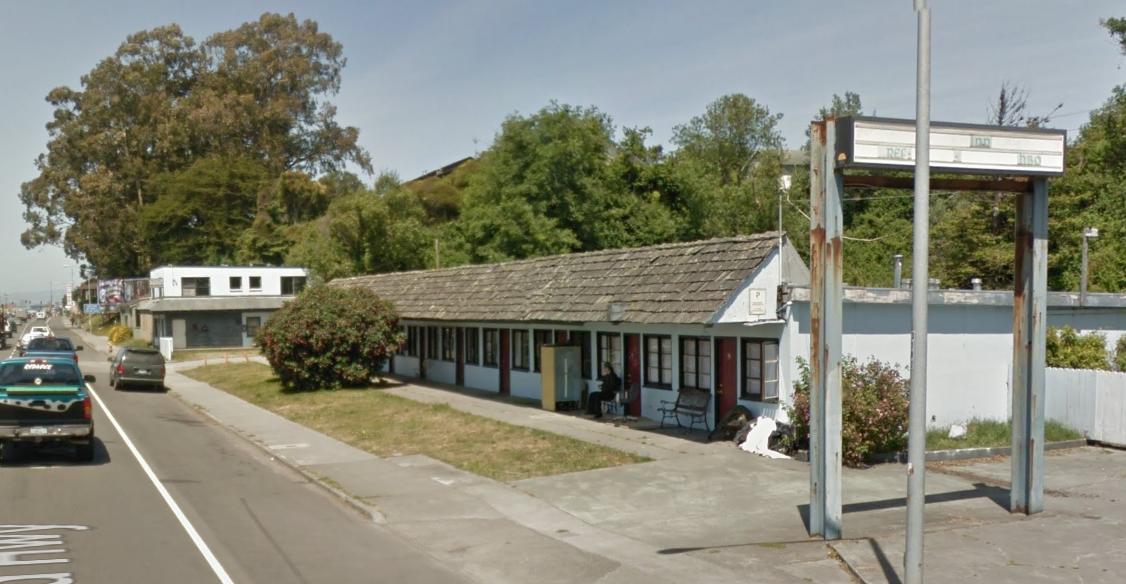 Google Street View image
Floyd and Betty Squires have been battling with the city for years. (See here and here and here and also here, for starters.) Below is the latest press release on the battle of wills from the City of Eureka:
On February 4th, 2015 the City of Eureka will execute a warrant for closure of the Blue Heron Lodge located at 2245 Broadway. The owners, Floyd and Betty Squires, have failed to secure a valid lodging permit for two consecutive years as required by the City's motel ordinance, which was adopted by the City Council in October 2013.

The Blue Heron continues to place a disproportionate burden on the City's emergency services, averaging more than six calls for service (CFS) per room annually for violations such as disturbing the peace, drug dealing, and fights. The 15-room Blue Heron Lodge has been at or near the highest CFS/Room ratio of the 32 motels in the City with a ratio of over 6.4.

Analysis shows that the Blue Heron has 1% of the motel rooms in Eureka and generates 11% of the total calls for service. (See table below) Data gathered since adoption of the motel ordinance show that the ordinance is having the intended effect of convincing motel owners to manage their properties in a way that minimizes impacts on first responders and the surrounding community.

The Blue Heron is the only motel in the City currently operating without a valid permit. The property continues to have numerous building code violations ranging from broken heaters to cockroach infestation and the owners have failed to make substantive changes despite multiple warnings from the City. The City recognizes that the occupants of the Blue Heron and similar motels are often our most vulnerable residents. As a result, staff from local agencies and nonprofits have already contacted the occupants to help them find alternative housing and other assistance as necessary in the lead up to closure.