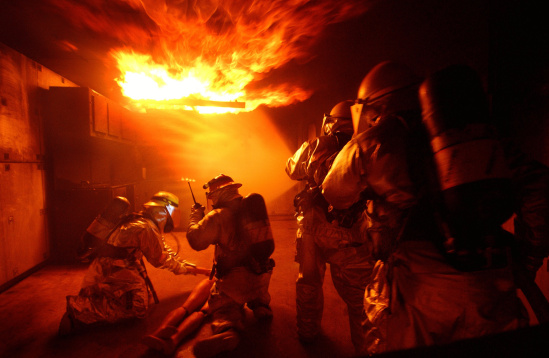 There will be several fires inside a house on McKinleyville Avenue Tuesday morning. The Arcata Fire District will respond with two engines.
Arcata Fire Public Information Officer Jenny Williamson tells us that Tuesday's training exercise — for that is what it will be — will take place in a house donated to the district for the express purpose of training and testing its firefighters' skills. They're not going to burn the thing to the ground next week; rather, they'll just set some stuff on fire inside several rooms in the house and let the crews do their thing under semi-controlled conditions.
Repeat: This is only a test.
From the Arcata Fire District:
On Tuesday, July 14, 2015, Arcata Fire District will be training on the structure at 2200 McKinleyville Ave. At approximately 8:30 AM to 1:30 PM, firefighters will conduct a live fire training burn where firefighters will be extinguishing room size fires inside the structure. The objective of the live fire training is as follows:

Demonstrate and research the physical and mental effects to a firefighter in a live fire environment
Demonstrate temperature differences found in a room and content fire in the incipient and growth stages of a fire
Demonstrate the effectiveness of a firefighters structural gear in the above conditions
Demonstrate the physical exertion a firefighter experiences fighting a fire in the above conditions
Demonstrate the point in which a Class A fire extinguisher becomes ineffective in the above conditions
Review basic fire behavior
Practice hose advancement and fire control techniques

"Training burns are a valuable tool in teaching our firefighters the ability to read smoke and fire and to use proper techniques for fire extinguishment" said Training Officer Sean Campbell. "Obtaining experience in real fire situations is very difficult and a training burn is the only way firefighters can practice live fire training and life-saving rescue techniques under fire condition." Campbell continues.

Firefighters will be conducting additional training at the Mad River Fire Station after the live fire training between 1:30-5 p.m.. The objective of the non-fire training is to demonstrate the physical and mental demands on a firefighter's body during normal firefighting activities.

During the training exercise two Arcata Fire District engines will be participating. However, we will have additional staffing for a reserve engine so our on duty crews will be available to respond on calls. If you have any questions or concerns, please contact Fire Chief Desmond Cowan or Training Officer Sean Campbell at 825-2000.