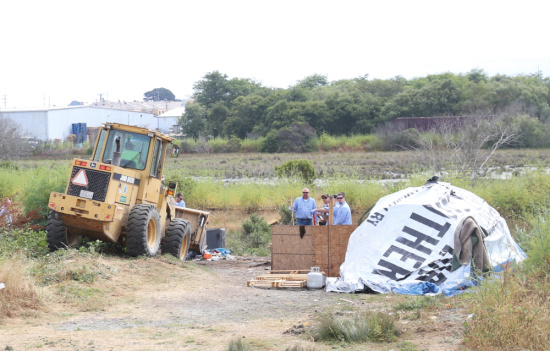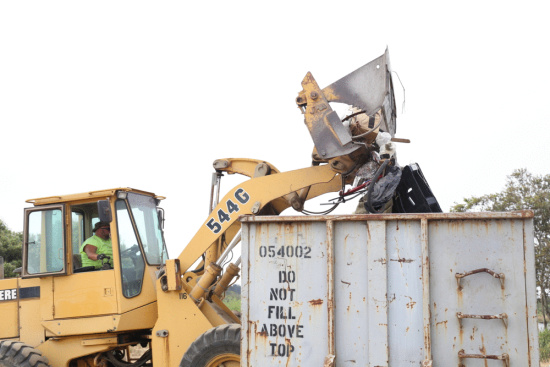 After announcing last week it was ditching its exploration of plans to build a homeless camp, the City of Eureka today revealed it will hold weekly cleanups in various sections of the bay front greenbelt that runs from Del Norte Street to back behind the old Ray's Food Place building. (Read more in the press release at the bottom of this post.)
The new schedule went into effect today.
This morning, LoCO made yet another visit to the bay front marsh adjacent the Del Norte pier where crews with the City of Eureka were cleaning up debris associated with the numerous transient and homeless encampments there. The scene was similar to previous outings we'd visited: giant industrial-sized dumpsters were hauled to the area while SWAP inmate work crews and the city's front loader filled them to the brim. Some residents moved their tents and belongings out to Del Norte Street during the cleanup. Feeling they had nowhere else to go, a few we talked to planned on returning later that evening.
"They're cleaning it out and later all these people will move right back," said one man who declined to give his name — he was there helping his friends move their stuff while the work was done.
Eureka City Councilmember Kim Bergel was at the site of today's cleanup hoping to get a better grasp of the situation. She said she regularly rides bikes with her daughter in the area and has worked to build relationships with the residents. As the garbage-hauling front loader growled in the background, Bergel was kind enough to speak to us about how she views Eureka's homeless situation and what can potentially be done to address it, audio below: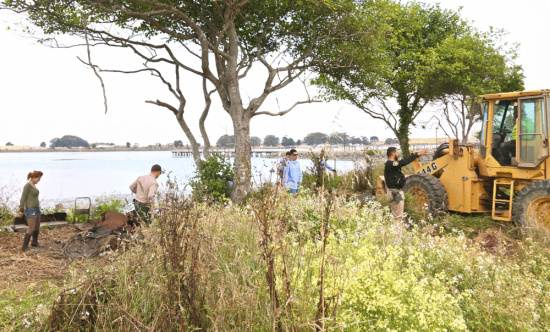 City of Eureka press release on the new weekly cleanup plan:
Property Maintenance The City of Eureka has established a maintenance/clean-up schedule for City owned marsh areas beginning Thursday, July 2, 2015. The areas targeted for clean-up are outlined in the attached map and these areas will have routine maintenance including trash and invasive vegetation removal on a rotating basis every Thursday.

EPD will provide not less than 72-hour notification to illegal encampments and be present to ensure compliance during each clean-up. Illegal campers must remove any personal belongings while the area is cleaned. No personal belongings will be discarded or impounded during this clean-up. During the initial clean-ups, a front loader will be used to remove trash for efficiency. Heavy equipment will not be used to remove any living vegetation. Living vegetation removal will be limited to invasive species only (pampas grass, fennel, non-native berries, spartina, hemlock, etc.) using a weed whacker.

This routine clean-up program is not for criminalizing houseless or solving our homeless issues. This program is designed to address the City's responsibility as a property owner. Those illegally camping on City property will now be on notice that every Thursday is the day routine maintenance will occur and to pack up all personal belongings during this clean-up period. Parks and Recreation is responsible for maintaining the greenbelts and will be the lead on illegal dumping abatement and encampment remnant clean up. EPD presence is just to insure compliance with the notification process and make sure order is maintained.

The City has recently improved the PALCO Marsh interpretive walk and intends to extend public access along the railroad corridor and adjacent properties with the extension of the Waterfront Trail. The City intends to make the existing public access at PALCO Marsh and future Waterfront Trail clean and safe for appropriate uses. This on-going program is important to address the City's responsibility as a property owner and to address the environmental damage resulting from existing inappropriate activities.

The clean-up and maintenance will be done by SWAP with assistance from City staff. The clean-up schedule for those impacted areas will be posted on the City's web site and social media outlets.