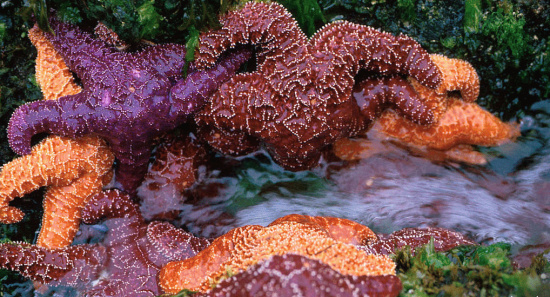 Jana Hennessy didn't intend to become an expert on the widespread sickness that's been causing sea stars to dissolve over the past few years, but after Sea Star Wasting Disease "completely ruined" her senior thesis project, she became immersed in studying it. Hennessy has since presented research at the National Science Foundation's Marine Disease Modeling Workshop this past May and, with a small team of undergraduate volunteers, is surveying three sites in Crescent City and three sites in Trinidad to document the progression and distribution of the disease.
"I know our local beach-goers and tide-poolers have noticed the decline in the once abundant purple and orange stars along our coast," Hennessy said. "This mass extinction is serious for more than just beauty reasons. Pisaster is a keystone predator and the heavy decline will negatively affect the [marine] community structure, creating a weakened system."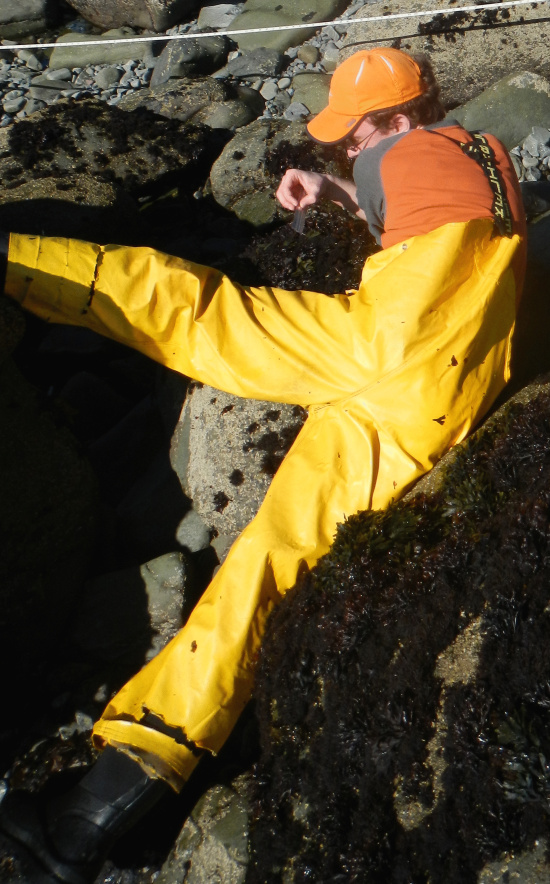 She's offering concerned beach-goers a chance to help – and have fun doing it. Since intertidal field work is very early, very cold, very wet and generally pretty hard on the body, Hennessy and crew are inviting people out to Humboldt Brews from 6 and 9 p.m. this Monday, July 27. A percentage of all beer sales during that time will go to local research for Sea Star Wasting Disease.
Larry Trask interviewed Hennessy this past Wednesday on KHUM's Coastal Currents. More background here and here.

Critter Crawl

Next month boasts the return of the Humboldt Bay Critter Crawl, a non-competitive open water swim benefitting local charities caring for wild and domestic animals. Does swimming in the bay sound crazy? Organizer Sarah Green has answered this question more than once – most recently on KHUM radio – and the answer seems to be, not completely! Let's go with "invigorating" – after all, 13 dedicated folks partook in last year's inaugural event.

The event consists of two current-assisted swims beginning near the opening to bay. The short course, an 0.7 mile swim, ends at the county campground. The long course, a 4.5-mile swim, continues along the Eureka waterfront to the Woodley Island Marina. The Critter Crawl takes place on Sunday, August 2, 2015 to benefit the North Coast Marine Mammal Center in Crescent City.

Want to swim? Toss some money at a good cause? Excellent. Get involved and/or make a donation. Want to know more? The T-S has a fine write-up right here.

Catastrophic Klamath fish kill likely
Oddly, the fact that conditions in the Klamath are echoing the same ones that caused the catastrophic fish kill in 2002 isn't getting much attention. Props to News Channel 3 for this report.

Crimes on the high seas can hit close to home

The New York Times' Ian Urbina spent months investigating crimes on the mostly lawless and unregulated high seas. The stories he found are now being published in a series, "The Outlaw Ocean," which delves into the multiple horrific activities Urbina witnessed during his investigation including the prevalence of weapons on the high seas, and the murders that go unprosecuted.
Our friends at Upwell asked Urbina why these stories are so important. His reply:
"Because the same lawlessness that makes illegal fishing possible and allows ships to dump more oil every three years than the BP and Valdez spills combined, is what allows for severe humans rights abuses. This is universally relevant.

"Ninety percent of what we consume comes from workers who are generally invisible and forgotten. Four men can be killed in plain sight. They can be filmed by their culprits, and yet no government my can/will prosecute or find them. My hope is to get these stories circulating globally so that we can show that this type of journalism is worth doing."
Much of that resonates, but the most important takeaway for folks who enjoy seafood is the part about "Ninety percent of what we consume comes from workers who are generally invisible and forgotten." We live in abundance here in Humboldt. When you choose your fish, opt for local. If you can't find local, opt for sustainable. Seafood Watch is a great guide. Print it out, install the app, make choices that assist the world instead of damage it.
What, you like trash on the beach?

The Northcoast Environmental Center seeks site captains, teams, individual volunteers and sponsorships for this year's California Coastal Cleanup Day, which takes place Saturday, Sept. 19. Check this out: Coastal Cleanup Day sprang from early programs created by the NEC right here in Humboldt and is now an international event that draws hundreds of thousands of volunteers.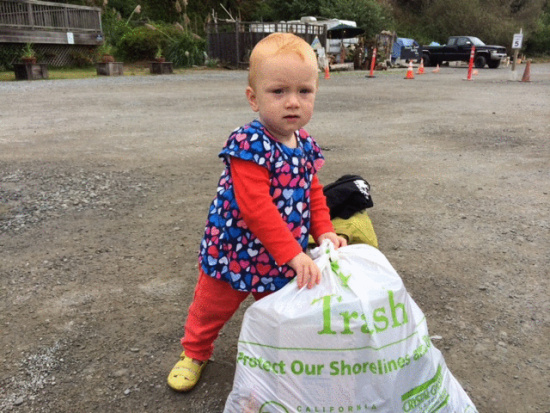 Look, this child cares about the ocean. By Kim Thorpe.
Last year, with support from local businesses, organizations and volunteers, over 1,000 people joined together to remove over eight tons of trash and recyclables from Humboldt's beaches, rivers, bay and estuaries. Coupled with efforts throughout the state and around the world, Coastal Cleanup Day ​makes a quantitive difference in how much trash enters our ocean. ​

In cooperation with the California Coastal Commission, the Northcoast Environmental Center will again organize at least 40 cleanups throughout Humboldt County – a feat requiring an immense amount of staff time and community coordination​. Here's what we need:
​Site captains willing to lead a team of volunteers are needed for beaches so far unclaimed.
Sponsors to ensure the NEC's capacity to make 2015's Coastal Cleanup Day the biggest yet.
Contact me, Jennifer Savage, at jsavage@yournec.org to sponsor Coastal Cleanup Day and/or the NEC at coastalcleanup@yournec.org or (707) 822-6918 for more information and to sign up.​

Jennifer Savage serves as Coastal Programs Director for the Northcoast Environmental Center and chairs the Surfrider Foundation's Humboldt Chapter.