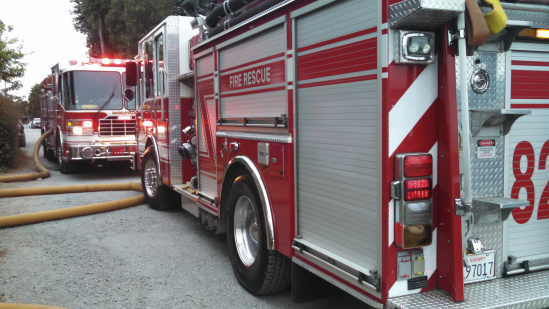 From the Arcata Fire District:
Shortly after 7:00 P.M. Arcata Fire District responded to a residential structure fire located in the 1500 block of Whitmire Avenue after receiving reports of smoke coming from the attic.

Upon arrival of the first engine the report was updated to a single family structure with white smoke coming from the front of the house. The first engine assumed fire attack and made entry into the house. Firefighters searched the residence for any occupants and confirmed the house was clear. Firefighters controlled the fire in 20 minutes and over haul operations began. During the fire attack operations, fire fighters discovered a marijuana grow operation inside the house.

No firefighters were injured at this fire. Investigators state the origin of the fire is in the room of the grow operations. "At this time we have not determined the exact cause of the fire. The Humboldt County Sheriff Office is also investigating this fire" stated Fire Chief Desmond Cowan.

Arcata Fire District responded with three engines, two Chief Officers, six career firefighters, two volunteer fire fighters and three volunteer logistics. Humboldt Bay Fire responded with one engine to assist with coverage in the Fire District and Blue Lake Fire also responded with one engine to provide coverage at Mad River Station.