Facebook post with picture of the raid by Modoc local Bruce Brown.
A federal search warrant executed on a tribal grow op in Modoc County this morning alleges that a tiny northern California tribe today has partnered up with an executive of a huge Canadian tobacco concern to produce marijuana on a massive scale.
Officers from the Bureau of Indian Affairs and the Drug Enforcement Administration raided two sites on tribal land this morning — one of them a former "event center" for the five-member Alturas Rancheria, next to the tribe's casino, and another a huge growing facility approximately eight miles east of the town of Alturas and immediately off Interstate 395. A press release — reprinted below — reports that agents discovered at least 10,000 growing marijuana plants and 100 pounds of processed bud during this morning's raid.
None of that would seem like an absolutely huge deal on the Humboldt scale, but before skipping down to the press release it pays to take a look at the details included in the search warrants served today. (Download here.) Those details are absolutely bonkers.
First and foremost, the federal agent who wrote the warrant links the operation — which was just gearing up — to businessman Jerry Montour, who is the CEO of Canadian tobacco giant Grand River Enterprises. Several confidential informants told law enforcement officers that Montour had financed the construction of greenhouse and processing facilities on both sites, and had personally showed up in Alturas several times, once to congratulate and thank employees of the operation.
One of the people who tipped off law enforcement to these details, according to the search warrant, was Alturas Rancheria tribal member Wendy Del Rosa, who implicated her brother, Phillip Del Rosa, for partnering up with Montour and others to initiate the grow, which she said was against the wishes of the five-member tribe. The siblings are currently battling for control of the tribe, according to this fascinating Sacramento Bee article from April.
Elsewhere in the warrant, you can find photographs taken by law enforcement to develop probable cause to search the site. They include overheads of the stunning scale of the "XL Ranch" site, as well as "plant manifests" used by operation employees to catalog the exact number of Sour Diesel, Platinum Kush, Blueberry Cookie, etc. that were to be transported from one location to the other.
Security at the operation was contracted out to a private firm headed by a former cop — a sworn officer with the Shasta County Sheriff's Office — according to the warrant, which sought special permission to search his trailer at the site.
Seriously, read that whole warrant. It's something else. Photos and press release follow.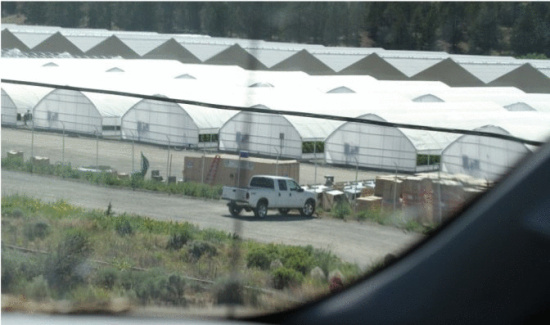 From the Department of Justice:
Earlier today, special agents with the Bureau of Indian Affairs (BIA) and the Drug Enforcement Administration (DEA), assisted by other federal and state agencies and the Modoc County Sheriff's Office, conducted a search of two large-scale marijuana cultivation facilities located on federally recognized tribal lands at the Alturas Indian Rancheria and the XL Ranch in Modoc County, United States Attorney Benjamin B. Wagner announced. At both sites, law enforcement seized a total of at least 12,000 marijuana plants and over 100 pounds of processed marijuana. Other than contraband marijuana and items of evidentiary value, no tribal property was seized, and no federal charges are pending.

The search warrants are part of an ongoing investigation relating to the financing and management of the commercial marijuana-cultivation projects. The search warrant affidavits were unsealed today. While it is generally the policy of the U.S. Attorney's Office to decline commenting upon ongoing investigations, exceptions are sometimes made when a matter has received substantial publicity and there is a need to inform the community regarding law enforcement actions taken in furtherance of particular public interests. The marijuana grows in question have received substantial attention in Modoc County, as has the U.S. Department of Justice's guidance relating to marijuana cultivation on tribal lands.

The cultivation facility at the Alturas Indian Rancheria was located within the tribe's former Event Center, within approximately 100 yards of the tribe's publicly operated gaming facility, the Desert Rose Casino. The facility on the XL Ranch was immediately adjacent to Highway 395 and the banks of the Pit River, and it consisted of 40 newly constructed greenhouse structures, each of which was capable of accommodating approximately 1,000 marijuana plants, and an additional gable-roofed structure that boosted the square footage of roof-covered structures by another 50 percent. Both of the grow operations, which appear to have been operating in conjunction with each other, were well in excess of the locally enacted marijuana cultivation limits applicable to county land. The volume of marijuana that the XL facility alone was capable of producing, estimated at approximately 40,000-60,000 plants, far exceeds any prior known commercial marijuana grow operation anywhere within the 34-county Eastern District. According to tribal representatives, all of the marijuana cultivated at both facilities was intended to be distributed off tribal lands at various unidentified locations. As indicated in the search warrant affidavits, the investigation to date indicates both operations may have been financed by a third-party foreign national.

The United States Attorney's Office follows Department of Justice guidelines in exercising its prosecutorial discretion and evaluating the need for investigative and enforcement action with respect to potential violations of federal law. The investigation of the cultivation facilities searched today indicates that both are commercial marijuana cultivation projects operated with the intent to transport large quantities of marijuana off tribal lands for distribution at various locations yet to be identified by the tribes. These facts raise multiple federal enforcement concerns, including the diversion of marijuana to places where it is not authorized and potential threats to public safety, both of which are listed priorities in Department of Justice guidelines. These concerns are only heightened when the activity occurring off tribal lands is not subject to effective state or local regulation.

Consistent with Department of Justice guidelines and the federal government's trust relationship with recognized tribes, the U.S. Attorney's Office consulted with members and representatives of both tribes on multiple occasions before today's action. The U.S. Attorney's Office reminded the tribes that the cultivation of marijuana is illegal under federal law and that anyone engaging in such activity did so at the risk of enforcement action. The U.S. Attorney's Office also expressed concern that large-scale commercial marijuana grows on tribal lands have the potential to introduce quantities of marijuana in a manner that violates federal law, is not consistent with California's Compassionate Use Act, and undermines locally enacted marijuana regulations. The U.S. Attorney's Office stated that this potential was a concern for local law enforcement throughout the Eastern District and potentially warranted federal action.