A few days ago, my colleague Andrew Goff asked me, "What does it mean to dab?"
He was feeling excited for this very "dankified special report" on the Northern California Secret Cup Campout, a "710 community event" featuring "three days of music, camping, glass blowing and more." The campout was this weekend — it started on Friday and it continued through Sunday at the Ocean Grove Lodge in Trinidad.
I told Goff that the Secret Cup would be Humboldt Dab Central this weekend. And I told him that to fully understand dabbing, one must dab — one must be the dab. And that's what's up — if you are into dabbing, you rock the full-on dabbed out lifestyle.
As an occasional recreational dabber, I will never become the dab. (I don't even own a dab rig.) But hey, I'm down with dabs enough to hit up the Secret Cup. And I recruited my local comedian super-friend Matt Redbeard to check it out with me on Saturday.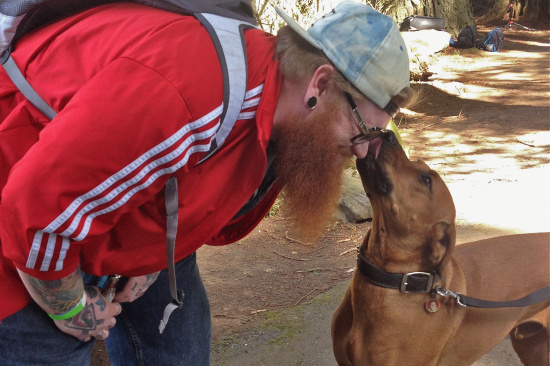 The Secret Cup is a traveling roadshow hash competition, where the competitors judge each other. In other words, everyone who enters the competition is a judge. This year Secret Cup events have already happened in Barcelona and Santa Cruz. Beyond the campout this weekend in Trinidad, the Secret Cup will have a presence at the Chalice Festival, a massive "music, glass, hash and art festival" in San Bernardino in July; then there's the Rhode Island Beast Coast Secret Cup in August; Michigan and Colorado Secret Cup events happen in September; it's Vegas in November; and then the top three competitors from each Secret Cup face off at the Secret Cup Finals in LA in December.
What's the big secret? I don't think there is one, although the location of the Secret Cup Campout was disclosed to ticket holders only a few days prior to the event. It's at Ocean Grove, which means this year's Secret Cup Campout is easy to find, as long as you know it's happening.
General admission day passes cost $30. Camping and RV passes cost more, more, more.
Redbeard and I had ourselves a couple of day passes. We parked down the road near the Chevron Station. When we walked up to Ocean Grove, we were directed to enter the Secret Cup through the bar, a dark, dank space that is famous for Rude Lion Sound's Dancehall Mondays.
We got our wristbands right where you step off the bar's back patio. The event — including vendors, exhibitors and a stage — was set up in the woods to our left. Campers' tents were scattered about toward the north end of the property, to the right.
Redbeard and I headed left into a clearing where we found a couple of vendors, some tables with glass, a stage and a larger tent with a glass-blowing demo area set up inside. We kept walking further south and we found some more vendors, including a few cannabis booths, but not many. We kept walking, trying to find more action. But it was a small event.
We asked a couple people how it was going. "Slow." We heard Friday was slow too. This guy from Sac that films at all the cool-kid weed events told me he thinks the campout is "lightweight." Yikes. Redbeard made the obvious joke, "Maybe they shouldn't have made it a secret."
Our first official pitstop was at the Sun Kissed Cannabis Collective/CSI Humboldt booth. A giant jar of weed sat out on the table. "Help yourself," they told us. It was sun-grown Obama Kush from Willow Creek. We grabbed some nugs. Their hash selection included Three Kings and Master Kush.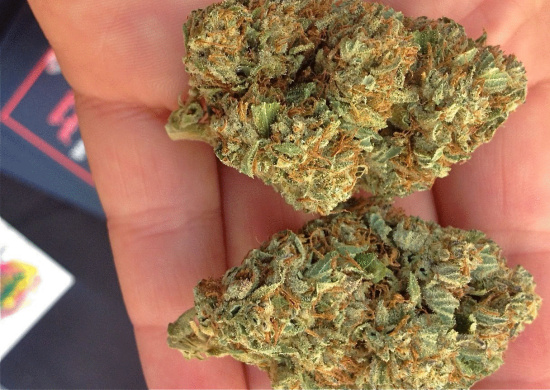 We talked with those folks for a few, but we didn't know what to do next. So we walked around the property for a bit. We observed Secret Cuppers hanging out at picnic tables in front of Ocean Grove cabins. We sat in the sun by a big rock. We tried to check out the area where people were camping, but security stopped us.
So we wound up back at the beginning, by the glass folks and the stage. It was like 4:30 in the afternoon and the DJ was playing some dark and scary, glitchy electronic music. There were little circles of bros everywhere — brocles. Most of the guys were sporting pin-laden flat-brimmed hats and elaborate art glass pendants. Redbeard and I both thought the event was kind of grim and awkward, but well-intentioned, nonetheless.
Everything got better when we found ourselves chatting with some of the local glass artists — Tristan Hodges (@tristanhodgesglass on Instagram), Brian Robleto (@donrob_glass) and Bluegrass Ari (@bluegrassglass). These guys are all very friendly and they are all super into the local high end functional art glass scene. Hello… Emerald Glass Gallery and https://www.facebook.com/LostCoastGallery. And looking forward to the next Humboldt Harvest Glass Gathering in October…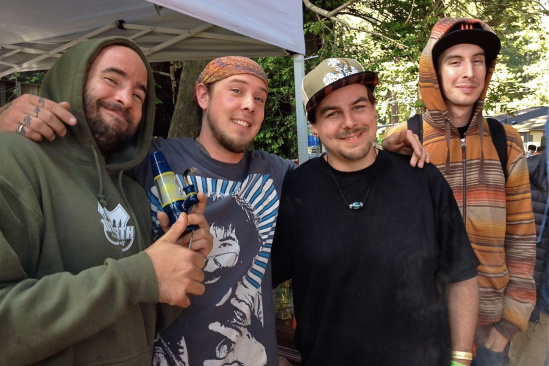 Hanging out with these guys was the best part of our day. Hodges told us about his skateboard pipe and how it took about 100 hours to make. Hodges made the camera too. Robleto told us that he spends about 50 hours per week blowing glass and that this is his career. He showed us some of his functional UV active glass lava lamp pipes — collaborations with Bluegrass Ari. We even got to smoke out of one of the lava lamps. You can use them for dabs or for flower.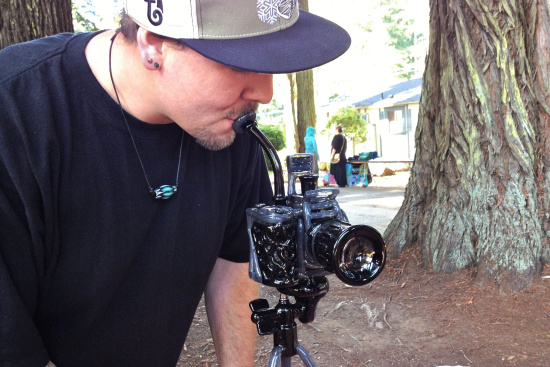 Robleto let me and Redbeard back over to glass-blowing demo area, and at that point, there were actually a couple of guys doing glass art. That was awesome forever. We put on the special glasses so we could look directly at the glass as it was being heated and manipulated in the flame.
After we watched the demo for a bit, we decided to do one more loop around the event. We wound up at the rosin press table, where they were charging $10 for Rosin dabs. They were making the rosin dabs right there, pressing buds in parchment paper between hot metal plates to squash out the oil, then scraping that oil up into little dab servings. The rosin dabs qualify as solventless hash. People are way into the rosin thing.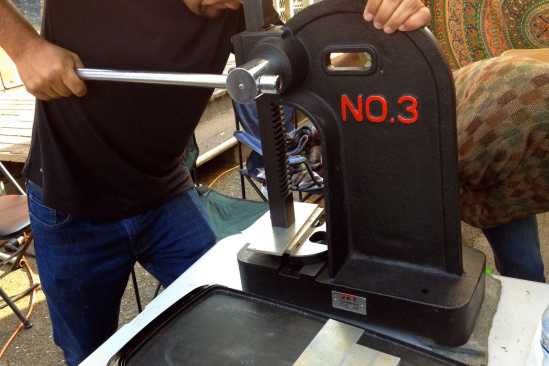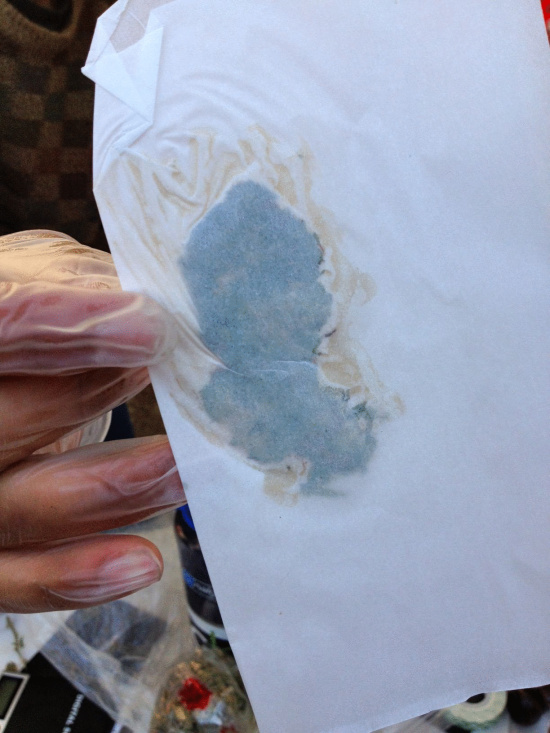 We watched that process for a while. Then we decided it was time to hit the beach. On our way out, asked the sound guy at the stage area about the genre of music that the DJ was playing. It was like this dancehall-EDM fusion music. The sound guy called it "Bashment style" and "Selassie praise" music.
And Kid Rock was playing on the jukebox as we exited through the Ocean Grove bar. Yup. It was like that. In the parking lot, we overheard some guy talking about the event, saying, "The dab is the main attraction…"
Yes. Follow the Secret Cup. Become the dab.