UPDATE, 11:00 a.m.: Fortuna Police Department press release below:
On March 18th 2015 at about 6:00 AM, officers from the Fortuna Police Department responded to the 4500 block of Forest Hills Dr., for a report of a dispute with shots fired.

Upon arrival, officers located a 39 year-old female gunshot victim and a 47 year-old male with a gunshot wound to his head. It was learned that the male and female have a child together and had a pre-scheduled custody exchange that may have been taking place at the time of the incident.

The female is in critical condition and in the process of being airlifted out of the area for further treatment.

The male suspect is deceased, believed to be from a self-inflicted gunshot wound.

The child who was the subject of the custody exchange is unharmed and with family members.

This incident is still under investigation and names of the parties are not being released at this time
# # #
UPDATE, 8:40 p.m.: The Outpost spoke with Fortuna Police Chief William Dobberstein in front of the residence in question where officers are processing the scene. He told us that the female victim was airlifted out of the area for medical treatment. Her condition is not known at this time. The male gunshot victim/suspect is deceased.
"It appears to be some kind of custody dispute," Dobberstein said. "It appears to be a murder/suicide situation."
There is a large pool of blood visible on the front porch of the residence.
Fortuna Police are not releasing the names of the individuals involved in the incident until next of kin can be notified.
— Andrew Goff
# # #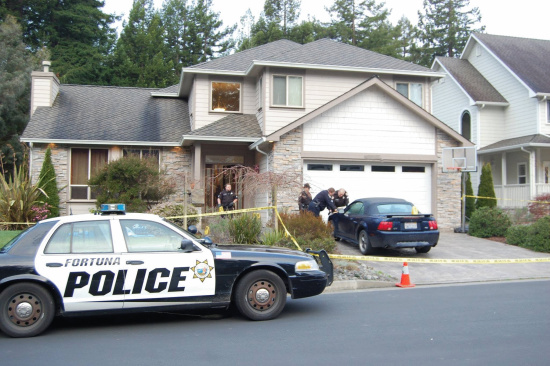 UPDATE, 8:23 a.m.: "There is no continuing risk to the public," Sgt. Charles Ellebrecht of the Fortuna Police Depart told the Outpost moments ago. He said that police are still on-scene investigating, and more information would be released later.
####
Two people were shot in the Forest Hills area of Fortuna this morning and appear to be in critical condition, according to scanner traffic.
Medical personnel on the scene said a 46-year-old man was shot through the head and a 39-year-old woman four times in the chest and abdomen in a home on Forest Hills Drive. The first call on the incident came to police at about 6 a.m.
The patients were both transported to Redwood Memorial Hospital. Medics on the scene asked dispatchers to research resuscitation orders for the male patient.
The Outpost will be updating this story throughout the day, as information becomes available.