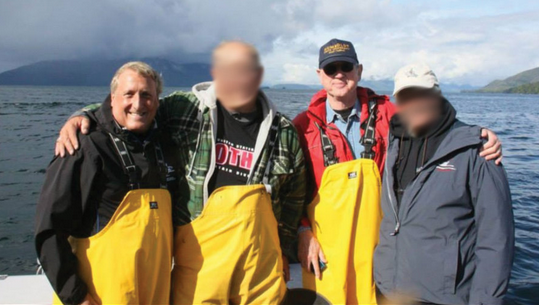 A Facebook photo of the fishing trip in question.
Last September Humboldt State University's student newspaper, The Lumberjack, broke the story about a former university employee who was suing the school over claims that he was the victim of retaliation after blowing the whistle on improper use of scholarship funds. The litigant, former Sports Information Director Danny Pambianco, alleged that scholarship and donation money intended for students had instead been spent on personal expeditions, including a fishing trip to Alaska. The university, meanwhile, characterized the trip as "an alumni and booster function."
Well, now an independent accountancy firm from Bellevue, Wash., has reviewed the university's management of scholarship funds and found nothing untoward.
Here's a chuffed press release from HSU:
Humboldt State University is pleased to share a very positive report from the firm hired to review the use of scholarship funds, travel, and budgeting processes within the Department of Athletics.

The full report and a President's memo regarding it are available here and here.

The independent auditing firm, CliftonLarsonAllen LLP of Bellevue, Washington, conducted an extensive review in which it found that procedures for awarding and disbursing scholarships are appropriate. The firm also found that Department of Athletic budgeting processes are strong, disbursement of department funds is appropriately monitored, travel is preapproved and requires documentation, and procedures related to cash receipts are properly designed.

The firm also recommended some improvements, including better communication with the HSUAdvancement Foundation about charitable contributions, improved reporting about corporate sponsorships, and standardized terminology related to contributions to Athletics. These issues will be addressed by the relevant areas during the next six months.

As a part of HSU and the California State University system, Athletics follows state financial practices and standards. CliftonLarsonAllen's review was conducted in accordance with the Statement on Standards for Consulting Services No. 1 of the American Institute of Certified Public Accountants. The firm reviewed general ledger detail and donation record detail, and their staff interviewed 21 members of the HSU and HSU Advancement Foundation management. Their review was broad, and they were given access to all records they requested.

Humboldt State University chose to initiate this review following media reports last fall about donor cultivation activities within Athletics. Based on unproven allegations in a lawsuit by a single employee, which is still pending, a number of media outlets reported claims that scholarship funds may have been diverted away from students. This serious allegation raised concerns in the community and among some University donors.

The report by CliftonLarsonAllen reinforces the University's position that the allegations in the lawsuit are without merit. It also supports the results of many years of annual audits of Athletics.

Humboldt State University is proud of the support we receive from the communities we serve. We value the loyalty of our alumni and donors who help to provide an exceptional educational experience for our students, and we are committed to doing everything possible to earn and keep the trust of those who volunteer and make gifts to the University.
PREVIOUSLY: