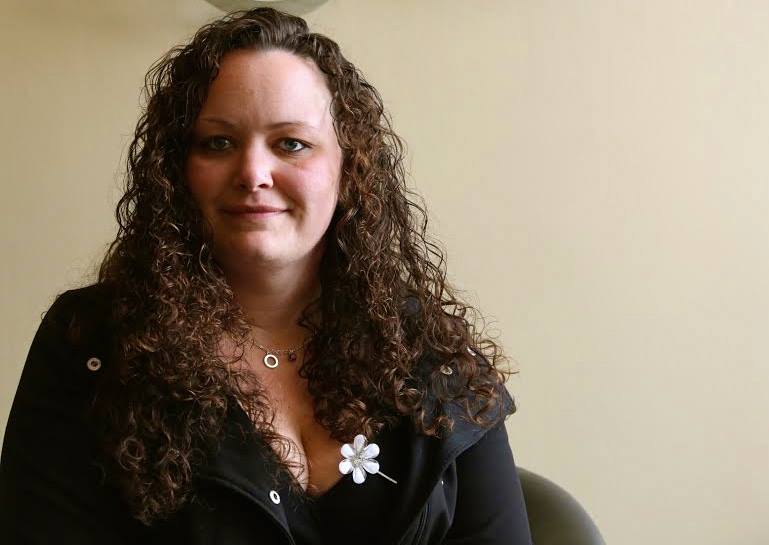 Kimberly Lyn Steele. Photo by Andrew Goff.
Last Saturday, during what police say was a late-night drug deal-turned-home-invasion robbery in Arcata's Sunset neighborhood, 38-year-old Trevor Mark Harrison was shot and killed.
The next morning, Arcata police arrested Kimberly Lyn Steele, a 28-year-old mother of two, at her residence in Samoa. Steele was later booked into the Humboldt County jail on robbery charges. A homicide charge soon followed.
On Tuesday, near midnight, Arcata police arrested a second suspect, 34-year-old Robert Louis Huntzinger, in Blue Lake, with help from the Humboldt County Sheriff's Office and the California Highway Patrol. A third suspect, 35-year-old Billy Joe Giddings, was arrested the following afternoon in the Tish Non housing complex, near the Bear River Casino. Both men were booked into the Humboldt County jail on charges of robbery and homicide.
Steele called the Outpost office late Thursday afternoon to say that she'd been released from jail, all charges against her had been dropped, and she wanted to tell her side of the story. On Friday, less than a week after the fatal encounter, Steele sat down and talked for close to an hour. In recounting the events of that night and the subsequent days, Steele teared up more than once, though she also laughed, cursed and lamented her situation. She also lamented the death of Harrison, whom she said "didn't deserve to die."
As this case moves forward, it should be remembered that this is the account of just one of several witnesses to last weekend's homicide, and as Arcata Police Chief Tom Chapman told the Outpost last week, her release from jail "doesn't mean the book is closed on Kimberley Steele. Not at all."
We started with a simple question — What happened? — and Steele jumped right in:
"I had been working on a pot deal the whole day."
Steele said she'd been doing business with the victim's mother for about a year or a year-and-a-half through a third party — "like a marijuana broker type thing," she said. That particular day, Saturday, Steele had some pounds of indoor marijuana that she was looking to unload. The weed belonged to Huntzinger, who, along with Giddings, she's known for about two months, she said. And since Steele's driver's license had been suspended, it was Huntzinger who drove that day, in his own car.
Steele said negotiations with the victim's mother, who she called Kay, went back and forth all day. "She wanted the pound that I had, and she gave me the money for it, but it didn't weigh out," Steele said. "It was 403 [grams]; it's supposed to be 454. So I gave her back the money, and I told her I'd return with the correct weight."
When she did return, Kay was unable to get a hold of her buyer, so again the deal was off. "But we had talked about making shatter, and she had got some really crappy trim. It was all molded, making everybody sick, and I was kind of praising this trim that I had, cuz I liked it," Steele said with a chuckle and a sheepish shrug. "It works."
"And I told her I would bring her some and sell her some — nothing big, like five pounds," Steele said. "And she was all for it. But Kay and I communicate through somebody else, so it's like a phone game — like, I have to call this person, and this person calls Kay, and this person calls me, blah, blah, blah, back-and-forth, back-and-forth. Well, there was a miscommunication in that little triangle about me showing back up at Kay's house."
Steele thought Kay would be expecting her Saturday night. Huntzinger pulled up outside Kay's home sometime around 11, with Steele and Giddings in the car, Steele said. She said she remembers saying something like, "I'll be right back," or "I'm just gonna run in here real quick," and she walked in the front door without looking behind her.
"So I showed up and Kay was a little bit surprised; she seemed a little aggravated," Steele said. "I told her I'll come back if it's too late. No problem, you know? It's what I do. But she said since I was there she'd take a look at the trim and see if it was something she'd want to pick up. And at that moment is when the guys came into the house."
It should be noted, at this point, that several times during the interview Steele made statements and later backtracked to clarify or correct what she'd said earlier. Whether these were examples of misremembering, misspeaking or something more was impossible to determine, but the first and perhaps most significant of these conflicting statements was the sentence she had just said: "And at that moment is when the guys came into the house." Guys, plural.
A moment later — and in all subsequent descriptions — Steele said that only Giddings had followed her into the house, and she hadn't noticed him do it.
"They weren't even supposed to come in the house. And, I don't know, it was just a shock," Steele said. "And the minute I realized he was in there, I mean, he's pointing the gun at everybody."
Who? we asked.
"Billy."
And here Steele paused in her recounting of the night's events to theorize on the motives of Huntzinger and Giddings, her business partners.
"I'm sure, you know, everybody has their own addictions and shit, and I'm sure theirs just overcame them or something. I don't know"
What kind of addiction overcame them?
"I'd rather not say," Steele responded.
Were they under the influence of something?
"Well, yeah," she said. "Or, no, they weren't; they needed to be."
So they were after drugs?
"Yeah, I think they were just trying to come up, you know?" Later we asked her to clarify what this term "come up" meant in this context. She said it means getting ahead or scoring a pay day — coming up in the game, so to speak.
Back to the night of the shooting: Steele said she had just walked in and started to open the bag of trim for inspection when she noticed Giddings standing right next to them.
"I think Billy followed behind me," Steele said, looking a bit confused. "I mean, I didn't notice him there. I know when I walked in the house he wasn't right behind me. I would have noticed him in my peripheral or something like that."
But there he was, and he had a gun, Steele said.
"And Kay looked at me like, 'What the fuck?' And I was, 'What the hell?' And he was telling all of us to sit down and shut up, give him our purses. But Billy was really concerned about Kay's purse. It seemed like Billy knew Kay personally, in my opinion. Just the way he interacted with her. I don't know."
Kay had met Huntzinger before, according to Steele, but Steele doesn't know whether Kay had ever met Giddings before that night.
At Giddings' order, Steele said, she sat down on a cushion behind a dividing wall. This wall didn't go floor-to ceiling — it was really a half-wall between two rooms — but it obscured Steele's view of the front door. Still, she could tell that Huntzinger was trying to get in, but Trevor Harrison, Kay's son, was on the inside preventing him from opening the door.
"When Billy was telling us to sit down and trying to get [Kay's] purse, Bob was struggling at the door with Trevor, and that's when he [Harrison] got shot," she said.
Steele said Giddings shot Harrison from just six or seven feet away. Harrison immediately slumped to the floor, and Huntzinger came inside, Steele said.
"There was more yelling. And I can't say for sure, but I'm almost positive that Billy shot Trevor two times."
Did you hear two gunshots? we asked.
"I swear I did. But not, like, right back-to-back. It was maybe a minute between the two, so I don't know if he got spooked and saw [Harrison] maybe trying to get up or something."
Steele said she was panicked.
"After the first gunshot I screamed like a little bitch," she said. "I can just remember looking at my hands and shaking like crazy. It was scary. But it seemed like they [Huntzinger and Giddings] were only in there a few minutes. Bob went to the back room and was looking for something, and was rifling around. And Billy told him, 'It's time to go.'"
The two men went out the front door, leaving Steele behind, she said. We asked Steele: Was this robbery something the two men had planned in advance?
"You know, sitting and thinking about everything, about how that day was — actually, about that day and the day prior — thinking about it all, it makes sense," she said. "If I'd paid more attention I maybe would have caught on to something. … But that's not my mentality. I'm not — that's not my get-down. I've always worked really hard for everything I do. Even if it takes me a week to sell five pounds of pot, it's still, you know, I worked for that; I earned that. Does that makes sense?"
But Huntzinger and Giddings were willing to steal, she said.
"I'm not sure what they got out of that whole thing. I mean, definitely nowhere near the price of Trevor's life. But, I mean, there was pounds of pot [at the house]. And I think the detective told me that he [Billy] even left Kay's purse, which he had, like, a two-minute struggle with Kay over." Steele said the victim's mom is "a brave chick. She wouldn't sit down. She stood her ground."
After the men left, Steele said, she tried to help Harrison. "I tried to get him to respond to me," she said. "I gave him a sternum rub and tried to rile him up." But she knew he was seriously wounded. "I couldn't find any blood, but I couldn't get him — the lady on the phone wanted me to lay him on his back, but I couldn't get him on his back. I mean, he was just too heavy for me. He was, like, hunched over. I mean, I tried, but — ."
He was unconscious, and when the paramedics arrived his breathing was shallow, she said. "Just really, really shallow. … I thought for sure he was gonna die right there." Steele's voice shook. "And he was twitchin'," she said. "I mean, it — it's just a fucked up situation. Really fucked up."
Steele wasn't around by the time Harrison was taken to the hospital, but she was there when the first paramedic arrived. "I think he was a paramedic," she said. "No, maybe he was a cop. I don't know. Anyway, a guy in a dark uniform. And they sent me out to the road to direct people [other responders] in. … Cuz [her house] is kind of offset. It's down this long walkway, and it's kind of hard to find in a hurry."
So she did what they asked — went out into the middle of the street, she said. "I just stood there. I watched them tape off the street, and stuff. I just didn't know what to do. There was so much going on," Steele was looking down, her eyes puffy. "I don't know. And I walked. I don't even know where I walked. To my friend's house."
She walked away from the crime scene. We asked her to elaborate on why she did that.
"Um, I got annoyed with a neighbor, cuz she was, like, huffin' and puffin', like, 'Oh my god. I can't believe this shit again. There's always something going on.' … Everybody's got one of those neighbors. But I couldn't think. She wasn't being loud, but it was so loud in my head, what she was saying. I don't know how to explain it. I couldn't, like, process a thought? So [pause]. I don't know. I stood there for a good 10 minutes. I don't know. It could have been like five minutes. It just seemed like forever."
She walked to a friend's house and had the friend drive her home. The police showed up the next morning.
"I knew they were coming," Steele said. "When I got home I was like, 'Oh fuck. I shouldn't have left.'"
The officers took her to the Arcata Police Department headquarters and questioned her for a couple of hours.
"Let me back up a little," Steele said at this point in the story. "On my way home [the night of the shooting] I got a phone call from Billy, and he had said some things to me, kind of just telling me to shut the fuck up. And, you know, if I don't, and all that good shit."
If you didn't shut up, then what? we asked. "There's consequences, and he knows where I'm at, knows where my kids are." Steele has two children, ages 7 and 9. The threats from Giddings kept her from revealing his identity, or Huntzinger's identity, during her initial investigation, she said. But she told the police everything else about the night. They told her that her account matched what they'd been told by the other witnesses, Steele said, but they also told her that the fact that she was unwilling to reveal the identities of the other two involved suggested that she was in on it. And they took her to the Humboldt County jail.
"And I sat in jail for what seemed like fucking forever," she said. She was actually in jail for about three days, and during that time she was questioned extensively. Steele said that a District Attorney investigator would ask her questions, and then an Arcata police officer would come in and ask her more or less the same questions. But she also said the investigators were Wayne Cox and Marvin Kirkpatrick, both of whom work for the District Attorney's office.
Regardless, they began to wear her down. "They were asking the same questions and phrasing it differently," she said. "For hours and hours and hours, being really annoying. I was in the interview room, and in between interrogations they put me in, like, a solitary cell, or whatever, that was freezing. And it was pissing me off or whatever because I don't like being cold. And I think that's, like, one of their tactics or something, I don't know. But it worked." She laughed bitterly. "I was like, 'I'm over this.' But I seriously, I thought I was going to prison. I mean, even though I knew I didn't shoot him, and I knew I didn't have anything to do with it, I thought for sure, you know."
Was that what she was being told, that she'd go to prison?
"Yeah," she said. 'They posted my bail at $1.5 million and told me I was being charged with robbery and murder — or homicide. And I guess [pause] that's just a blow. I don't think anybody could ever get used to hearing that. You know, like, what the fuck? Especially, like, knowing you didn't do it. Like, homicide?"
While Steele was in custody, her ex-fiancé — the father of her two kids, a man who lives out of the area — drove up and gathered the children from his parents' house in Samoa, where Steele had been living, and drove them out of the county.
"He lives far away, and I guess he came up and got the kids and made sure that they were safe," Steele said. "That was my main concern. … My ex and I have always had a backup plan. We're really good [at] co-parenting, a really good team now that we're not together. And so, you know, [the plan was] if something were to happen, especially with the lifestyle I live, you know, that in a situation like this they would go to him automatically. And since they were being threatened, they needed to go."
Also while Steele was in custody, police served a search warrant at her place — the home of her ex — and took virtually all of her belongings. There's plenty of evidence in those belongings to bring more charges, if the cops choose to do so, Steele said.
After hours and hours of interrogation, Cox walked into the interview room and told Steele that her kids were safe, she said. And that moment, when she was overcome with relief about her kids, is when she decided to cooperate completely, she said. "They're good kids. They don't know everything that happened. They think mommy got caught selling pot. I mean, we try to keep things away from our kids as much as possible, but I mean, they're not stupid. Which, hopefully they never sell pot now." She laughed at this and then wiped the tears from her eyes.
After she was released, her ex's parents said she needed to move out. With the father's health problems, they simply couldn't deal with Steele's legal troubles, too. "And I understand completely," Steele said. "It just sucks. …
"My life is fucked up, so fucked up right now," she said. "I'm unemployed now, and homeless. And I don't have my children. And the cops have everything of mine, so I'm kind of up shit creek. I guess I'm gonna try to start over." She gave a little forced laugh. Starting over won't be easy. She said she'll try to stay away from "these type of people," the kind of people who "don't give a fuck about anybody. But that's all the people I know, you know? I mean, living a lifestyle for so long, I don't know anybody on the straight and narrow."
Steele said there's a big difference between people who do marijuana and those who do "dope," which she said is heroin or speed. She has always tried not to mix those two worlds — pot people and dope people — "because they have different intentions. People who do dope care about getting high." The same could be said of some stoners, she admitted, but it's different with people hooked on hard drugs. "Their heart's in a different place," she said. "Dope makes people, I mean — it's a devil's drug. Whether it's heroin or speed, it's dancin' with the devil."
When Steele first contacted us she said she wanted to explain that she's not the person she's been made out to be. Now she questioned her motives.
"I don't know. I don't know if it's selfish of me to not want people to see me like that, or, like, portray me like that person that the articles are making me out to be. I don't know," she said. "But my kids' friends, their parents are scared to walk down the street [with me], you know? People — ." She sighed. "After this whole situation it's like I have the plague or something, like I'm dangerous. And I'm not dangerous. I'm not that person. I'm not trying to rob and steal from everybody. I just, I don't want Kay to think — I don't want her thinking that I had anything to do with this."
She stopped and stared at the table in front of her. "I don't even know what to say," she said. "I mean, it's so fucked up. And on Mother's Day. So fucked up. I don't know." She was crying. "I don't know."