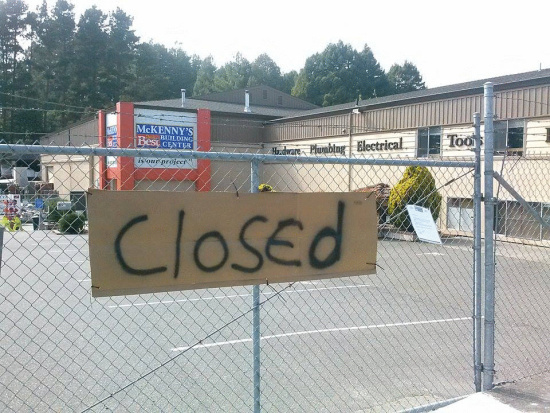 Commenter "News" yesterday tipped us off to the fact that the McKenny's Building Center in Myrtletown — once known as Myrtletown Lumber — closed its doors Friday.
A spray-painted sign and a notice ziptied to the cyclone fencing announced the end of the Myrtletown store to the people who were still driving up Sunday afternoon, hoping to do some hardware shopping. "We have enjoyed being part of the community over the last 22 years," the notice read, "but most of all we will miss our valued customers and friends. We wish all of you the very best."
The Arcata McKenny's location closed in February. A company press release at the time, reprinted in the Mad River Union, said that some of that store's inventory and staff would be transfered down to Myrtletown. But regular customers have been noting the Eureka store's declining inventory for many months, and have long speculated that a closure was imminent.
Until recently, both McKenny's locations were co-owned by three brothers. One, Kevin McKenny, is well known as the owner of the blighted Downtowner Motel and as a member of the Humboldt County Planning Commission. Another, Neal McKenny, was in the news last year when a storage facility he owns near Rohnerville Airport was the target of several large scale marijuana cultivation raids by the Humboldt County Drug Task Force. (No charges were brought against McKenny in that case.)
Below: The notice posted outside at the Myrtletown location yesterday, and a video from happier times.