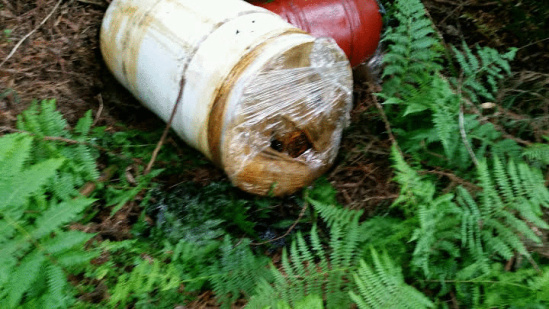 Dammit. Monday evening, crews from multiple local agencies responded to a wooded area near a stream that feeds into Elk River on a call that some barrels had been discarded there and were potentially leaking hazardous material.
Yesterday, The Outpost had received an email from area resident Leroy Marsh who'd discovered three 55-gallon drums off the road near the intersection of Berta Road and Valley Drive. Marsh, who sent along the photo above taken at the scene of the dumping, said he'd called the Humboldt County Sheriff's Office to report the crime.
Multiple agencies, including HCSO, Humboldt Bay Fire, Environmental Health and Public Works eventually responded to the site. According to Bill Gillespie, assistant chief with HBF, once there responders discovered two mostly empty barrels and a third that had been tipped on its side and was leaking its contents into the dirt about 10 feet from a stream.
The barrel was set upright. A test performed on the yuck confirmed it to be waste motor oil. Despite the close proximity to the stream, Gillespie did not believe that any of the oil had leaked into the water but absorbent booms were stationed below the spill as a precaution. Dirt around the site was dug up and removed in an effort to contain the damage.
Gillespie said there was no way to know who might have dumped the drums. He stressed that used motor oil can be disposed of with Humboldt Waste Management or at auto parts stores. Not in the woods, please.
PREVIOUS THAT IS NOT WHERE THAT GOES: