Ladies and gentlemen, my name is Delia Bense-Kang and I will be your chief flight attendant for today's flight tour along the North Coast. On behalf of the crew, welcome aboard our non-stop service from the south Oregon Border to the Humboldt Bay Harbor Entrance. Please sit back, relax and enjoy our flight.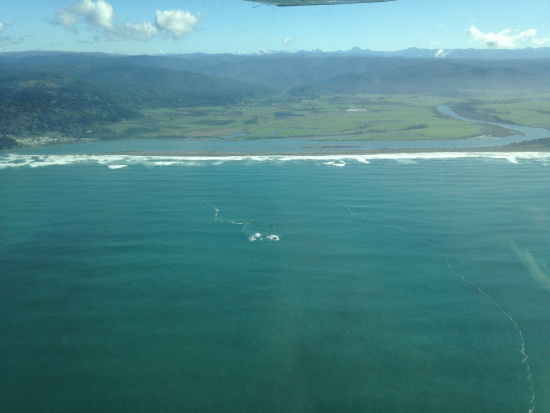 First view is of the mouth of northernmost of California's major rivers, the Smith River, and Pelican State Beach. The Smith is the largest free-flowing river (without a dam) making it one of the most picturesque and prized rivers of the state. Pelican State Beach is known for its remoteness and is referred to as "the loneliest beach in California." The waters featured here are also part of the Pyramid Point State Marine Conservation Area, one of the North Coast Marine Protected Areas! Marine Protected Areas are named discrete geographic marine or estuarine areas designed to protect and conserve marine life and habitat.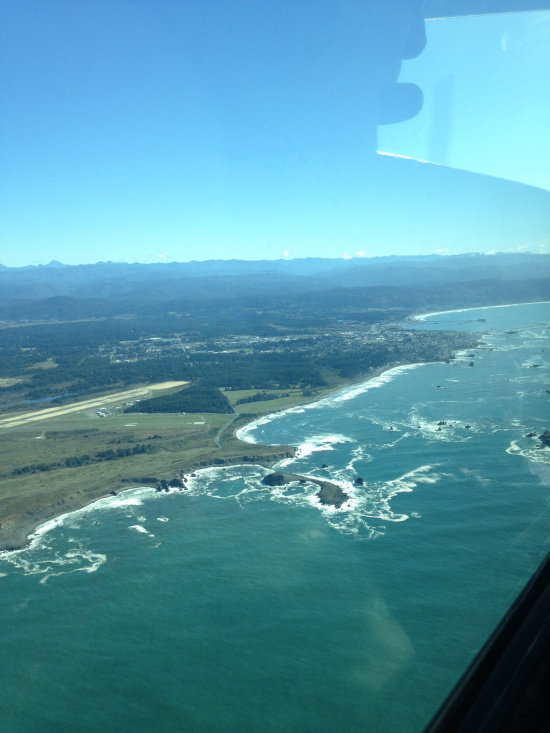 Next we have Point St. George and the Point St. George Reef Lighthouse. How would you like to Air BnB here? Located six miles from the shore and built in 1881, this light house teeter-totters on a small rock like a stack of Jenga blocks. It was decommissioned and abandoned in 1995, but on a clear day you can see it from shore with binoculars. The lighthouse also happens to be in the middle of the Point St. George Reef Offshore State Marine Conservation Area.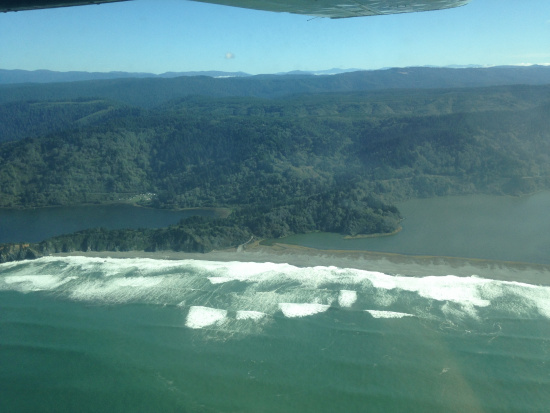 Moving on, we come across the landlocked (most of the time) waters of the Humboldt lagoons. Pictured here is Freshwater Lagoon (left) and Stone Lagoon (right). These unique ecosystems provide endless opportunities for outdoor recreation. Looking for a weekend outing with the family? Rent your favorite water craft from Kayak Zak's, at Stone Lagoon, and go for a paddle and picnic!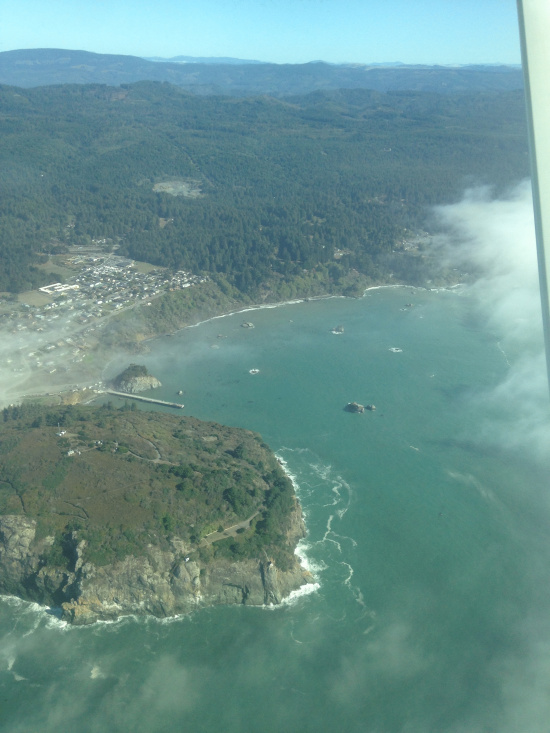 Our next stop may be slightly recognizable as we glide over the iconic Trinidad Head and Trinidad Harbor. The hike around Trinidad Head is another excellent outing with the family or your significant other. If you are wanting to stay on flat ground, a stroll down Trinidad Pier may be of interest to you. You can witness a variety of marine life and even have the chance to learn more about what you saw by visiting the Humboldt State University Marine Lab just up the road!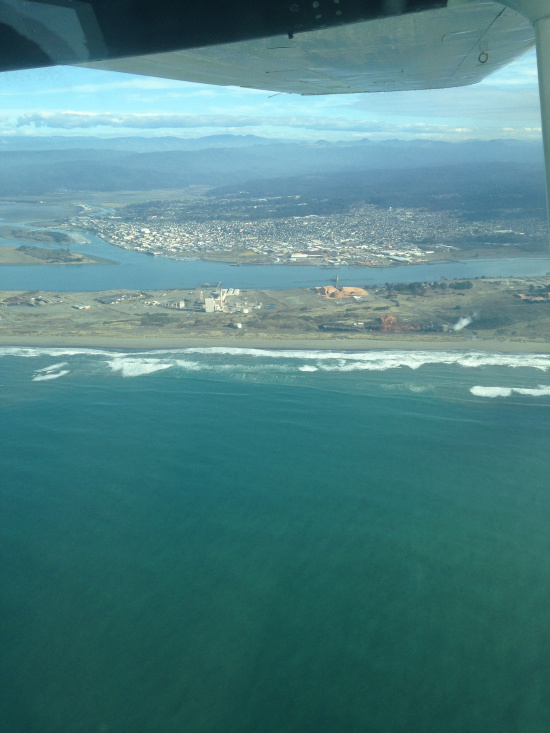 Cruising along the Samoa Peninsula we come across the old pulp mill site. Back in 1991, the Humboldt Surfrider Chapter led the way to a successful Clean Water Act Lawsuit against the Simpson Paper Company and Louisiana-Pacific Corporation. The pulp mills were discharging approximately 40 million gallons per day of untreated wastewater into the near-shore surf zone. As a result, surfers reported cases of skin rashes and nausea and toxins were found in marine life. Today, the Humboldt Harbor District has taken ownership of the old pulp mill site and has been working with the EPA and Coast Guard to clean up the leftover toxic sludge. Next up for the site, the creation of a National Marine Research and Innovation Park.
Our final destination for this flight will be the Humboldt Harbor entrance at the end of the Samoa Peninsula. Although it appears a calm lake in this picture, do not let that fool you.
The Harbor Entrance has been a popular spectating site and arena for big wave surfing this past week, and more big waves are on-tap for this winter as El Niño is expected to bring in a "conveyor belt" of swells.
This concludes your journey touring a portion of the North Coast. On behalf of the captain and crew, I hope you have enjoyed your flight today. As you continue your journey in Humboldt County and beyond please remember to appreciate and protect the beautiful coastline we are lucky enough to have right in our back yard.
###
Delia Bense-Kang serves as the Northcoast Environmental Center's Marine Protected Area Outreach Coordinator and chairs Surfrider Foundation's Humboldt Chapter.