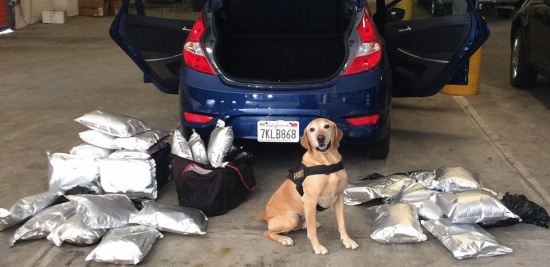 From the Wyoming Highway Patrol:
A traffic stop for speeding on October 15th west of Cheyenne has resulted in the arrest of two California men who were traveling with more than 50 pounds of marijuana.

A Wyoming State Trooper stopped a blue 2015 Hyundai Accent at 10:15 a.m. at mile post 351 on Interstate 80 approximately nine miles west of Cheyenne. The Hyundai was traveling 85 in 75 mph zone.

While speaking with the two occupants of the Hyundai, the Trooper could smell the odor of raw marijuana coming from inside the vehicle. The Trooper's partner, WHP K-9 "Hunter", also smelled the marijuana prompting a search of the car.

WHP Troopers, with the assistance of the Wyoming Division of Criminal Investigation (DCI), discovered approximately 57 pounds of marijuana in the Hyundai.

21-year-old Talon Williams and 22-year-old Morek Robbins, both of Hoopa, California, were taken into custody. Both men have been taken to the Laramie County Detention Center in Cheyenne and are currently being charged with felony possession of marijuana and felony possession with intent to deliver.

The case has been turned over to DCI for further investigation.