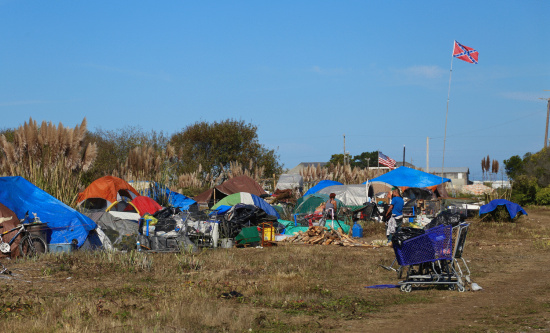 These days, the gravel road leading into Eureka's Palco Marsh bustles with as much human movement as just about any street in Humboldt County. A man in a tank top sits in front of his tent cooking potatoes while his pitbull barks aggressively at bicyclists that dare pass too close. A group of neighboring campers chops up pallets to make firewood. A woman sits on a log doing her makeup in her compact mirror. Another fellow can be seen tinkering away on a rusty bike, drawing parts from a large pile of unrideable skeletons.
This is not a collection of people camping out for a day or two. This is a community. And they don't intend to leave.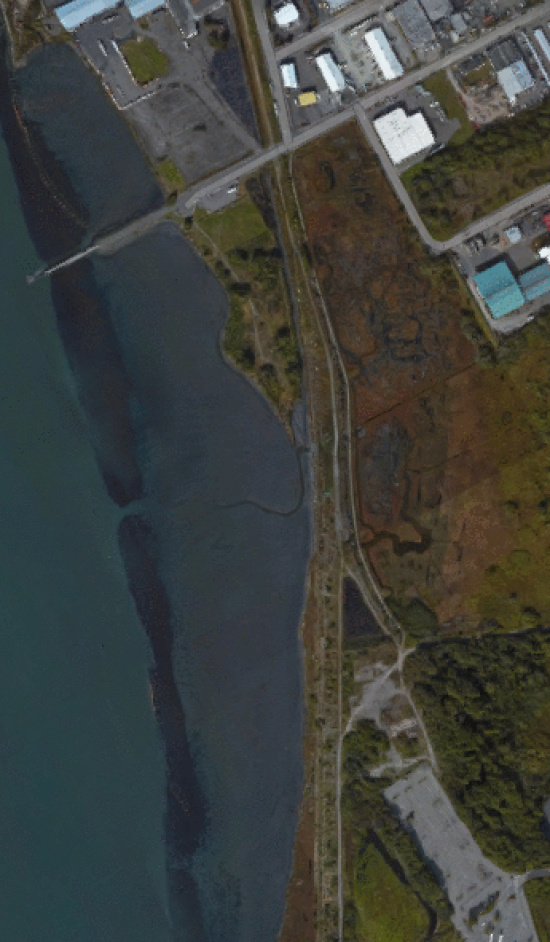 With no plans established for a permanent location for the area's homeless, the Eureka Police Department has been trying to shepherd the houseless to the north end of the greenbelt, near the foot of Del Norte, meaning that residents are more tightly packed than ever. Most of the more elaborate encampments in the more densely vegetated Devil's Playground behind the Bayshore Mall have been or are in the process of being moved north.
"It's a tinder box," Tim, a marsh resident for the past "few years," told us. He feels that arguing and fighting between marsh dwellers has increased due to the rise in population density. He said he's sympathetic to the concerns of Eureka's citizens, but that there is nowhere else for him to go.
"I understand why the community don't want us around, but remember, if you have a problem with it take it up with the people that are forcing us into this," Tim said. "Before, we were hidden. Now we're out in the open."
Many of the area's residents we talked to feel that because they've been urged to consolidate to Palco Marsh that they should have access to basic needs, such as port-a-potties, water and dumpsters for their trash. They've been forced here, they argue, so they should be provided with the same services as the rest of Eureka.
LoCO spent a day wandering the marsh and talking to its denizens. Below are some photos of our encounters.
# # #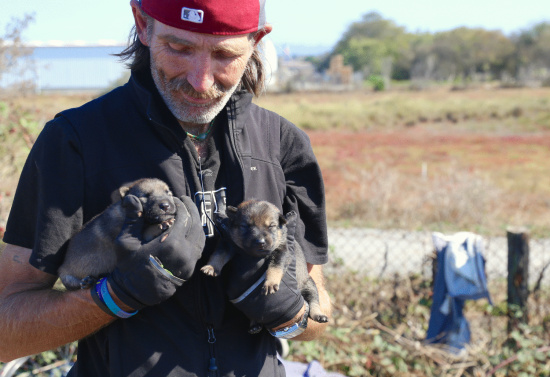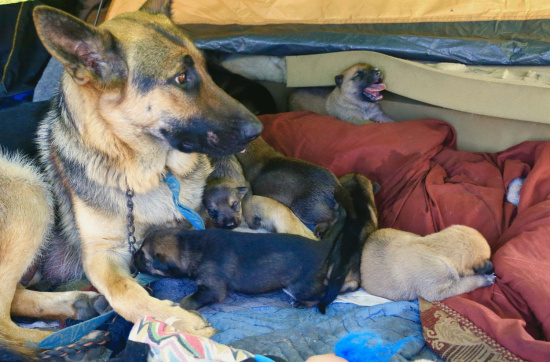 # # #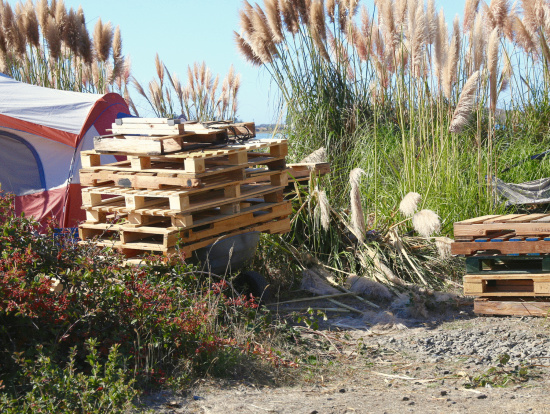 As part of preparation for winter, several camps were in the process of placing pallets under their tents to get them off the wet ground. A woman helping with the camp above said these were obtained free from Lost Coast Brewery. Pallets also provide good fencing (below).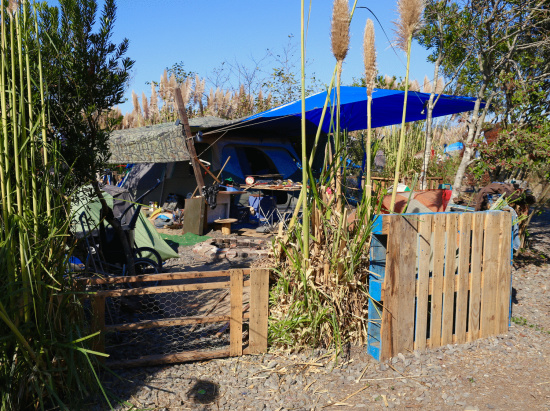 # # #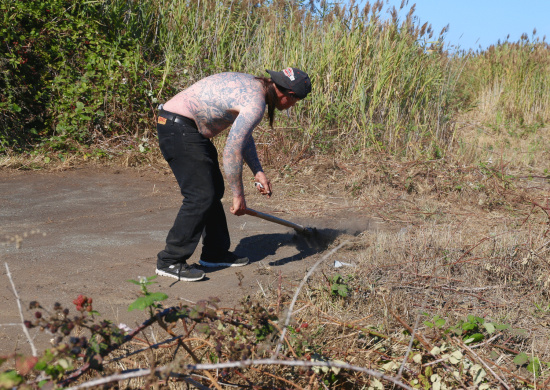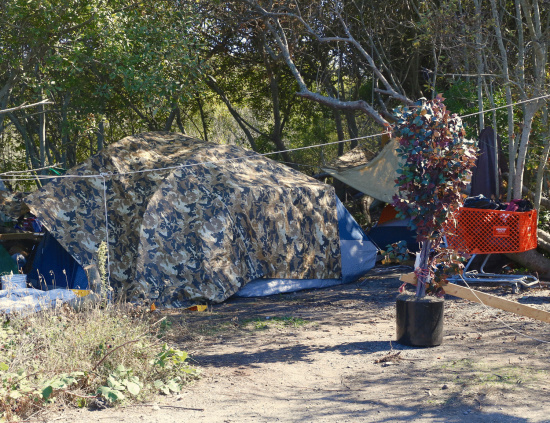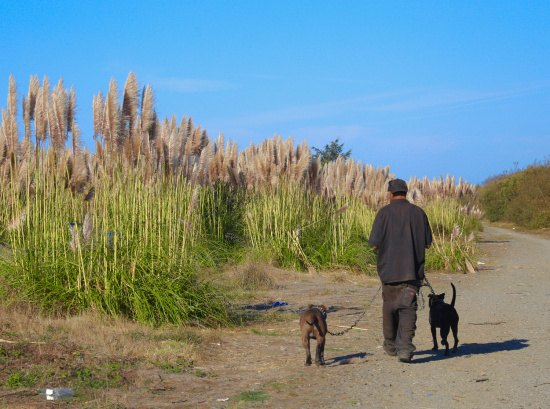 Many of the camps featured tied-up dogs. "To protect my things," one camper told us.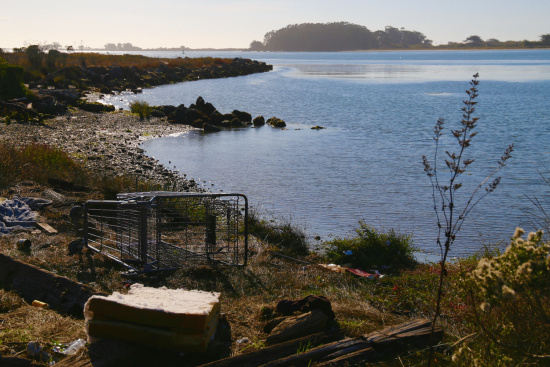 # # #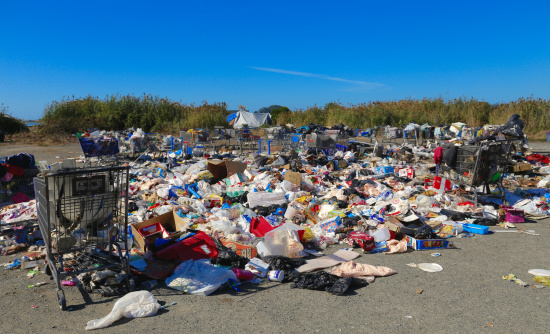 As we were photographing this trash pile/shopping cart graveyard, Josh, a Palco Marsh resident rode up to us on a bike.
"You know that's not us, right?" Josh asked. He said that other people often drive back to this slab of concrete adjacent the Bayshore Mall's back parking lot and dump trash. He pointed out the Otter Pops box and we both agreed that there probably aren't many freezers in the marsh. Josh told us he burns his refuse.
"I think it's the cleanest, best way," he said.
As a trashy epilogue, the City of Eureka and SWAP made one of their routine cleanup runs today. This consolidated garbage heap is no more.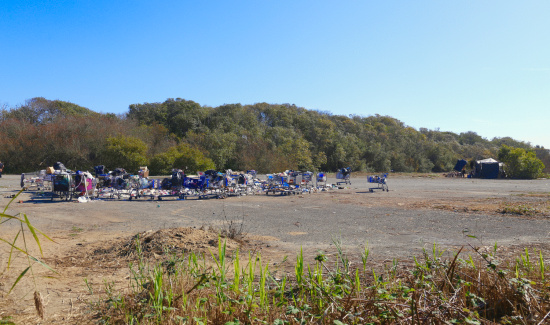 # # #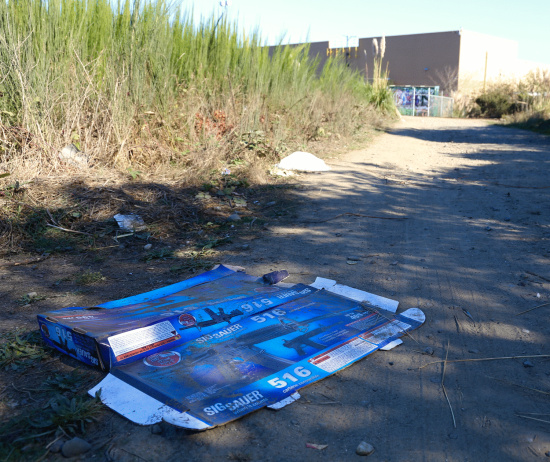 !!!
# # #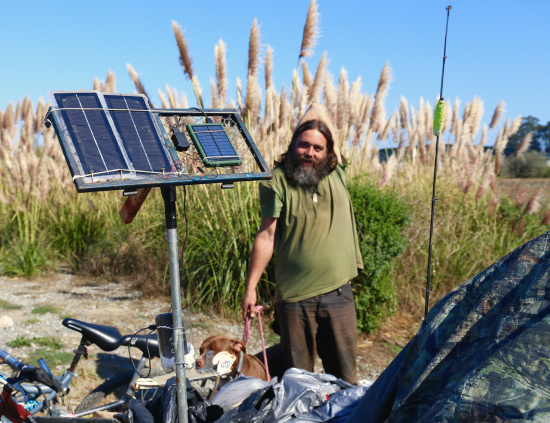 A couple camps we saw had solar power features of varying complexity attached to them. Resident Jeremy told us he wired together the panels pictured above mainly to store power to charge his cell phone. He told us at one point he put together a makeshift windmill for power.
"I don't think the police liked it very much," Jeremy said. "And this works better."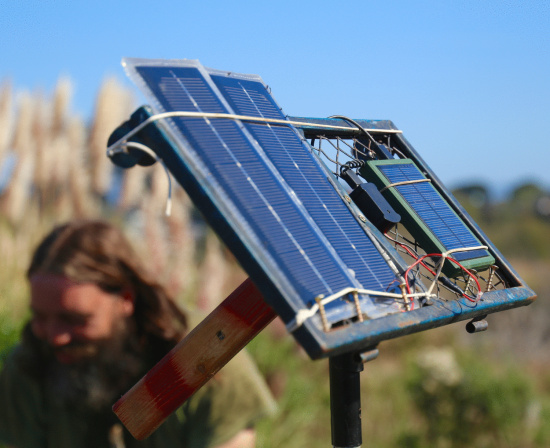 # # #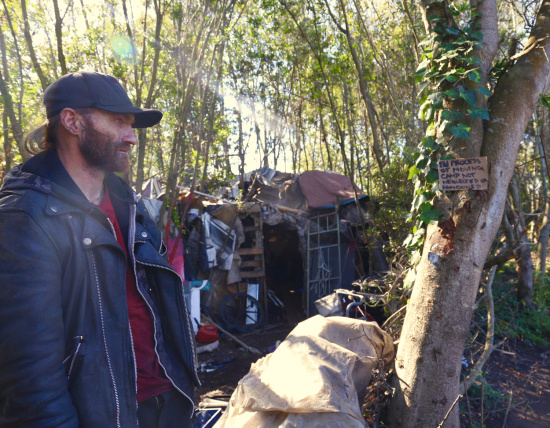 The Eureka Police Department have asked campers to vacate Devil's Playground for the more open and accessible area adjacent to the Del Norte Street Pier. Sean, above, is in the process of moving his camp but posted a sign so that the City won't remove his things should they arrive while he's not there. He told us a neighboring camp was cleared out with the aid of a front-loader while the resident was at the store.
"They came through and just wiped his camp out because he wasn't there one day," Sean said.
Sean told us he previously lived for stretches in the Pine Motel and out in Samoa and has repaired bikes for friends to scrape by. While we were talking, another man approached the camp.
"Did you save me any pancakes?"
"I actually did," Sean replied. "There should be three or four of 'em in there."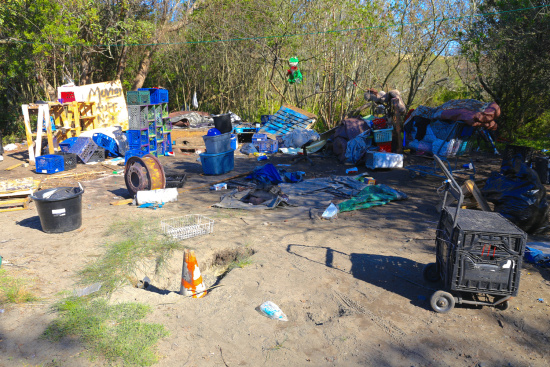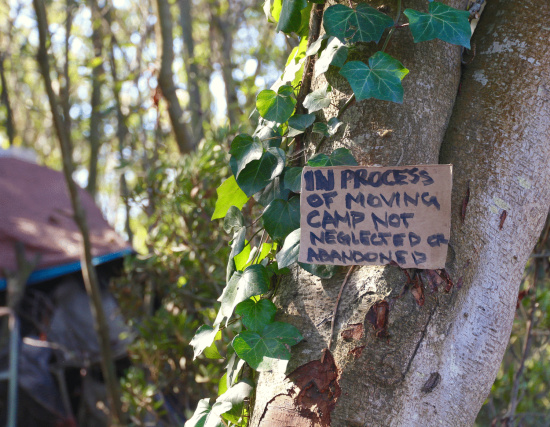 # # #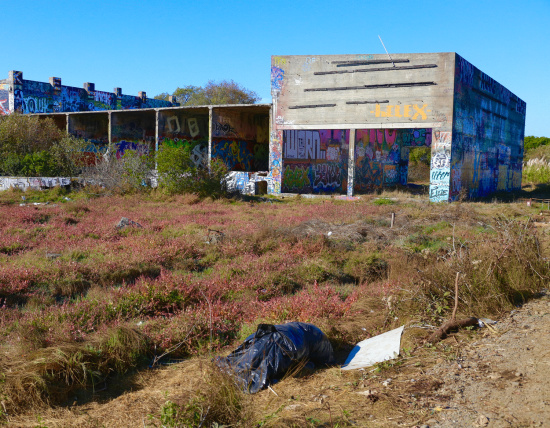 And now, some photos of the graffiti-enhanced concrete ruins behind the Bayshore Mall, perhaps Eureka's most vibrant art district (if you can forgive the hundreds of discarded spray paint cans).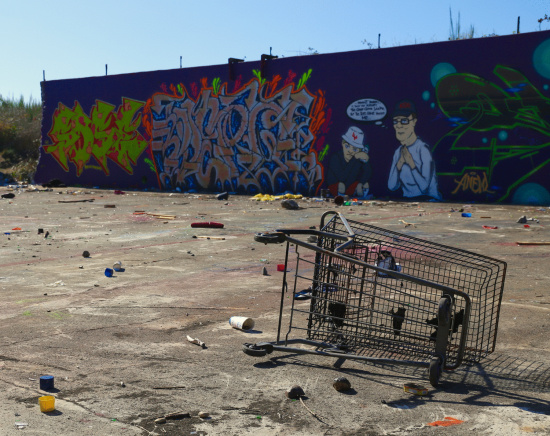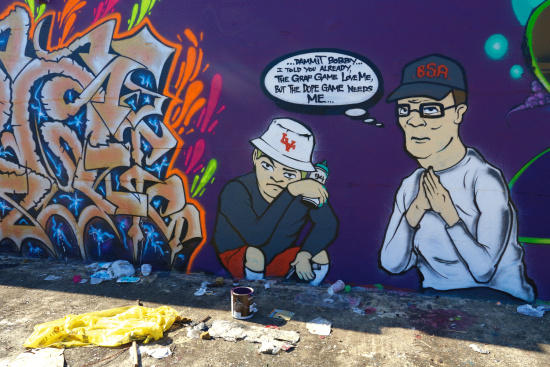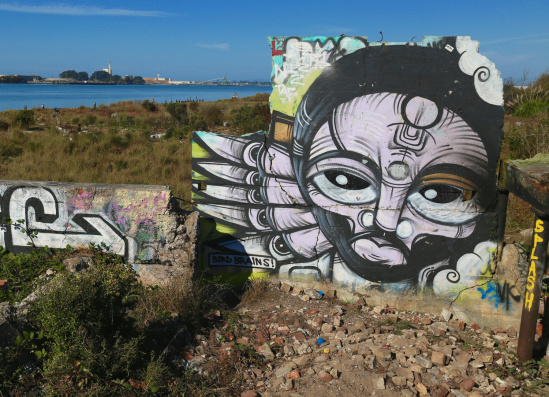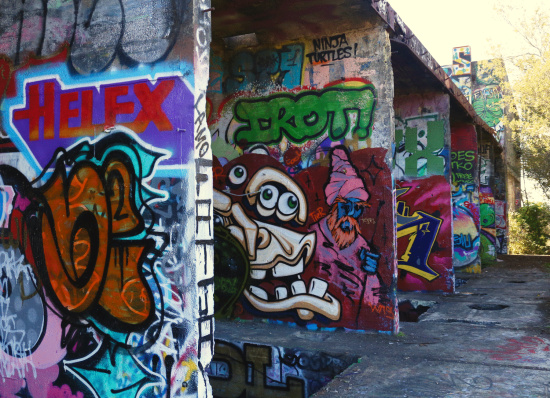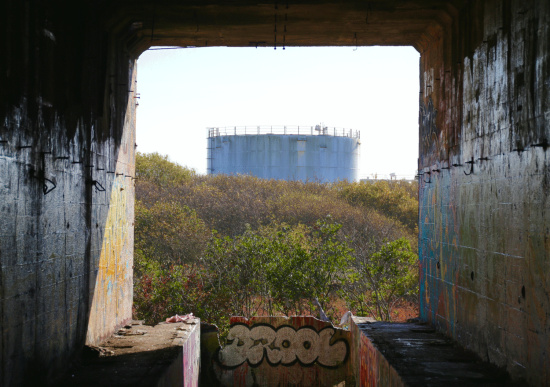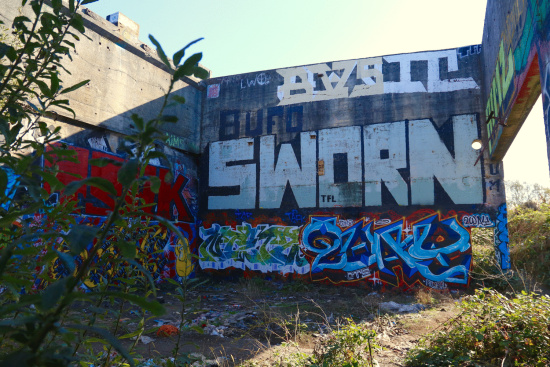 # # #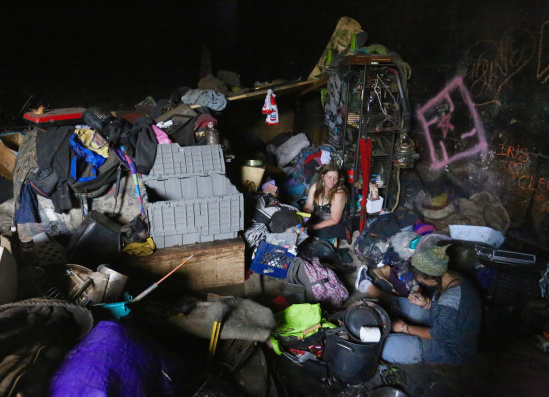 Tucked away in a cavernous concrete structure live Iris and Cleo, some of the final holdouts in the Devil's Playground area of the greenbelt.
"It's not that bad," Iris said, adding that she's been homeless for much of the past 25 years. "People say it's really bad back here, but you know what? I have a lot friends here and there's not as much fighting as people think."
Cleo says if they are forced to move out he's sure someone else will move right back in since it provides more shelter and privacy than anywhere else in the area. Iris noted that one of her previous encampments had been cleared by the City's heavy machinery.
"I'd like to see them bulldoze this place," Iris joked.