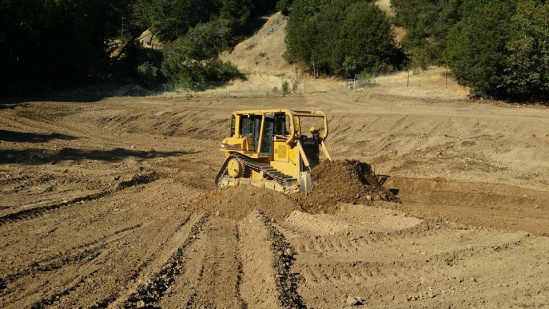 In an apparent music festival first, Reggae on the River organizers hope to make next year's event – held annually at French's Camp alongside the Eel River – a "water-neutral" one.
Mateel Community Center board president Garth Epling elaborated on the project on KHSU's The Home Page yesterday. "We're building a rain catchment pond at French's Camp that can hold about 750,000 gallons of water," he explained.
Epling said that Reggae required around 220,000 gallons of water in 2013, and they had to bring additional water in to the 2015 festival. "The idea is to use the [accumulated] 750,000 gallons to water the bowl, keep the grass growing into the summertime when the event happens, and use the water for all sorts of other purposes like showers and such."
Much of the extra water will be used to keep the dust down, Epling continued. Battling the dust problem requires water, "and we obviously can't pump water out of the river at that time of the year… It's not environmentally correct," he said.
A cursory Google search showed no other "water-neutral" music festivals. "We may be the first one," Epling noted. "I'm not sure. Festivals are certainly looking at this."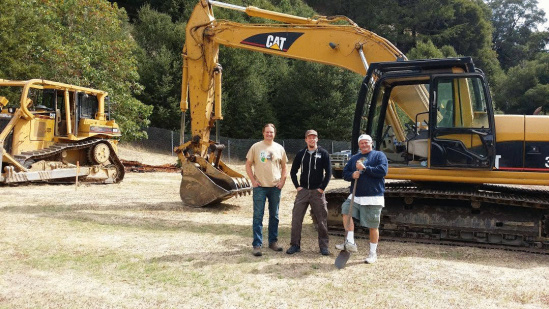 From left: Justin Crellin, Garth Epling, John Jennings
He added that the remaining water will be poured back into the aquifer, ultimately recharging Eel River flow. "It's so cool to finally see this happening."
The liner cost around $25,000, and Greenway Partners helped with the engineering.
Epling said that if other festival organizers wanted to pick his brain on going water-neutral, he'd gladly share the Mateel's expertise. "It's not, like, a corporate secret or anything."
Listen to the full KHSU The Home Page interview below.