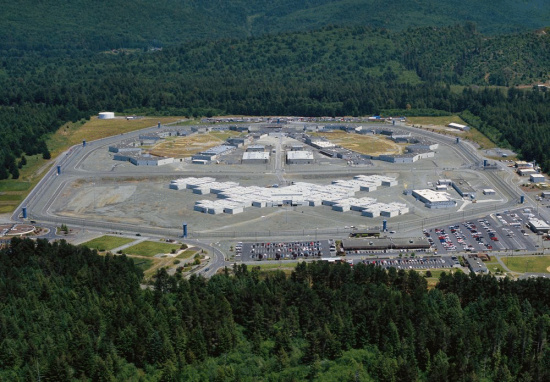 In a landmark legal settlement filed in federal court today, California agreed to change the way it handles solitary confinement of prison inmates. The suit was brought in 2012 by prisoners at Pelican Bay State Prison, north of Crescent City, who'd been held in solitary confinement for more than a decade.
The terms of the settlement call for the state's Department of Corrections and Rehabilitation (CDCR) to end the indefinite detention of inmates in Secure Housing Units, aka the "SHU" (pronounced "shoe") — tiny, often windowless cells where prisoners spend close to 23 hours per day. The state also agreed to stop sentencing inmates to solitary based solely on alleged gang affiliation.
"I am ecstatic; we are ecstatic; everyone is ecstatic," said Sharon Fennell, aka Sista Soul, who became involved in prisoners' rights issues after she started receiving letters from Pelican Bay inmates who'd been listening to her show, "Sista's Place," on KHSU.
"It was way overdue," Fennell said. She predicted that this settlement is "the beginning of the end" of solitary confinement in the United States, adding that she wasn't sure this day would come. "Change is slow."
Pelican Bay inmates launched a series of hunger strikes in 2011, protesting what they saw as cruel and unusual punishment. Studies have shown that long-term solitary confinement can lead to a wide range of psychological problems including "hallucinations; panic attacks; overt paranoia; diminished impulse control; hypersensitivity to external stimuli; and difficulties with thinking, concentration and memory." Many corrections officials say this long-term warehousing is not only inhumane but also ineffective as a means of rehabilitating criminal behavior.
A 20-year-old federal court decision in the case of Madrid v. Gomez found that confinement in the SHU "may press the outer bounds of what most humans can psychologically tolerate." Human rights groups have described it as torture.
While the CDCR previously said solitary was reserved for violent gang members, prison officials were free to "validate" the alleged gang affiliation based on anything from attacking a fellow inmate to tattoos or even talking to an already validated gang member. Now, according to the Los Angeles Times, "only inmates found guilty of violating serious prison rules, like violence against other prisoners, weapons possession or escape, will be sent to isolation."
The Times continues:
The state will create a new unit for prisoners who are deemed too dangerous to return to the general population, where they will have more privileges than in solitary, like more time out of their cells, small group leisure activities and some job opportunities and phone calls.
California has 2,858 inmates in solitary (more than any other state), and more than 1,100 of those are being held in Pelican Bay, according to the Center for Constitutional Rights.
The inmates who filed the suit issued the following statement:
This settlement represents a monumental victory for prisoners and an important step toward our goal of ending solitary confinement in California, and across the country. California's agreement to abandon indeterminate SHU confinement based on gang affiliation demonstrates the power of unity and collective action.

This victory was achieved by the efforts of people in prison, their families and loved ones, lawyers, and outside supporters. Our movement rests on a foundation of unity: our Agreement to End Hostilities.

It is our hope that this groundbreaking agreement to end the violence between the various ethnic groups in California prisons will inspire not only state prisoners, but also jail detainees, county prisoners and our communities on the street, to oppose ethnic and racial violence.

From this foundation, the prisoners' human rights movement is awakening the conscience of the nation to recognize that we are fellow human beings. As the recent statements of President Obama and of Justice Kennedy illustrate, the nation is turning against solitary confinement.

We celebrate this victory while, at the same time, we recognize that achieving our goal of fundamentally transforming the criminal justice system and stopping the practice of warehousing people in prison will be a protracted struggle. We are fully committed to that effort, and invite you to join us.

Todd Ashker

Sitawa Nantambu Jamaa

Luis Esquivel

George Franco

Richard Johnson

Paul Redd

Gabriel Reyes

George Ruiz

Danny Troxell
Should you desire any more background, see this 2011 story in the North Coast Journal, written a few months after the hunger strikes began.