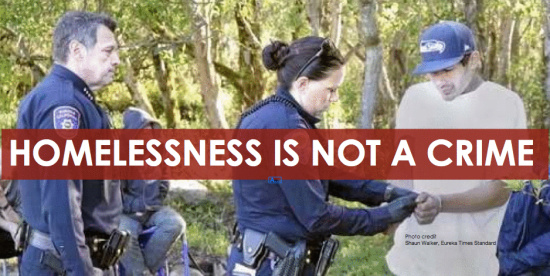 If you drive down Fifth Street in the late afternoon or early evening today, you will be urged to honk.
Two separate organizations are planning demonstrations on the street in front of Eureka City Hall and the Humboldt County Courthouse. The first will protest waterfront cleanup strategy on tonight's Eureka City Council agenda — the one that the Outpost's Ryan Burns wrote about yesterday — and the second is a rally for county employees negotiating contracts.
First up: The True North Organizing Network, fresh off its weekend summit in Hoopa, is calling for folks to gather at City Hall at 4 p.m. for a silent protest of the homelessness-related items on this evening's City Council agenda.
Says True North:
JOIN US FOR ACTION AT EUREKA CITY COUNCIL TUESDAY 9/1 at 4 pm! Make your poster and be part of a silent protest against Eureka City Council's anti-homeless ordinances. Tuesday, September 1 at 4 pm at 531 K St.

Your poster can read… HOMELESS IS NOT A CRIME, WE ARE IN A SHELTER CRISIS, NOWHERE TO GO, HOMELESS HAVE RIGHTS TO PERSONAL PROPERTY… or whatever you want to say.

Eureka City Council set to pass two anti-homeless ordinances this week. They want to clear out folks from waterfront camps and take their personal property… We call that NO SOLUTION.
The City Council meeting itself begins at 6 p.m.
[UPDATE: Though the True North Organizing Network created the Facebook page for the event, the action itself is being led by AHHA (Affordable Homeless Housing Alternatives), according to True North organizer Renee Saucedo. "[W]hile True North supports the action happening in Eureka this evening, we can't take credit as one of its sponsors," Saucedo tells the Outpost.]
An hour or so after the City Hall protest, and just up the street, the largest union representing county workers will be rallying for wages generally, and the so-called "me too" contract clause in particular — the stipulation that if one group of county workers gets a raise, then all must get raises. As backdrop: The Board of Supervisors will be meeting in closed session with its labor negotiator today, and one assumes that this very thing will be on the agenda.
More at the union's Facebook event page. Looks like well-wishers and people attending the rally in solidarity would be well advised to wear a green shirt.
Says AFSCME Local 1864:
County employees represented by AFSCME Local 1684, AFL-CIO, will be rallying at the Courthouse in Eureka. Workers are demanding a reasonable contract that provides fair wages and safe working conditions. Many of our County workers face dangerous circumstances daily. The County's own reports indicate their workers are 9% under the increase in the cost of living. These workers have cooperated with the County for years to balance the County budget.

The Humboldt County Board of Supervisors continues to refuse to acknowledge these issues. As a result, many County workers, especially Social Workers and Mental Health workers, leave their jobs for higher wages and to escape unsafe working conditions. The County's own CAO has provided data stating that County workers' stagnant wages are keeping them at 9% below the Cost of Living. Where is the fairness in that?

The Board of Supervisors have promised on many occasions to promote fairness across the board when it comes to workers. However, their actions clearly say otherwise when they insist on removing "Me Too" language from the county workers' contracts. This language states that if one bargaining unit gets a raise, all other units with the "Me Too" language get that same raise. This language is designed to promote fairness and remove favoritism of one group of workers over another from the bargaining process. For workers, this clearly demonstrates the Board's desire to remove barriers that prevent them from playing favorites. It is unacceptable to impose pain on all workers and then have free reign to reward the "chosen few."

WHO: All County Workers and all citizens who support a Fair Contract
WHAT: Demonstration for a Fair Contract!
WHEN: Tuesday September 1, 2015, from 5:15 p.m. until 6:00 p.m.
WHERE: In front of the Courthouse (825 5th Street Eureka, CA 95501)