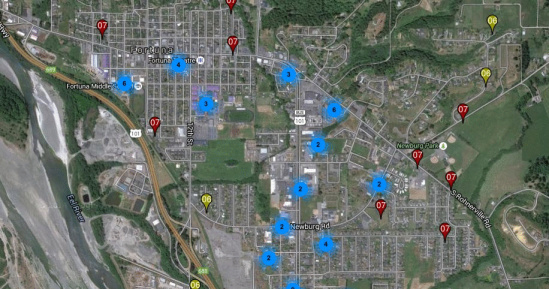 One thousand congratulations to the Fortuna Police Department for its brand-spanking new public information mapping tool! With the launch of this public interface to the department's records management system, Fortuna suddenly becomes the most 21st-century-like of all local police agencies — possibly of all local public agencies, period — at least when it comes to communicating information to the public.
Click over to this thing and give it a whirl. The first thing you'll see is near-realtime "calls for service." As I am writing this, I see that police were dispatched to the 400 block of north Fortuna Boulevard about 10 minutes ago, there to respond to a complaint of vandalism. I'm given an incident number, so that if I am an interested party in this vandalism case, or have more information to provide to police, I can easily reference the particular incident in my subsequent communications with the department.
Grab the little slider at top and you can scroll back through the past 24 hours in 10-minute increments, examining calls for service throughout the day.
That's just scratching the surface, though. Click on "Past Activity" and browse calls for service by day, or week. Click the little colored markers on the right-hand side of the map to narrow down the types of calls for service you are interested in — traffic collisions, drug violations, vandalism, property crime, etc. Zoom in. Zoom out.
Go back to the left-hand column and click "Crime." There you get an interface into the actual crime committed in the town over whatever period you wish (only a small portion of calls for service, in any jurisdiction, result in a crime report taken.)
Click "Arrests." There you get everyone the department has arrested recently, with a little bit more information that our own "BOOKED" gives you. (But only for Fortuna arrests, of course.)
Click "Crime Charts." You get a little look at the Fortuna annual crime stats as reported to the FBI.
Maybe best of all, click "Bulletin." What you get there is a little incident-by-incident narrative of the department's day — every call for service spelled out in plain English. Like this, from yesterday's log:
08:09 PETTY THEFT JUST OCC 1509130014
Occurred on S Fortuna Blvd, Fortuna. Male wearing gray hoodie & plaid pajama pants, had merchandise in his sweatshirt, then alarms sounded, and he fled on foot towards Walgreens. Male left a backpack & bicycle at Rite Aid. Unk what was taken. . Disposition: CAD DOCUMENTATION ONLY.

08:30 ANIMAL DETAINED 1509130015
Occurred on Cecil Ave, Fortuna. (Hundred block.) Black (white chest) mixed breed, found wandering 1700blk Cecil. Rp transported to station. Dog placed in alley kennel pending transport to holding pens. . Disposition: CAD DOCUMENTATION ONLY.

10:23 NARCOTICS OFFENSE 1509130018
Occurred at K ST/11TH St, Fortuna. Wanting to report drug use "on the streets". Female sitting on curb smoking H&S. . Disposition: COUNSELED & ADVISED.

11:15 SUSPICIOUS CIRCUMSTANCE 1509130020
Occurred on Thomas St, Fortuna. 6-7 kids ontop of containers in field of Toddy Thomas, jumping simultaneously. Rp is afraid someone will get injured, or damage school property. . Disposition: CAD DOCUMENTATION ONLY.
Fun stuff!
Again: Top-notch work, Fortuna! Eureka? Arcata? Sheriff's Office? Your move!
Press release from the Fortuna Police Department:
Today, the public is used to being able to look up just about anything on the Internet and that certainly includes "government" information, including law enforcement information. To allow the public to have crime information at their fingertips, the Fortuna Police Department has implemented Citizen RIMS. Citizen RIMS makes selected crime data available to the public. Citizen RIMS is an extension of the RIMS system, our integrated public safety system.

The Fortuna Police Department is proud to augment this technology with real time crime and incident mapping. In our ongoing effort for transparency and keeping the community informed of crime trends and enforcement, we have added this new capability to our computer aided dispatch system (CAD). The mapping is a work in progress as we add more information to give the community real time information on crime patterns and activities of the Police Department.

We welcome you to interact with us via the Citizen RIMS portal. You can also access this portal at our website www.FriendlyFortuna.com/CrimeMap.