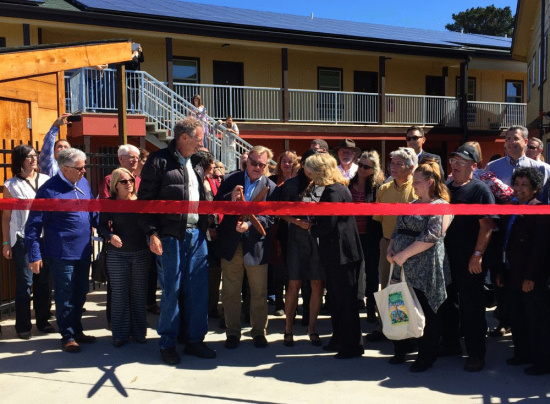 Arcata City Councilmember Mark Wheetley wields the giant ceremonial scissors. By Ryan Burns.
There were a lot of people on hand this afternoon for the ribbon-cutting at Arcata Bay Crossing, a 31-unit affordable housing complex that includes 15 units for mental health clients who are homeless or at risk of homelessness. The crowd can partly be attributed to a caring community spirit, though it also reflected the long and complex multi-agency effort it took to see the project through to completion.
Local politicians, government employees and nonprofit workers milled about in the sunshine while the apartment complex's new residents looked on with curiosity. As of this morning, the place is at 100 percent capacity, reflecting the overwhelming need for low-income housing in Humboldt County. Construction finished just over two weeks ago, and most of the new residents who've moved in since were homeless before finding themselves in these brand new apartments.
"It's awesome," said Steve Porter, a bearded man on crutches hanging back from the gathered crowd. "Everything's brand new. And clean. And shiny. I don't have to be homeless without a roof anymore."
Porter moved to Arcata in 1979, and he was living in Valley West until about a year and a half ago when he and his roommate got kicked out of their apartment. He wound up homeless, camping outside at night until he got hooked up with the Night Shelter, a program of the Arcata House Partnership.
Porter offered to show us his new digs, moving nimbly on his metal crutches past several doors until he came to his own.
"Go ahead, walk in," he said, opening the door. "This is home sweet home for me."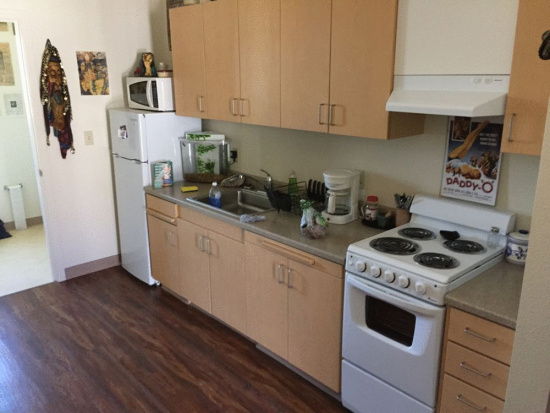 Steve Porter's new apartment at Arcata Bay Housing.
The units are modestly sized at approximately 250-300 square feet apiece, and they feature all the basic appliances, an open floor plan and north-facing windows.
"I'm a single man, so I don't have much. Don't need much space," Porter said.
Next to the refrigerator he'd placed a small fish tank where two vibrant Siamese fighting fish swam languidly. "I put 'em together to see if they'd fight," Porter said. "They don't."
Back outside, standing at the top of the stairs that lead to the second floor of the complex, fellow resident John Cope looked down at the crowd of people mingling below. Like Porter, Cope moved in just over two weeks ago, and he too was homeless before arriving.
"It's technically the first time I've not been homeless in over three years, cuz they consider living in a hotel homeless," Cope said in his raspy smoker's voice. After losing his house several years ago he resorted to living out of his van. For a year-and-a-half he lived in one of Eureka's run-down motels that serve as long-term housing for those with very low incomes.
"This is much better, much cleaner," Cope said. "Everything's brand new. They did a real good job building it. All the managers, the people are really really nice." Cope said he hasn't met all of his new neighbors in the complex, but most of those he has met were homeless before arriving. "Overall, we're just so happy to be here," he said.
The $5.7 million development, designed by architect Philippe Lapotre and constructed by Pacific Builders, resulted from a collaboration between a handful of government, nonprofit and private entities including Housing Humboldt, the Ukiah-based Rural Communities Housing Development Corporation, Humboldt County's Department of Health & Human Services and Arcata House Partnership.
Funding was largely facilitated through California's Mental Health Services Act (MHSA), the 2004 measure that ushered in a tax on millionaires to fund the expansion and transformation of county-level mental health programs. The county's Department of Health and Human Services was the recipient of MHSA funds, and they partnered with the nonprofit Housing Humboldt to leverage the rest of the funding needed for the project, including loans from the City of Arcata and PNC Bank and a grant-making partnership with the Humboldt Area Foundation.
Rental rates at the complex range from $302 to $604 per month, though Beth Matsumoto, co-executive director of Housing Humboldt, said residents in the 15 units reserved for homeless/mentally ill will pay no more than 30 percent of their income on rent. The other units in the complex are reserved for low-income tenants, with a one-person annual income limit of $24,360.
Matsumoto explained that this project represents the county's first permanent supportive housing facility, with 19 units reserved for chronically homeless tenants who will receive on-site case management services through the county.
The project qualifies for federal tax credits of $373,557 per year, according to a fact sheet handed out on-site today.
Prior to the ribbon-cutting, various people involved in the project took turns addressing the crowd. Beth Burks, board president at Housing Humboldt, proudly recounted some of the heartwarming stories this project has facilitated, including one about a couple that's been separated from each other for the past 16 months because they were unable to find housing together. Now they're sharing a unit at Arcata Bay Crossing.
Another new tenant is visually impaired and has been homeless for close to a decade, Burks said. Now he's living in this complex with his caretaker. "So it's no small deal," she said.
Barbara LaHaie, Humboldt County Department of Health and Human Services' assistant director of programs, said the place will transform lives. "For folks living here, this is the first time in a very long time that they've had a place to call home," she said. "What that means for them is an opportunity to have hope, good health and wellness, to feel a part of something, to have a purpose … . These are individuals who have been struggling for a very long time."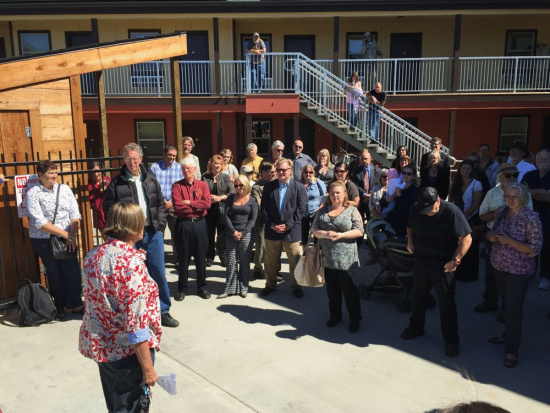 Arcata House Executive Director Fox Olson told the crowd, "In Arcata, we end homelessness by building housing."