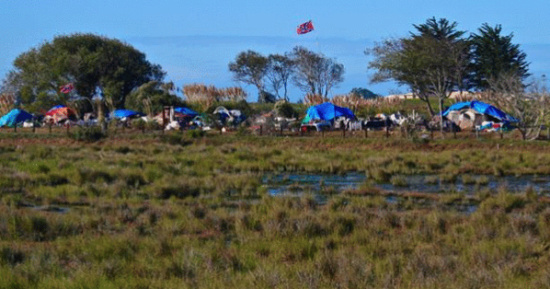 As the City of Eureka gears up for the eviction of the houseless population residing in the Palco Marsh amidst threats of lawsuits and local organizations scramble to come up with less-than-ideal solutions for where to send them, some local families have found shelter courtesy of a sizable grant from the California Work Opportunity and Responsibility to Kids Program (CalWORKS).
The Humboldt County Department of Health and Human Services provides some background on the program, which, thus far, has put roofs over the heads of at least 47 local children, in the press release below:
Since the beginning of the year, 23 formerly homeless families have moved into housing thanks to a CalWORKs grant announced late last year.

The California Work Opportunity and Responsibility to Kids Program—CalWORKs—provides needy families with time-limited cash assistance and welfare-to- work services.

The CalWORKs Housing Support Program grant, available to eligible CalWORKs families, uses the rapid-rehousing model, an evidence-based practice that reduces the amount of time families spend on the street or in transitional housing.

"Because of this grant, we have been able to create Housing Action Teams to assist these families with a variety of services to help get them housed," said Marti Hufft, CalWORKs program manager at the Humboldt County Department of Health & Human Services (DHHS). A Housing Action Team is made-up of the family, social worker, social services aid and property owner and other supports as needed.

The almost $500,000 Housing Support Program grant, provided by the California Department of Social Services, funds a range of services and supports for qualified families, from housing search and application assistance to short-term cash aid for rent and utilities.

According to the terms of the grant application, families whose housing situation is most dire are given first consideration.

"It is very difficult for parents to hold down jobs and children to do well in school when they do not have a place to live," said DHHS Social Services Director Stephanie Weldon. "It is so encouraging to see that since January 1, 23 families—47 children and 35 adults—are in housing thanks to this grant." Weldon added that DHHS staffers are continuing to build action teams to provide more robust case management and support to local families.

For more information about the CalWORKs program and to see if you qualify, visit humboldtgov.org/525/CalWORKs or call 1-877- 410-8809.