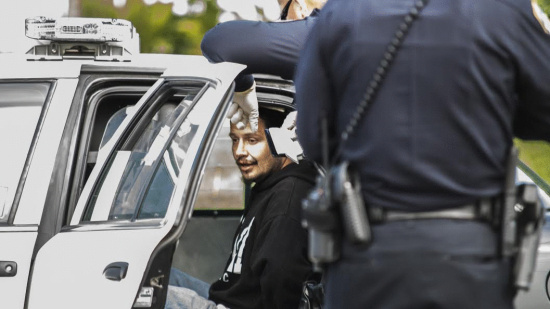 Eureka police officers were out in force near Sequoia Park this afternoon, chasing down a burglary suspect who fled on foot from a traffic stop. Both the runner and his wife, who stayed with the car when police pulled it over, were eventually taken into custody.
The EPD's Brittany Powell tells the Outpost that the incident began when officers got word of a car burglary in progress near the intersection of Russell and Dolbeer streets, near Washington Elementary on the eastern edge of Sequoia Park. The two suspects in the burglary got into a car and left the scene, but were tailed by the person who had called the crime in to the cops.
The police eventually caught up to the suspects' car at the corner of M and Wood streets, and initiated a traffic stop. There, Kimberly Stotler, age 29, was taken into custody. Her confederate, Dustin Stotler, 36, fled the scene on foot, evading pursuing officers for a little while.
Eventually they caught up with him on Hodgson Street heading back the way he had come — toward Sequoia Park. In the scanner audio below, originally broadcast at about 3:21 p.m., an officer notices the suspect about to head into the woods:
Officers stationed themselves at various entrances and exits to the park, pursued him through the woods a bit and eventually took him into custody near the corner of Q and Glatt Streets.
According to Powell, Kimberly Stotler was arrested for conspiracy to commit burglary and violation of a court ordered restraining order. Dustin Stotler was arrested for burglary and violation of a court ordered restraining order.