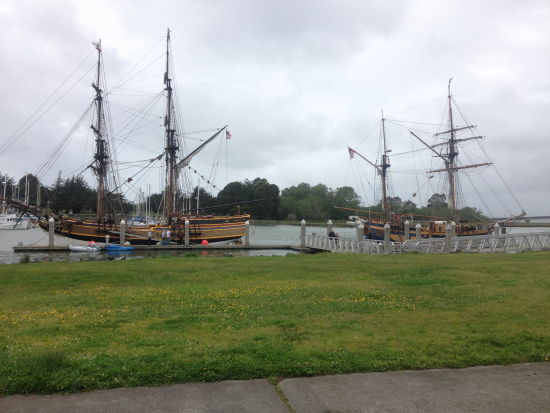 Lady Washington (left) and Hawaiian Chieftain (right)
A few days ago I spoke with Hawaiian Chieftain First Mate Cody Carnathan about what it's like living on a tall ship, the ships' educational programs and a few other interesting things.
The Hawaiian Chieftain and Lady Washington will be at the Bonnie Gool Dock (by the Adorni Center) until May 1, when they leave for Crescent City.
For more information about their schedule and their "Two Weeks Before the Mast" program, check out http://historicalseaport.org/
###
Press release:
Due to an incoming system of severe weather, the tall ships Lady Washington and Hawaiian Chieftain have extended their stop at Boonie Gool Dock in Eureka to Sunday, May 1. The ships had originally planned to depart on Thursday for Crescent City, but the expected severe weather will keep them in Eureka. As a result, the ships have added tours and sailings for the balance of their stay. Here's the additional scheduled public availability.

4/28-29:

4 p.m. to 5 p.m.

, walk-on tours, $3 donation per person.
4/29:

6 p.m. to 8 p.m.

, Evening Sail, $45.
4/30-5/1:

10 a.m. to 1 p.m.

, walk-on tours, $3 donation per person.
4/30-5/1:

2 p.m. to 5 p.m.

, Battle Sail, $39-$75.
5/1:

11 a.m. to 1 p.m.

, Adventure Sail, $39-$47.

The ships are now scheduled to arrive in Crescent City on Monday, May 2. They will open for public tours 4 p.m. to 5 p.m.,Tuesday, May 3. They depart for Coos Bay on Wednesday, May 4.