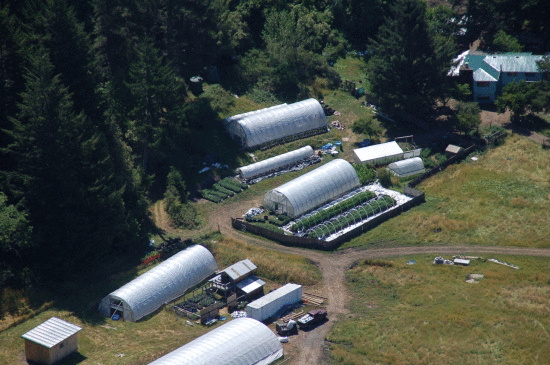 The Greenrush is on in Humboldt County. The forests echo with the rude belches of chainsaws, bulldozers and generators that terrorize wild animals, ruin our quality of life and decimate delicate forest ecosystems. While local environmental groups appease the greedy greenrushers with compliance workshops, water tank loans and "best practices" handbooks, one group of local growers, the Humboldt Mendocino Marijuana Advocacy Project, or HumMAP has said "Enough is enough!" Instead of jumping on the greed-wagon, HumMAP is suing Humboldt County over their newly adopted, broadly permissive, commercial marijuana ordinance.
HumMAP is suing the county to protect our community, preserve our wild forest habitat, and secure our economic future. More than just an organization of growers, HumMAP represents a broad cross-section of the Southern Humboldt community, and is made of people who have chosen to live here and build this community, rather than pursue money for its own sake. To them, this place, and this community are worth more than money, and through this lawsuit, they hope to protect the environment they live in, and the community they've worked so hard to build. I talked with HumMAP spokesperson, Robert Sutherland, aka Man who Walks in the Woods, or "Woods" for short, about HumMAP, and the lawsuit they filed against the county:
Hardin: When did you first come to Humboldt County?
Woods: I first came to Humboldt County in 1968, but I didn't mover here full-time until 1973.
Hardin: So you've been here for a while.
Woods: Yes, indeed. Yes, indeed. I'm pleased. I'm not pleased by a lot of the things that have happened here more recently.
Hardin: …but you still like living here.
Woods: Yeah.
Hardin: How did HumMAP get started?
Woods: Well a woman by the name of Anna Hamilton organized it, and it was well attended in it's first couple of meetings. I would say there were a couple of hundred people maybe, but the group included everyone interested in marijuana, including big growers and little growers. So, there was a lot of internal warfare that developed within the organization and finally it came down to the small organic growers, the Mom and Pops of our history. In the end, it was the people who had passed up many opportunities to be "razzle dazzle money people."
Hardin: What do you mean, "razzle dazzle money people?"
Woods: Well, even way back when, there were individuals who were among us, but were not of us. They were here to max out on making money off of marijuana, and did it in a ruthless way. Those are the people who became models for a different element in our community, that I for one, have very little respect for. It wasn't just newcomers, it is also to a large extent, children of the original growers who never had a chance to learn the kind of values that brought people here. They didn't have the (role) models that the original back-to-the-landers did.
Hardin: Pot is one of those things that helps people find those values. How do people grow so much marijuana without ever discovering them?
Woods: Well that's a complicated question. There's more than one aspect to that. First of all, (smoking) marijuana is a way of saying that the values that society has tried to force down people's throats, are not the values that people find coming from their hearts. So marijuana is kind of an adamant way of saying "No, those traditional values are not my values!" So that's a positive side to it. Unfortunately, it doesn't go deep enough, because what they should really see is that it's the door to their heart, and to get into your heart doesn't require marijuana, that's for sure. Using marijuana is not a problem if you don't get stuck on it. You do have to go beyond whatever marijuana shows you to be a real person in your own right.
Hardin: So, the county just went through a long involved process to adopt a new medical marijuana ordinance. You were pretty much involved with that whole process. What was it like, and how did it go?
Woods: That process reaches back a lot further than most people realize. For example, the longest serving member of the Board of Supervisors is Mark Lovelace. However, before he was ever on the board, I was making presentations to the Board of Supervisors about what direction the marijuana industry should go in. HumMAP, and others, before the existence of HumMAP, tried to present a sane, healthy, vision of an economic future for our county. We drafted an ordinance. You never hear about it. It was a fine ordinance, I think, however the only ordinance you've probably heard about is the one CCVH, California, Cannabis Voice Humboldt drafted and gave to them.
The differences primarily had to do with fact that the group had enormous amounts of money available, and used it to pay lobbyists. People who had close ties to the Supervisors were hired to lobby for how they thought the legislation should go, and the way they thought the legislation should go, featured great big grows and was oriented towards greedy profits, and they were able to prove their intent by the amount of money they were able to shell out. So, we were talking about an interesting contrast. Nobody even heard about our, carefully put together, proposal for an ordinance, which was actually thrashed out over a long period of time, by a lot of people, arguing hour after hour, and defining down what concepts were healthy what weren't. It was a fine ordinance, yet, because these people were not greed growers, they couldn't put money forth to the Board of Supervisors like the other group that got great publicity did. So that's an early start on the whole process. That maybe fills in a little bit of stuff that maybe you haven't been aware of.
Hardin: That's great. Could you give us an idea of what was in that draft ordinance that you folks drafted, and how it differed from the one CCVH put forward?
Woods: For one thing, there was a provision, I forget what we called it, but a council. The marijuana industry, obviously, to anyone who thinks about it, is very complex. It's not only very complex, but it is continuously changing, not just the price of marijuana, but the ways in which it's grown and many other features, legalities and whatnot. So we were proposing that there be a council set up, kind of like the Board of Forestry, to continually suggest changes that need to be made and details that needed to be threshed out better, and I think that's still an idea who's time has come.
I think the state legislation is very flawed. I think that our ordinance is pretty darned good in a lot of ways, and I think that Mendocino's ordinance is far better than even the one put forward by Humboldt, so I think we're maturing in (seeing) what needs to be done. I'm sorry to say that I don't think everything in the Humboldt ordinance was done with wisdom and I suppose that if I speak from my heart, that's one thing that disturbs me a little about it, but of course, the nature of politics tends to be that way. It's just that what we are talking about here is the future of our county, and the future of the people in our county, and to me, those are weighty considerations.
Hardin: Maybe you could talk a little about what the marijuana industry was like in the '80s, and how it changed to what's going on now.
Woods: Well there was a vast difference, a vast vast difference. One thing, people grew for themselves, and when you grow for yourself, you grow for quality. (chuckles) You want the good stuff. You want stuff that's healthy for you, and that guides you in the direction that you want to go with it, and so the marijuana industry arose in this way: Let's say I had a good year, and where I was hoping to get two pounds, I actually got four pounds. Well, my friends in the city really appreciated getting it. That's where the marijuana industry began.
You have to remember, the County was very hostile to the hippies moving in here. They tried to crush them. They tried by denying them the rights to have permits for their homes and their properties. They were very nasty. There's some pretty horrendous stories of what the sheriff did in those days, and so people had trouble surviving economically. I think actually, one of the major motivations was to be able to keep your children off of welfare. That is why people started growing a little extra marijuana, so that they would be able to have the income, not to vacation in Bali, not to drive a BMW, but to be able to keep their kids off of welfare. That is a core of the history of our region.
Hardin: How is that different from what's going on now?
Woods: What's going on now is greed. What's going on now is growing money. When you start focusing on profits, you not only want to maximize (profits), you also want to reduce risk, and risk management is the nature of management for money. So, (you have) mites, spray. Arguments with workers, fire 'em. Need more sunlight, cut down trees. Need water, pump it right our of the creek, on and on and on. These are value differences that are very significant. So, we're talking about a difference between valuing marijuana, vs. valuing money, and we live in a culture which is extremely oriented to greed. Money counts for everything now.
You have to remember that marijuana was made big, in the whole western world, primarily by the hippies, and the hippies made it big because it was a matter of principle. The hippies stood for principle. They stood against racism. They stood against war, and they stood against greed. This marijuana, I well remember, and others do to, was an issue of principle. It's not an issue for greed. We have to take a stand against this growing greed in America. This is all part of what we have to do as responsible individuals to have a healthy nation and to have a healthy world. We have to take a stand against greed. We have to take a stand against destroying the environment. We have to take a stand in honoring our fellow living creatures in the world.
Hardin: Why did you file the lawsuit?
Woods: There was a lack of care taken in certain aspects of drafting this ordinance that we're living under. This lawsuit addresses that fact. I will put it to you through an example. The Board of Supervisors contemplated certain of the environmental values concerned with this proposed industry, not in terms of those values, but with regard to whether they were going to get sued over not adequately respecting those values, and so they set up solutions that were not respectful of those values, but were respectful only of cheap political deals, in the hope of not being sued.
That's important because, for example, let's talk about generator noise. The Dept of Fish and Wildlife testified to the Planning Commission that 28db is already too much noise for spotted owls and marbled murrelets tolerate. That's pretty quiet, and so the Board of Supervisors set the limit at 60db, much louder, because 60db is what would, arguably, disturb your neighbor. So, there's no real recognition that wildlife is more sensitive to sound in the woods than human ears are. This is really important because the spotted owl, for example, hunts by sound. It listens for the tiny noises that a mouse, moving through the grass, makes. Spotted owls are a threatened species. We have a large population of them here in Humboldt County, so this could have a very big impact on the future of the spotted owl.
Now, in the ordinance, they tacked on, at the last minute, and which nobody got to review carefully, they said, "Oh, if there's spotted owls or marbled murrelets, then we can just adjust the sound levels." Well, these are ministerial permits, and under a ministerial permit, it's a permit by right. In other words, when they say: "Well, to have this permit, you have to do A, B, C and D." If you go in there and you say, "Yeah, I've done A, B, C and D," you get a permit. You have a right to a permit! They don't have the right to say "Well, did you check for spotted owls? What do you know about spotted owls?" They don't have the discretion to ask those kinds of questions. They're obligated under law to issue that permit. So we have 11,000 outdoor grows in Humboldt County. The huge majority of which are entitled, under the new ordinance, to ministerial permits. What does that mean for the spotted owl? It means that the provisions that the Board of supervisors took are meaningless, virtually meaningless. Maybe not entirely meaningless, but so meaningless that there's going to be major impacts on the owl, and they are not looking at that. They were never concerned about the owl. They were concerned about whether they were going to get sued over the owl. Well, we're suing them. We're suing them.
Hardin: I can imagine that if there's a generator going, and the owl can't hear the mice, the owls probably won't stick around very long. It seems like running a generator might be a good way of getting rid of owls.
Woods: (chuckles) Yeah. Those generators of course, that's a sticky issue because there's so many aspects to it. Well, I talked about complicated issues, there's one great big one right there. Generators are a complicated issue because there's fires, spills, there's the noise and there are various aspects that are beneficial to the industry, and it doesn't have to be just grow lights. The idea is that if you need to run a generator to make a commercial crop, you really are in the wrong location. You should be where you can have access to grid power to begin with. I don't think that's too much to ask. It's true that a lot of people back in the woods are growing commercially and depend on generators, or want them at least, but these are changing times, and if we're going to structure this properly, let's take a look at what makes a healthy industry. This is not one of those things.
Hardin: OK, generators are one thing. Can you talk about some of the other impacts that the large grows have, that you don't think the Board of Supervisors has adequately addressed?
Woods: Well, OK, you just said "large grows." Size alone is an issue. because size not only means more trees cut down and more land disturbed, but it also means larger water needs. It means more workers traveling back roads etc etc. It's a whole train of impacts. Now the Board of Supervisors has had a vision of moving a lot of this stuff down to prime Ag soils, and there's some argument that that's a laudable kind of shift in the playing field, so to speak. I have mixed feelings about that.
I think there's some reason to say that's good, but what I look at is something very different, and that is, the future of our industry. Putting in big grows, I think, is a foolish business plan, because we are not going to be able to compete with the grows that spring up in warehouses in Oakland, or in fields in the Central Valley. The market for street quality marijuana is gone, from our midst, and I think a business plan that hopes to compete with that is a foolish business plan. If you are talking about what's left. You're talking about the fact that we have THE worldwide reputation. THE worldwide reputation, and why do we have it? We have it because of the quality of the product that we have produced, and the reputation we've earned, and let's honor that. We honor that by focusing on quality.
So, when we talk quality, we have to look beyond a little bit, to mass production. If you look at the genetics of the poor plants that are being produced now, you'll see that they are a scrambled mess, to a very large degree. I think a lot of this genetics is going to take a while for that kind of product to shake itself out, but what we know now is that genetics that are not scrambled, that comes from more basic sources, genetically speaking, come from plants that don't naturally grow in prime agricultural soils. The whole mythology about prime agricultural soils comes from the farmers, and the farmers don't necessarily know what's good for marijuana.
If you go over to Nepal or Pakistan you'll see that the growing conditions are not prime agricultural soil, and I think that's the stabilized genetics we want to work from. I would also throw in here, about prime AG soils some of the mythology that says "Oh well, we bring in all of this artificial soil, what do you mean, our natural soils." Well, I tell you this: Our natural soils are extremely nutrient poor. "Ha ha ha" you say like that makes your point. Nope. That makes my point, and my point is that if you put, let's take phosphorus. That's a real good example. Marijuana plants, all plants, flowering plants, need phosphorus. Marijuana plants, especially, if you want good flowering, need a lot of phosphorus. OK, You've put in all of that fertilizer in your hole, and you can throw phosphorus in there. What happens to that phosphorus? Phosphorus is the most desirable nutrient for many organisms in the soil. Every living creature in the soils needs phosphorus, and what's more, every one of them takes it up better than marijuana plants, or than plants do.
Plants depend on associations with fungus to be able to take up that phosphorus or to take up any other nutrient also. This is particularly germane in regard to the subject of phosphorus, because you need to get the phosphorus to your plant. You NEED to get the phosphorus to your plant. It makes a huge difference. What is the advantage then of a poor soil? A poor soil does not have a lot of those competitors for that phosphorus. That is one of the advantages that our native soils have over prime Ag soils. It is true that you have to add the phosphorus, but just because you add it, you aren't giving it away to to something else, you have a much better chance for the plant to take up the phosphorus.
Hardin: OK, that's really interesting. Can you talk about the genetics a little bit. I know a lot of people brought back seed from Afghanistan, and that a lot of old growers have grown continually from that original seed-stock by saving back their own seed, year after year, for thirty years or more. At the same time, you can go down to Wonderland, and pick up all of these new designer strains. Is there a difference?
Woods: I will say that you know I work with a group called HumMAP, the Humboldt, Mendocino Advocacy Project., and one of our fine members, in the '70s, brought back from Pakistan, North Waziristan, to be more precise, five pounds of prime seed, that were widely distributed, and probably form the genetic basis of much of what is grown in North America and Europe to this day. That was a HumMAP member that did that, and those strains are still being grown.
One detail I remember from some of the genetic research is that in the sampling of a particular popular strain that was being sold on the streets, I think it was something like 40-60% of all the samples of that supposed strain, were not. They were some other strain being called that strain. That's something about names is: 'What's popular this year? Oh, Bubblegum is popular. OK I've got Bubblegum." (chuckles) The market. Yes. Of course that brings us around to another related topic. That is that so much of the marijuana on the street has toxic materials in it, either pesticides or molds, serious molds. I know more than one major grower who will not smoke their own weed. This is growing money, not growing marijuana.
Hardin: That is a problem all over the country. Most people really don't know what they're smoking.
Woods: That's true, and furthermore, of the twelve molds known to inhabit marijuana there's only a couple that are dangerous, the worst being aspergilis. That's actually why UCSF, the hospital there announced that they would not accept transplant patients who smoke marijuana, and that's because aspergilis commonly occurs in marijuana, and aspergilis will cause a $50,000 organ being transplanted, to be rejected. There are many people who desperately need those organs and the doctors there don't want to waste the money and time and all the rest, just because people weren't careful about what they smoked. Aspergilis is a very serious problem, and yet a guy with a handful of seeds, as they say, is clueless about that whole end of things. So, the industry, if it's going to become a serious industry that's going to be healthy and contribute to our culture in a positive way, is going to have to deal with those kinds of issues, such as aspergilis in what you have to sell.
Hardin: That's for sure. I met someone with Aspergilosis, and he was in really bad shape. He was carrying around and oxygen canister. He was very pale and he could barely move. He told me to warn people about it, and that it was a very serious, debilitating disease. It's probably the most dangerous thing about marijuana.
Woods: Yes, and it's pretty commonly occurring on marijuana. The spores float everywhere and find a home there. I'm not quite sure why they do, but often, if a plant is given too much fertilizer or too much water, it becomes vulnerable to these kinds of infections, and we live in a culture that doesn't understand about limits about water or fertilizer sometimes.
Hardin: What kind of changes would you like to see made to the county's medical marijuana ordinance the Board of Supervisors recently adopted?
Woods: Number one, I'd like to see a moratorium on all ministerial permits for grows over 3,000 square feet. That is to say that they would not get a ministerial permit, but they could apply for a more sophisticated permit. So, in other words, I'm not saying they shouldn't get a permit, I'm just saying they should get a more carefully done permit, at least until such a time as they are properly analyzed in an environmental impact report. Now if the environmental impact report can convincingly explain that such and such kind of grow is actually OK to get a ministerial permit, fine, but we haven't gotten to that point yet, by a long shot. By a long shot. So, I think there should be a moratorium on these rubber stamp type permits for all larger grows. Not to say that they can't get a permit, just that they need to have a better quality permit than they are currently allowed under the law. That's a very big thing.
Number two would be the issue of commercial grows not having generators back in the woods. Not to say they can't have a generator, just that if they're going to have a generator, they're not to be back in the woods. If they have their household generator and it has nothing to do with the commercial production of marijuana, that's OK too, but I'm just saying we need to curtail the problem with the generators. They're out of control. They are OUT of control, and the Board of Supervisors is not looking those kinds of problems in the face, and they deserve to get their nose rubbed in something smelly.
Hardin: Well, the supervisors seem to feel that, since we've got all of these grows here anyway, and the Sheriff doesn't have the resources to bust them all, or at least they tell us that, they want to make it as easy as possible for growers to come into compliance with some minimal standard, it will at least be better than the totally unregulated "green rush" that's going on now. What do you think of that approach?
Woods: I don't think very highly of that. You've raised several issues there. Let's start back at the Sheriff. The Sheriff has not done his job. Sorry, Mike. (chuckles) He says he doesn't have the money, but look at how much he has spent on new police cruisers again and again and again. The Board of Supervisors has control over the Sheriff's budget. Why don't they exercise it? This is again, something they should get their face rubbed in. The Board of Supervisors could have made a big difference in the priorities, and in this regard, I'll just mention. "Big Raid in Mendocino County, Six Arrested" vs "Big Raid in Humboldt County, None Arrested." For the last thirty years, these have been the headlines. Our Sheriff has not done his job.
That's the first part of your statement. The second part had to do with inspiring people to come into compliance. To begin with, there's a lot of people who will never make any attempt to come into compliance, and this is a very significant number of people. Compliance will build over time, in theory, at least, except for one thing that's not discussed, and that is that the state law is BLEEPED, to use the radio word.
The state law provides that dispensaries can grow huge amounts of their own marijuana. License type 10-A, look it up in the new law. They can grow up to four acres, indoor or outdoors. What do they need your marijuana for? I guess what I'm saying then is: You really need to consider the future. Are you going to be able to find a market for your marijuana? A lot of people are not going to, because of the new law.
So what's going to happen? You'll get all of your permits. You'll get certified. You'll get stamps, you'll get everything except a place to sell it, and all of your plants will have little numbers on them, and they'll come to you and ask: "What did you do with plant A-2468? I wanna know? That's going to be a tough question to answer, because you will have to show where it went, and you aren't going to be able to show that it went to a dispensary, because they already have enough of their own.
This raises an interesting question. If you don't have a really good plan, a good business plan, you're looking at the wrong thing to be registering in this program, it seems to me. We ought to work to change the law some, here and there.
For example, dispensaries should not be able to grow their own, other than clones from a mother plant, but they should not be able to produce their own marijuana. That is the story of what we have faced in Sacramento for years and years and years. Now, it's the fact that a bunch of greedy people who have tried to take over and control the industry, and they have succeeded in doing so, and they've tried hard to push out all of the small growers because they want to corner the industry, and they're doing it. You are the people who are gonna get pushed out. Whoever is listening to this (or reading this). So you should think about your future. There may be a way to deal with this. I'm not saying it's hopeless. I'm just saying there's some big big pits out there and they have to do with our screwed-up legislators, and I'm talking about OUR legislators, down in Sacramento.
Hardin: I want to go back to the Sheriff. There's been a lot more of the new big grows in Humboldt County, and not so many in Mendocino County. How much do you think the lax enforcement in Humboldt County has to do with the large influx of new growers in Humboldt County?
Woods: Well I think the issue is complicated. For one thing, the CoMET team in Mendocino County is much more effective than what we see up here, and I won't speculate why that's so. I won't get into that topic, but I will say that they have a very different mindset down there, than we have up here. I will also say, though, that there is the Emerald Triangle. The Emerald Triangle has a reputation for producing valuable marijuana, but in my opinion, Humboldt County, which is part of the Emerald Triangle, but Humboldt County alone, has the greatest reputation. Therefore the people who are out to exploit the industry, and get as much money out of it as they can, have come here because they want the Humboldt cache. "Oh yeah, this is Humboldt!"
I remember a story that occurred a couple of decades ago. A guy that some friends of mine knew, took a bunch of shopping bags from Murrish's Market (now Shop Smart in Redway) down to Texas, and was able to sell them for $5-$10 a piece, because, if your marijuana came in a Murrish's shopping bag, you could say "Hey, this is Humboldt County, genuine Humboldt County." (chuckles)
Hardin: OK so we have an estimated 11,000 grows in Humboldt County now, but the interest in getting these permits seems fairly limited. How much do you think that has to do with the fact that the dispensaries can grow so much of their own?
Woods: I don't think people have that level of sophistication of understanding of the state law yet. Instead, I think they have more of a gut reaction about Donald Trump.
Hardin: Fair enough. What kind of changes would you like to see the supervisors make?
Woods: We'd like to see a moratorium on rubber-stamp permits for big grows. That's a big issue. Another one is we feel like they should not allow the use of generators back in the woods. I don't think that's too big of a request either. Another issue is: They want to, as you mention earlier, move grows down onto prime Ag soils, but in doing so, they want to be able to reward the person who chooses to, by allowing him to grow four times as many square feet as he or she had before. I think that's much more incentive than is needed, but it's not just the incentive, the consequences of turning small grows into larger grows has the complication that there is not a whole lot of prime Ag soil land, and why give it away if you don't need to.
Hardin: OK, the price of cannabis has been falling. Well, I haven't bought any cannabis in a while but…
Woods: (chuckles)
Hardin: …but I've heard that the price of cannabis has been dropping. How much of the price of marijuana is based on prohibition, and how much is cannabis worth, without all of the prohibition subsidies?
Woods: That's all interesting speculation. Let's speculate too, on how high global warming is going to raise the ocean in the next ten years. (chuckles) In other words, I'm not sure anyone's guess is all that worth while, but an interesting thing that happened was that with the legalization in Washington and Colorado, that because they could grow marijuana in those places, they thought the bottom would drop out of the market. Well the price went up, because the new demand was far greater than anyone expected. So, the economics aren't always as clear as you might first guess. So, I won't say. Furthermore, there's constantly shifting patterns. For example: Dabs are big. Dabs are BIG. (chuckles) …and of course there's hashish, and there's you know, whatever else, but it's a changing industry, changing market, changing techniques of production etc etc, so it's hard to say, but it's easy to say that there will be a place for quality, and here is where that place should be.
Hardin: OK, Do you really think that Humboldt County is so much of a better place to grow marijuana than, say the Central Valley, or Sacramento, or any other place in this country for that matter?
Woods: There's pot, and there's pot, and one thing that people want when they buy pot is they want to have the assurance that this is carefully done, and here is where we have done it, so they are buying a lifestyle. They are not just buying a product. If you want the highest possible THC in your marijuana, it could be that it will come out of a warehouse in Peoria, and I think there are people who will want that super-high THC, or whatever it is they are after, but I don't think that's what quality is about. So, do we produce the prettiest pink buds, or the prettiest blue buds. No. If you look in the marijuana magazines, you'll see that those are featured desired products. Marijuana can produce a lot of different colored strains of buds, but again, I don't think that's what constitutes quality. There may be kids out there that want pink buds, I don't know. (chuckles)
Hardin: You mention lifestyle. That brings us back to something that is kind of unique about this community. How do you think the marijuana industry has affected this community?
Woods: Well some of those things we touched on earlier. I will just say that we would like to see people continue the values that we have worked to establish for the last several decades. Not everyone will agree to that, or ever understand why we would ask for such a thing. We again, I will remind people. We stand for a quality of life. We stand against racism. We stand against war. We stand against greed, and those are the things that we should honor. That is what we are seeking to honor, by honoring an honorable way of growing and marketing marijuana.
Hardin: OK, we've been talking for about an hour. Is there anything else that you think we should get into.
Woods: Marijuana has the possibility of contributing to the spiritual welfare of the individual by opening a person's mind. There are more powerful drugs that are known to have a role in that kind of process, Yage for example. However, I don't recommend drugs as a spiritual process, because there's not a well suited pathway for it, and it's easy to go the wrong way. I think there are much better spiritual paths available to people, but I will say that I think it's important for us all to adopt a spiritual recognition of ourselves, so we can grow, and be healthy, and be ourselves, and marijuana can help open that door. So I do think it has a major spiritual role to play. However, it takes reverence for the plant itself, and it takes reverence for all of life that associates with it.
Hardin: Do you have any idea on how we can cultivate those values in our local marijuana culture. I remember when I started smoking weed, that's what we talked about. Lately, I hear a lot more talk about the game of dealing it, and how much money you can make with it, like the whole gangster aspect of it. What happened, and what can we do to change that?
Woods: (chuckles) When I was an activist in the Haight-Ashbury movement back in the mid-sixties. I saw drugs, particularly methamphetamine, destroy the Haight-Ashbury scene there. It's a process we're facing here. This is a place where we have to take a stand against that kind of process, and that's a major part of why we have this lawsuit. We are taking a stand against greed. Greed goes along with all of the rest of it, methamphetamine, and needing to destroy ones own life as a response to the evil pressures that our system puts on and individual. We have to stand up against that, and that's a large part of what we're doing here in our work. That's what HumMAP is about.
###
You can find more information about HumMAP at www.hummap.org. John Hardin writes at Like You've Got Something Better to Do.