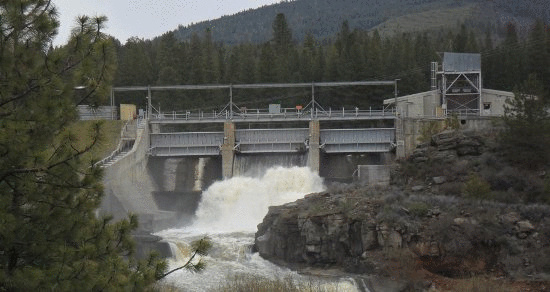 It looks as though the dams are coming down.
A long list of high-powered luminaries are coming to town Wednesday morning — among them U.S. Interior Secretary Sally Jewell, California Governor Jerry Brown, Oregon Governor Kate Brown — to make a "major announcement" on long-running efforts to restore the Klamath, including the removal of four controversial hydropower dams along the middle stretch of the river.
The announcement will be made at the mouth of the Klamath at Requa at 10 a.m. It appears to be the culmination of several months of effort between the states, the federal government, tribal government and other Klamath interests to jumpstart the dam-removing Klamath Hydroelectric Settlement Agreement (KHSA), which has stalled out in Congress, and which is a key aspect of a larger agreement to restore the river system and reallocate its resources more equitably.
The four hydropower dams — Iron Gate, Copco I, Copco II and J.C. Boyle — have long been targeted by downriver interests for blocking salmon passage to the upper Klamath, and also for degrading water quality along the river. They're owned by PacificCorp, a division of Warren Buffett's Berkshire Hathaway. A PacificCorp representative is scheduled to be present at Wednesday's announcement, along with Jewell and the governors Brown and many other people.
The KHSA and the larger Klamath Basin Restoration Agreement were the product of a decade of negotiations between the river's stakeholders — farmers, tribes, environmental groups, PacificCorp and state and federal governments — to develop a consensus plan of action in the wake of the 2002 Klamath fish kill. Though a few parties to the negotiations, most notably the Hoopa Valley Tribe, dropped out and eventually opposed the settlement, it received wide support from groups up and down the river.
However, Congress failed to enact legislation required by the terms of the agreement before a key deadline at the end of last year. A month later, the parties — including PacificCorp — announced that they intended to devise an agreement to remove the dams that would not require Congressional approval.
###
PREVIOUSLY
DOCUMENT
ELSEWHERE
###
From the Secretary of the Interior's office:
On Wednesday, April 6, U.S. Secretary of the Interior Sally Jewell and Interior Deputy Secretary Michael Connor will join Governor of California Edmund G. Brown Jr. and Governor of Oregon Kate Brown to make a major announcement about environmental restoration, water reliability and hydroelectric dams along the 263-mile Klamath River. Federal, state and Native American tribal leaders, businesses, non-governmental organizations and water users will also join in the announcement, which will further progress toward the largest river restoration project in U.S. history.

Earlier this year, the States of Oregon and California, PacifiCorp and the federal government – through the U.S. Departments of the Interior and Commerce – announced an agreement-in-principle to move forward with amending the Klamath Hydroelectric Settlement Agreement (KHSA). Under the agreement-in-principle, the parties to the KHSA would pursue its implementation through the administrative process governed by the Federal Energy Regulatory Commission (FERC), using existing funding and on the same timeline, to develop terms of an amendment to the KHSA to implement its key provisions, including providing for facilities removal.

Members of the California and Oregon delegations introduced legislation in the past two Congresses to advance the hard-fought KHSA and two related Klamath agreements; however, the U.S. Congress adjourned last year without acting on legislation to authorize them.

Who:

Sally Jewell, U.S. Secretary of the Interior
Michael L. Connor, U.S. Deputy Secretary of the Interior
Edmund G. Brown Jr., Governor of California
Kate Brown, Governor of Oregon
Jared Huffman, U.S. House of Representatives, California
Stefan Bird, Pacific Power President and CEO
Dr. Kathryn Sullivan, NOAA Administrator
Native American Tribes
Non-Governmental Organizations
Klamath Basin Water Users

What:

Major announcement about water supply reliability, environmental restoration and hydroelectric dams along the Klamath River