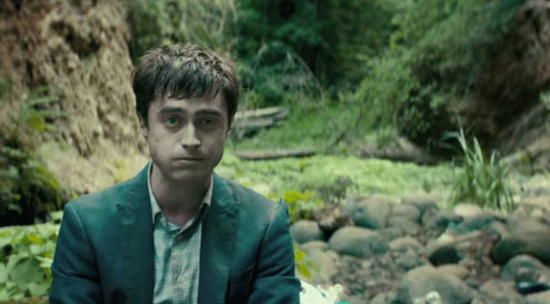 Last summer, the main things we knew about the indie film Swiss Army Man were that a) it stars Paul Dano (Little Miss Sunshine, There Will Be Blood) and Daniel Radcliffe (Harry Potter himself!), and b) the production crew came here to Humboldt County to film the thing, reportedly dropping more than $83,000 into the local economy in the process.
When it premiered a few months later at the prestigious Cannes Film Festival we learned a few other tidbits, including these two amazing facts:
1) Radcliffe plays a flatulent corpse that, at one point, Dano rides like a jet ski across the ocean.
2) RADCLIFFE PLAYS A FARTING CORPSE! (That first fact bears repeating.)
The movie proved polarizing among the notoriously fussy fans at Cannes. (There were reports of mass walkouts at the premier.) But as Indiewire notes, "the movie has grown into some kind of instant cult film ever since." That site's critic called Swiss Army Man "the strangest buddy comedy ever made" and praised it as "a deliriously kooky yet controlled experience."
In Variety, critic Peter Debruge summed it up this way: "Imagine Cast Away meets Weekend at Bernie's, as directed by Michel Gondry," which sounds pretty damn good to this movie fan. (Far more interesting than After Earth, anyway.)
And now we have a trailer to tell us even more:
OK, so it's probably not for everyone, but color us intrigued. And Humboldt County itself is on prominent display. There's Radcliffe's pale, decomposing body laying on the shores of Luffenholtz Beach! And there's Radcliffe's pale, decomposing body being dragged through the titular giants near Avenue of the Giants!
Tell us what other locales you recognize in the comments below. The movie is scheduled to premier in cities not near us on July 1. Here's hoping for a red carpet screening at a local theater.