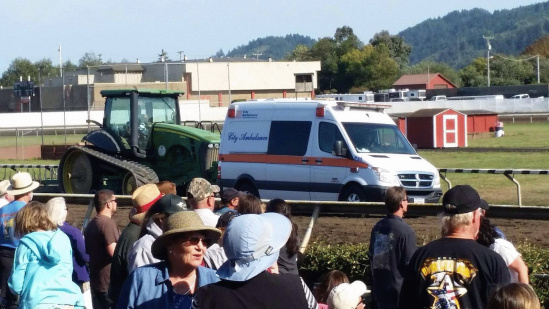 UPDATE, 6:45 p.m.:
Fairgrounds General Manager Richard Conway tells the Outpost the injured jockey was Richard Lull.
Conway said that Lull is still being evaluated, but seems to have suffered injuries to his elbow and shoulder after his horse, Charlie's Gold, was clipped in the heels by its opponents.
A second rider was also injured today.
Jockey Barrington Harvey suffered a broken wrist during race eight today.
###
A jockey was hospitalized after being flung from their horse and trampled during a race at the Humboldt County Fairgrounds shortly after 5 p.m. tonight.
Local reporter and friend of LoCO "Big Iz" LeFrak reports from the scene that two horses pinned the injured jockey's horse, causing it to buck the rider onto the track, where they were trampled.
"He got flung off the horse and it was hard to tell how many times he was trampled," LeFrak said. "But he wasn't getting up afterwards and that's when the ambulance and everyone came over."
A fairgrounds employee tells the Outpost that the rider was taken to the hospital by ambulance. LoCO is waiting to receive more information from fairgrounds staff.
The horses that caused the incident were disqualified form the race.