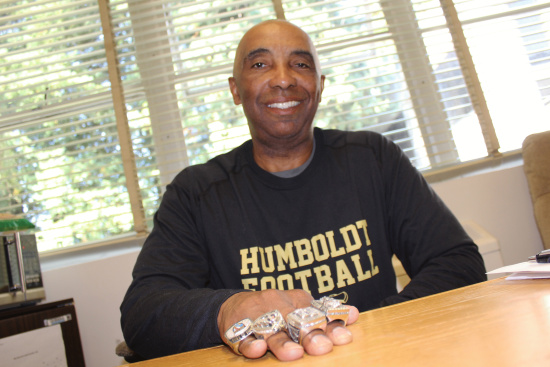 Arena football is a head-first sport played by past and present NFL hopefuls, college burnouts and old-school bruisers looking to pop someone in the mouth. A ragtag group of athletes who went from million-dollar daydreams, to making a few hundred bucks a game and holding down a day job on the side.
Arena Football League fields are half as long as the NFL's, damn near half as wide, and surrounded by punishing 4-foot walls. It's a hit or be hit league. Fast-paced, full-contact football played within the dimensions of a hockey rink. No taking a knee, nowhere to run out of bounds.
But these rough and tough men require even tougher leaders, and Humboldt State's new assistant football coach Darren Arbet is rough-rider royalty.
After a 15-year tenure as head coach of the San Jose Sabercats, Arbet is second in all-time Arena Football coaching wins, holds the best all-time winning percentage, is a member of the AFL Hall of Fame, and has a handful of championship rings to show for it.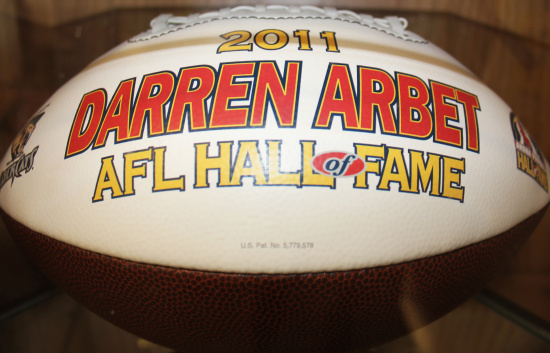 His most recent championship came just one year ago against the Jacksonville Sharks in Arena Bowl XXVIII. Last August Arbert was getting a celebratory ice bath on national television and hugging his players under a flurry of green and gold confetti. Four months later it would all be gone.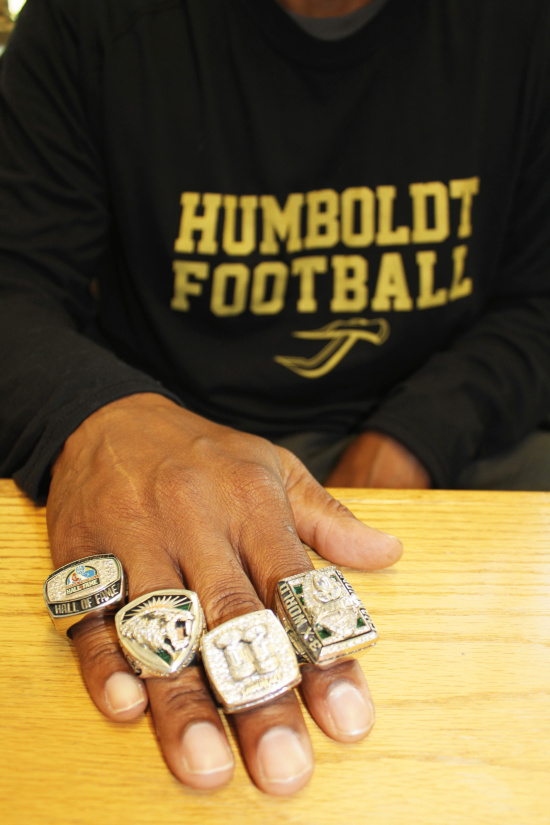 After 20 years, the Fry family of Fry's Electronics, and lesser known as the majority owners of the San Jose Sabercats, decided to pull up stakes and the team vanished overnight.
"It's like someone pulling the rug out from under you," Arbet said. "The team that I just won a championship with went away in December, after I was so close to being all-time winningest coach in the league. That was a big downer. Then my mom gets sick and passes away in April. It was probably the darkest time that I've had in a long time."
Although Arbet was alerted to the Frys' decision midway though the 2015 season, he had hopes of moving the team to Stockton rather than losing it all together. But it wasn't to be, and Arbet soon found himself struggling to restore meaning to a life that once felt full.
Attempting to fill the void, the 30-plus year football veteran began live broadcast Division II football games with the American Sports Network and ESPN3. But the workload still wasn't enough.
"My TV was career was moving in the right direction, but I'm a football coach," Arbet said. "I'm used to getting up at 5 in the morning and getting home at 9 or 10 p.m. Being on TV doesn't involve as much preparation as putting a football team together. I was walking the dog three times a day, doing the honey do stuff, and it just wasn't taking up enough of my time."
Realizing it was time to start coaching again, Arbet and his wife Stephanie decided he should find a nearby coaching job in California, where they could visit each other weekly.
So Arbet picked up the phone and made his first call to Humboldt State football strength and conditioning coach Drew Peterson. The two met at a football camp back in 1985 when Arbet played football at Sacramento State and Peterson was an incoming freshman at UC Davis.
"He's one of the best guys I've ever met in the business," Peterson said. "I was just coming out of high school and had always fancied myself a strong guy, then I wandered into the locker room and saw Darren built like an Adonis and wondered if I had any business playing football. But he was super kind and engaging and I gravitated to him right away."
They've remained close friends ever since, often calling each other to discuss AFL opportunities for Humboldt State athletes. But Peterson never imagined Arbet would one day inquire about opportunities at HSU.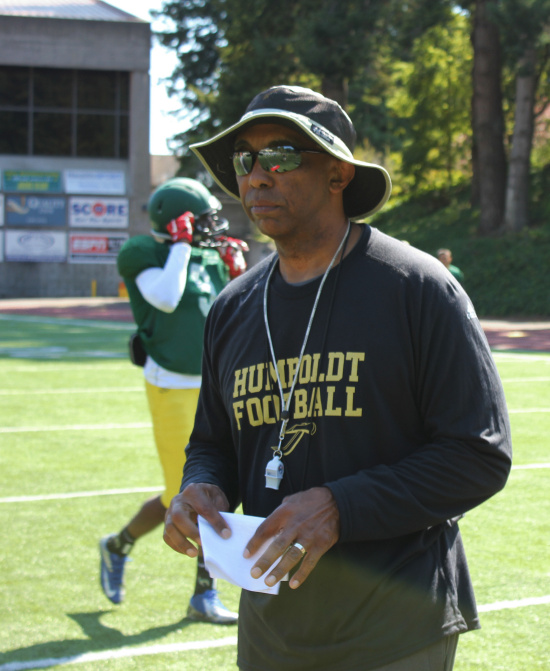 "After everything he's accomplished, and all the merit his name carries in the coaching profession, I always thought I'd be calling him for a job one day," Peterson said. "I still can't believe it when I go out there and see Darren Arbet coaching at Humboldt State. It's exciting to think that these young guys have the opportunity to learn from him. He's at a stage in his career where he has nothing to prove and is just giving back."
Aside from personal accolades achieved during his AFL career, Arbet has also produced a number of big league talents, like former Sabercats wide receiver/linebacker Rasheed Khalid Davis, who went on to start at slot receiver for the Chicago Bears in Super Bowl XLI.
Arbet has also received his fair share of pro and college job offers while coaching in San Jose. He's interned with the Atlanta Falcons, the Pittsburgh Steelers and the Washington Redskins, but always turned down offers to stay close to his mother and raise his sons.
Fast forward to 2016. His boys are out of the house, his mother's gone, and his job no longer exists. And after his meeting with Lumberjacks head coach Rob Smith, the 53-year-old decided HSU was the right place to start over.
"I went to lunch with Coach Smith and Coach K, and I thought not only were they good football coaches, but their personalities outweighed anything else," Arbet said. "It was an awesome visit for me."
The AFL legend started working at HSU five weeks ago, and can be seen mentoring his Lumberjacks at Redwood Bowl on a daily basis.
"I love the game of football, and I respect the game of football. I can't make them love it, but I'm gonna make them respect it," Arebt said. "It's a great game. It's all I've done my whole life, and I appreciate every day that I have an opportunity to teach and be around the game."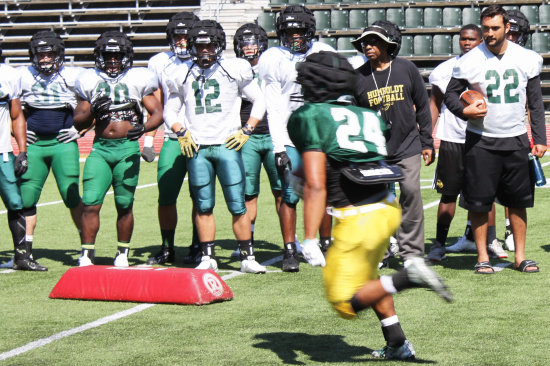 The Lumberjacks kick off their 2016 season against Carson-Newman University on Sept. 1, in Jefferson City, Tennessee; the first NCAA Division II football game of the year.
Arbet was scheduled to broadcast the very same game live on ESPN 3, but at this stage in his life, he's not quite ready to trade his whistle in for a microphone.
"I would have broadcast the game. But there's nothing like coaching," Arbet said. "What you get out of it is amazing. Every day here is like a breath of fresh air. Maybe one day I'll go back to broadcast, but right now this is what I want to do."