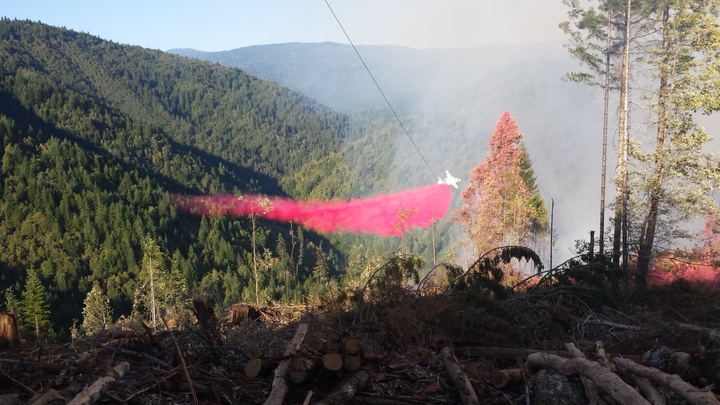 So far this year's fire season has been nothing like the raging inferno that consumed tens of thousands of acres to our east and so choked our air with smoke that local air quality managers were putting out daily bulletins on the subject.
In the last few days and weeks, though, there have been a steady uptick in the number of wildfire calls around the county and environs. The only incident of any size was the Pony Fire, which was along Highway 96 in Siskiyou County, just over the Humboldt line. It consumed almost 3,000 acres early in the summer, before its spread was halted in early July. The Pony is still active; fire managers currently aren't expecting full containment until late September.
Thankfully, all the late-season incidents to date have been limited. But in the last 48 hours there have been a few significant fires, some of which are still being actively fought. Here's a roundup of what we know.
Johnson Incident
The #JohnsonFire now reported at 22 acres, and holding. 20 % contained.

— CAL FIRE HUU (@CALFIRE_HUU) August 3, 2016
Laura Coleman, battalion commander for Calfire's Humboldt-Del Norte unit, tells the Outpost that her agency is getting plenty of help from Six Rivers National Forest and other local agencies in covering for this fire, which came to life a couple of days ago off Bald Hills Road, between Weitchpec and Orleans.
Air resources are currently attacking both this fire and the Panther Incident, below.
Panther Incident
Near Panther Gap, the #PantherFire is holding at 5 acres in brush and timber. Est. 5% contained with hose lays getting around it.

— CAL FIRE HUU (@CALFIRE_HUU) August 3, 2016
Followers of Scanner Traffic Indicates saw this one blaze up yesterday afternoon, in the Panther Gap area near Honeydew. As with the Johnson Incident, local volunteer fire departments are assisting with the fire and providing coverage of Calfire stations, to handle other emergency calls that should arise, should a station be shorthanded while Calfire personnel work the wildfire.
Meanwhile, another small fire broke out in this general vicinity this morning, on Shenanigan Ridge near Petrolia. That one — a small spot fire — was quickly brought to heel.
Burnt Incident
SHF Engines 334 & 343, and Helicopter 506 have been dispatched to assist the Six Rivers National Forest with the Burnt fire

— Shasta-Trinity NF (@ShastaTrinityNF) August 2, 2016
A fire in the Shasta-Trinity National Forest near Burnt Ranch put a whole lot of smoke into the air yesterday, according to locals. It also briefly prompted a big response to a lookout on Highway 299 west of Willow Creek, as a caller mistook smoke from the Burnt Incident as another fire entirely. Everyone's getting a little jumpy out that way.
But Phyllis Swanson of the Shasta-Trinity National Forest — lead agency on the Burnt Incident — says that the fire was contained to less than an acre yesterday. People will still be out on mop-up, but it's no longer threatening to spread.