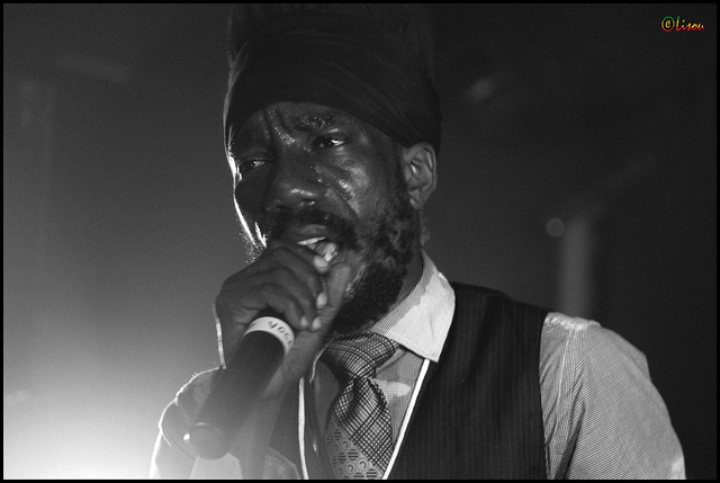 UPDATE, 8/4: Reggae Organizer Issues Statement on Sizzla Promising to 'Pull the Plug' If He Makes Anti-Gay Comments
# # #
The Times-Standard's website on Tuesday afternoon was dominated by a large picture of reggae artist Sizzla under the headline, "Sizzla Confirmed for Reggae on the River." The story, if you click through, joyously notes, "Grammy-nominated Sizzla Kalonji — one of reggae's biggest stars — is finally returning to a U.S. stage after eight years of travel delays."

Travel delays? Was he stuck in an airport for those eight years, like Tom Hanks in The Terminal?
Not exactly. Back in 2008 Sizzla (born Miguel Orlando Collins) had his travel visa revoked following protests over the violently anti-gay lyrics in some of his songs. The controversy has followed him around the globe. In the past decade protests have led to concert cancelations in Canada and across Europe, and in 2004 the British government considered banning him from entering the U.K. (The point became moot after his scheduled tour there was canceled.)
The issue of so-called "murder music" isn't merely an abstract matter of free speech. Human Rights Watch notes that in Jamaica LGBT people are regularly "taunted, threatened, fired from their jobs, thrown out of their homes or worse: beaten, stoned, raped or killed."
A 2014 report from the group documented 56 cases of violence where victims said they were targeted for their real or perceived sexual identity. And the Southern Poverty Law Center notes that, according to Jamaica's only LGBT rights group, 98 gay men and lesbians were attacked in that country during a single six-month period in 2007.
That very same year Sizzla was one of four controversial "murder music" performers to sign the Reggae Compassionate Act, in which the signatories promised to "respect and uphold the rights of all individuals to live without fear of hatred and violence due to their religion, sexual orientation, race, ethnicity or gender."

But Sizzla just went right on espousing anti-gay sentiments. In 2010, for example, he effectively recanted his Compassionate Act promise with a song called "Nah Apologize," the hook of which goes:
Rastaman don't apologize to no batty boy [i.e. "faggot"]
If yuh diss King Selassie I, mi gunshot yuh boy
You can listen to the song and read along with the lyrics here.
In case that wasn't clear enough, during a 2013 performance at the annual Sting festival in Kingston, Jamaica, Sizzla spent more than a minute of his set attacking LGBT people, according to Buzzfeed.
"The rhyme that got Sizzla in hot water … began as a response to his critics," Buzzfeed reported, "and ended with him screaming 'battyman' — Jamaican slang equivalent to 'faggot' — while jumping up and down." Sizzla was banned from performing at the festival the following year.
As the Times-Standard notes, this will be Sizzla's first performance in the United States since his visa was revoked. (It was evidently reinstated earlier this year.) The local community is no stranger to the Murder Music controversy. In 2009 and 2010 concerts by fellow hate-mongers Buju Banton, Bounty Killer and Capleton were canceled following threats of protest.
The tensions eventually led to a community forum attended by local venue owners, concert promoters, LGBT groups and elected officials. The goal was to develop a local "no murder music" agreement, but a planned second meeting — and the agreement — never happened.
Sizzla is headlining Saturday night's lineup at the annual Reggae on the River music festival. The Outpost attempted to contact organizer and Mateel Community Center General Manager Justin Crellin but he has yet to respond to an email.