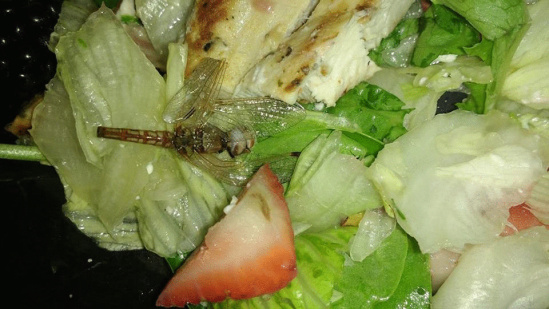 A health inspection was conducted at the Eureka Wendy's yesterday, after a woman claimed to accidentally eat part of a dragonfly she found in her summer berry salad.
Eureka resident Shantel Burkhart told the Outpost that she discovered the dragonfly while driving home from Wendy's on Sunday afternoon.
"I got my salad, opened it in the car and started eating it on the way home," Burkhart said. "I moved a strawberry and BAM, there was the dead dragonfly in my food."
Burkhart filed a complaint with the Humboldt County Department of Health and Human Services, and with the Wendy's corporation.
Kim Thomassen, regional office manager for East Bay Equities, the local Wendy's franchisee, stressed to the Outpost that the quality and integrity of their food is the restaurant's highest priority, and added that this was the first time in her 30-year career that she had heard of a dragonfly ending up in someone's meal.
"We did refund the lady's money back to her, and apologized for any inconvenience," Thomassen said. "It's highly unlikely that [a dragonfly would be served in a meal] at the Wendy's location. I have no idea how it would have happened. Our food is washed and prepped everyday."
According to the DHHS Official Inspection Report, the summer berry salad contains berries, romaine lettuce, iceberg lettuce, spring salad mix from Taylor Farms, feta cheese and grilled chicken.
Inspector Melissa Richard noted in her report that she observed Wendy's employees properly making salads that morning, and that "managers advised staff to thoroughly check all salads for insects during the entire preparation process, especially the spring mix."
Richard reported that she observed no insects in the facility during the inspection. But she did cite the restaurant for having faucets that were only able to reach a maximum temperature of 115 degrees, 5 degrees colder than what is required.
It is unclear if Burkhart plans to take legal action. East Bay Equities management said they've made several unsuccessful attempts to reach her since the incident.
"I ate part of a dragonfly," Burkhart said. "The [employee] was super rude, didn't even apologize. I did get a refund on the salad, but I was still so grossed out."