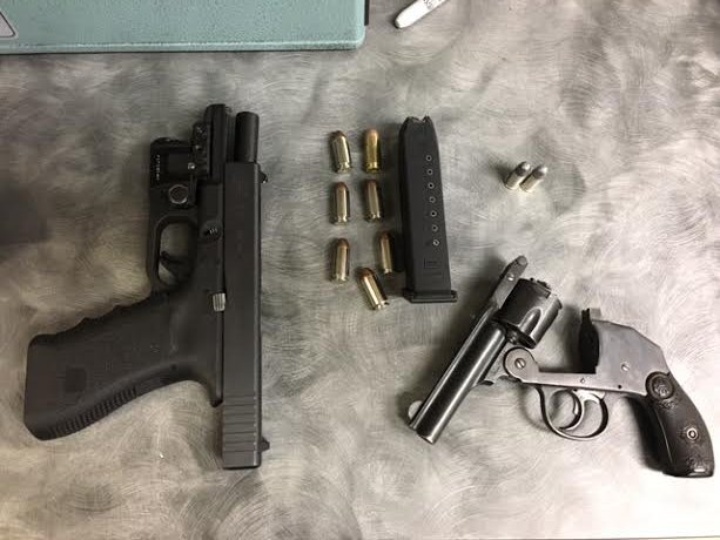 From the Fortuna Police Department:

On December 28, 2016 at about 11:00 AM a subject who was walking in Rohner Park called the Fortuna Police Department to report that as he walked by a vehicle parked in the park, he observed several subjects in the vehicle and one of the subjects was holding what appeared to be a handgun.

Fortuna Police Officers responded and located vehicle near the basketball court at Rohner Park. While contacting the 4 occupants of the vehicle, one of the officers saw a revolver in the lap of a backseat passenger. All four occupants were ordered out of the vehicle at gunpoint and detained.

While conducting a pat down search on one of the subjects, Trystan Lewis, age 18 of Fortuna, the officer located a loaded Glock .40 caliber pistol concealed in his front waistband.

While searching the vehicle, officers located a loaded .38 caliber revolver on the back seat of the vehicle where Lewis and Fernando Martinez, age 19 of Fortuna, were seated. The subsequent investigation revealed that Martinez was in possession of the revolver.


Officers also located Heroin and Methamphetamine inside the vehicle that was in the possession of Martinez. Martinez also had a Felony arrest warrant for Criminal Threats.

Martinez and Lewis were booked into the Humboldt County Jail for the following charges:


Martinez: Possession of a controlled substance (Methamphetamine), Possession of an opiate (Heroin), Felon in possession of a handgun, probation violation and the Felony warrant.
Lewis: Possession of a concealed handgun in a vehicle and on his person.