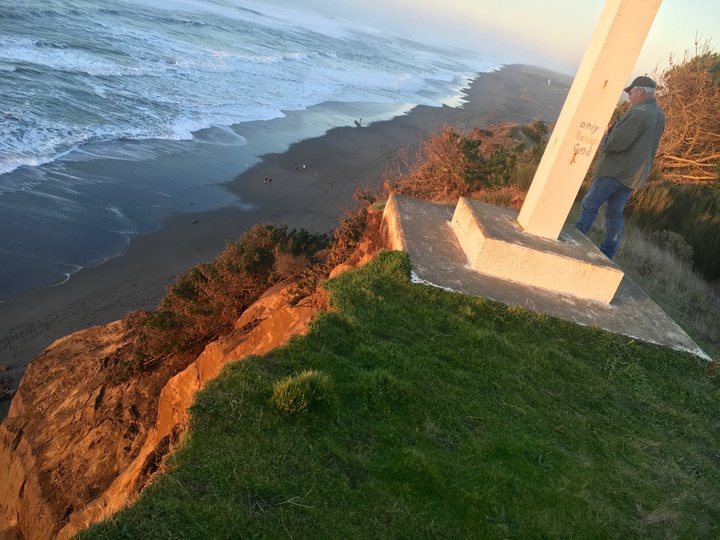 UPDATE, 5:40 p.m.:
First District Supervisor Rex Bohn went out to the site this afternoon and sent us the photo above. No word yet on whether he — or anyone else — will be able to save the monument before gravity claims it, but Bohn isn't holding his breath.
"I don't think it can be saved," he said.
Bohn is a member of the Native Sons of the Golden West, the historical group that erected the original monument in 1921 and its replacement in 1995. The old cross is still lying in the grass near the new one, Bohn said.
He went up to the bluff today with Alan Baird and Tim Renner, both former presidents of the Ferndale chapter of the NSGW, Bohn said. The cross is roughly 14 feet tall and made of concrete, and Bohn said it would be difficult and dangerous to attempt to save it with the heavy equipment it would require. Plus there's nowhere nearby to move it, even if they did save the cross.
"The whole mountain's coming apart," he said.
Baird, he added, will attempt to remove the plaque for posterity.
# # #
Original post: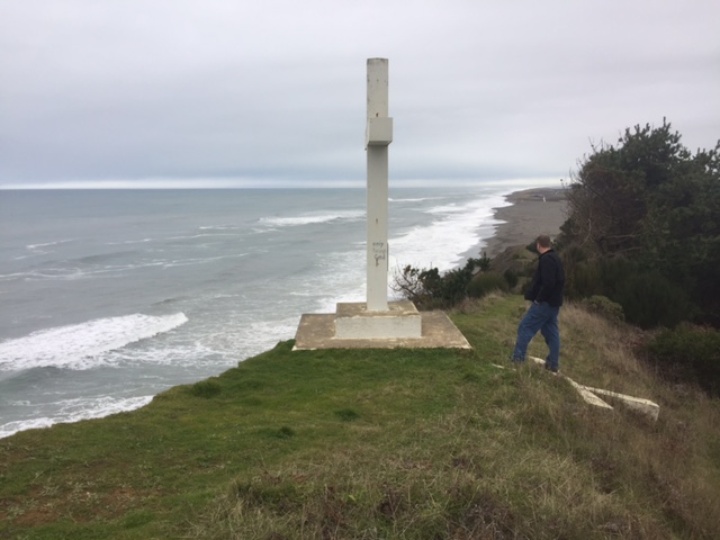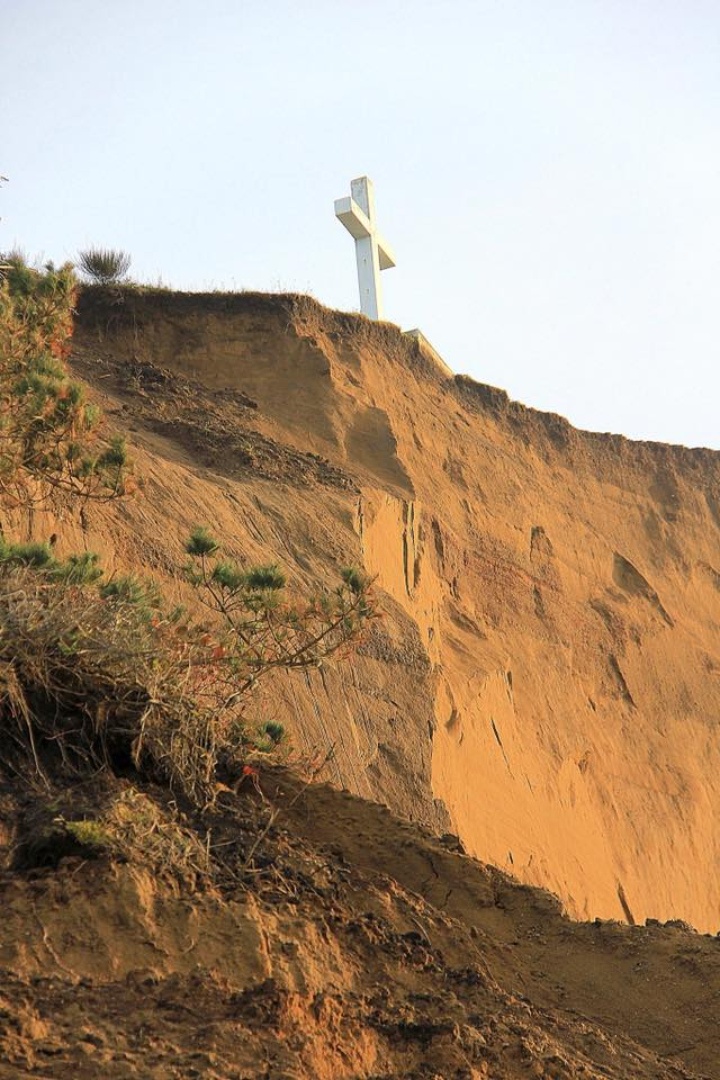 The monument, which is registered as a California Historic Landmark, commemorates the loss of the SS Northerner, a paddle-wheel steamer that, in January of 1860, hit a submerged rock south of Cape Mendocino and beached near the village of Centerville. Seventeen of the ship's 58 passengers and 21 of its 53 crew members died trying to escape the wreckage.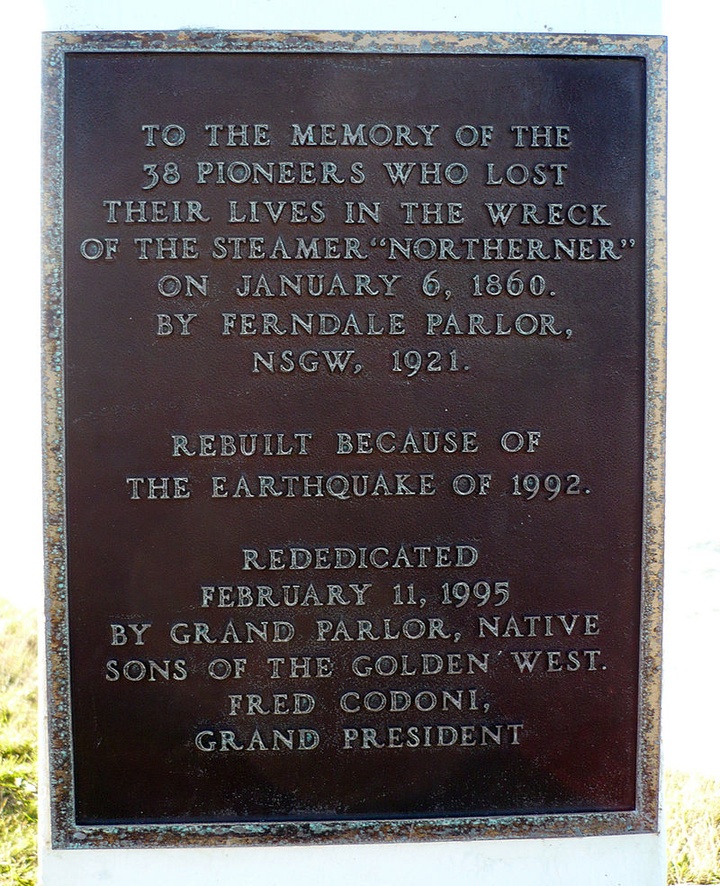 This isn't the first time that nature has threatened to destroy a testament to this disaster. The original marker, placed in 1921 by the Ferndale Parlor of the Native Sons of the Golden West, was destroyed in the 1992 earthquake. As the plaque on the cross explains, the monument was rebuilt and rededicated in 1995.
The cliff appears to have eroded during last week's heavy downpour. "My boyfriend was there on the 21st and it wasn't like this," Brooke Wyatt told the Outpost. "He went back on the 22nd and it looked like this."
Here's a photo of the hillside as it looked back in April: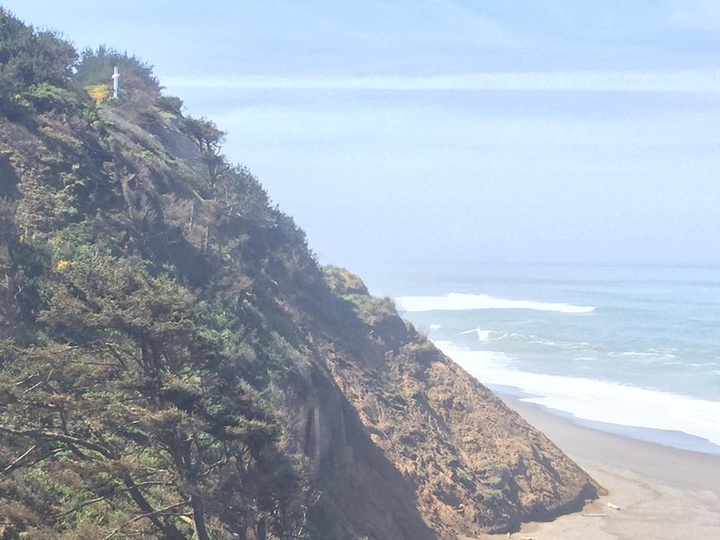 And here's some quad-copter footage, shot by Ryan Pitt, showing how it looked on Dec. 22:
The Native Sons of the Golden West could not be reached. A message on their voicemail (or maybe it's an old-fashioned answering machine) says they'll be out of the office until after the new year.
Meanwhile, local residents are fretting about what can be done, hoping the cross will be rescued before it, like the ship it commemorates, becomes wreckage on the beach below.
Note: This post has been corrected from a previous version that mixed up some dates.