UPDATE, 12:45 p.m.:
Ken Bates sent the following press release on behalf of the Humboldt Fishermen's Marketing Association:
Dungeness crab fishermen continue to tie up in support of the $3.00/per pound price for Dungeness crabs in California, Oregon and Washington State. The $3.00 price had been being paid for all crab deliveries in California and Southern Oregon since November 15, 2016. On or about December 22, 2016, Pacific Group announced their intention to reduce the ex-vessel for crabs by .25 cents to $2.75 effective Monday December 26, 2016. District 7 fishermen refused the lower price drop and tied up their boats.

As of today, fishermen from Westport, WA to Bodega Bay, CA are on strike. In the ports of San Francisco and Half Moon Bay, those boats will tie up at midnight tonight. They are presently fishing for $3.00/pound or more for their crabs.

No action or progress is expected over the New Year's holiday. Small and medium sized fish companies are anxious to resume buying crabs at $3.00, but are unwilling to risk buying crabs if Pacific Group is successful in lowering the price.
###
UPDATE, 11:45 a.m.:
Looks like locals hoping to eat crab for New Year's Eve have limited options. Both Mr. Fish and Eureka Natural Foods report that they're out of whole crabs due to the strike but have picked crab meat available. The meat manager at ENF said everyone in the area is likely out of whole crab, but Susan Rotwein at Cap'n Zach's Crab House in McKinleyville said they do have some left — "all local, all fresh," and landed before the strike went into effect.
Rotwein said Zach's is probably the only local seafood seller that still has some local Dungeness available "because I saw this train comin'." The boats have been tied up since midnight Monday Sunday, she said, adding that she'll honor the strike. She expects to be sold out of the local delicacies by the end of the day.
Addendum: In response to a phone call, the North Coast Co-op informed us that they currently carry cooked crab meat, obtained from Cap'n Zach's. They expect to have it through the weekend. What's available after that, they say, depends on the resolution of this dispute.
# # #
Original post: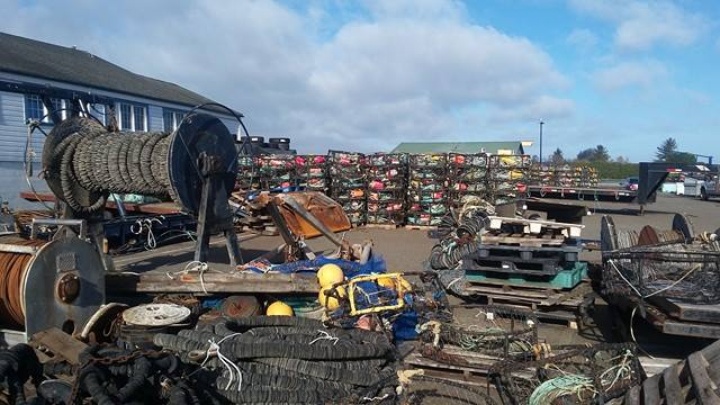 Less than two weeks after a health advisory was lifted, opening the local crabbing season belatedly, Humboldt Bay's Dungeness crab fishermen have gone on strike, tying up their boats in response to a price drop from wholesaler Pacific Choice Seafoods, the San Francisco Chronicle reports.
Late last month the Humboldt Fishermen's Marketing Association announced that the three local fishermen's associations (Humboldt, Trinidad, and Crescent City) had set the buying price at $3 per pound. But the Chronicle reports that wholesale buyer Pacific Choice Seafoods dropped its price to $2.75 per pound, prompting local fishermen to launch the strike.
"They were followed in solidarity by fishers south to Bodega Bay and north to Oregon and Washington," the Chronicle reports. Ken Bates, vice president of Humboldt Fishermen's Marketing Association, tells the paper that the 25 cent price drop "could cost each boat $7,000 to $10,000 over the next few months."
The Outpost's Hank Sims walked down to Pacific Choice, near the C Street Market Plaza in Old Town, and said the place looked bustling, shortly before lunchtime.
We've left messages with both Pacific Choice and the Humboldt Fisherman's Marketing Association and will update this post when and if we hear back.
Read the Chronicle's story here.