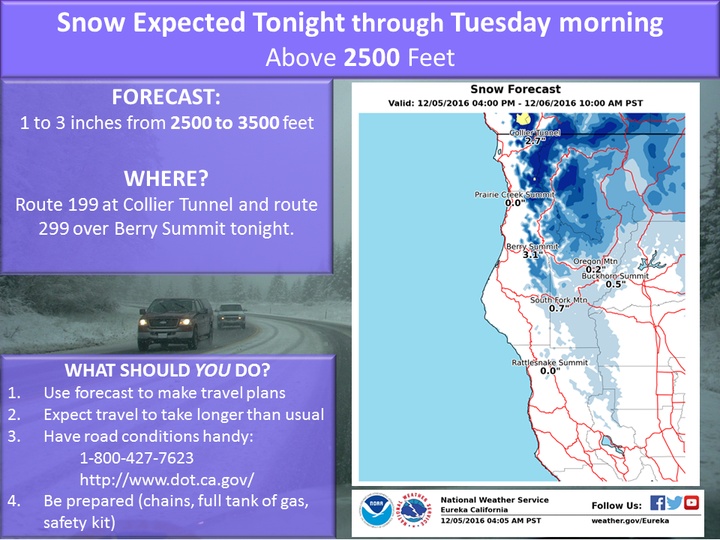 Our friends on Woodley Island are sounding the klaxon this morning, due to an incoming weather system that is COLD and WET. They say there's gonna be snow down to 2,500 feet tonight, including on mountain passes such as Berry Summit. Down closer to the coast, it's just going to dump cold rain.
Be forewarned! Drive carefully! Stock up on hot chocolate! Here's the hazardous weather outlook issued by the National Weather Service this morning:
THIS HAZARDOUS WEATHER OUTLOOK IS FOR NORTHWEST CALIFORNIA.

DAY ONE…TODAY AND TONIGHT. SUB-FREEZING TEMPERATURES WILL SPREAD SOUTH ACROSS THE HIGH TERRAIN OF NORTHWESTERN CALIFORNIA TODAY AND TONIGHT…CAUSING SNOW LEVELS TO FALL TO AROUND 2500 FEET. IN ADDITION…SHOWERS ARE FORECAST TO INTENSIFY TONIGHT…WHICH WILL YIELD SNOW ACCUMULATIONS FROM 1 TO 3 INCHES FOR LOCATIONS SUCH AS BERRY SUMMIT AND COLLIER TUNNEL.

DAYS TWO THROUGH SEVEN…TUESDAY THROUGH SUNDAY. NO HAZARDOUS WEATHER IS EXPECTED AT THIS TIME.
Now it's time for you to make your voice heard on this development.